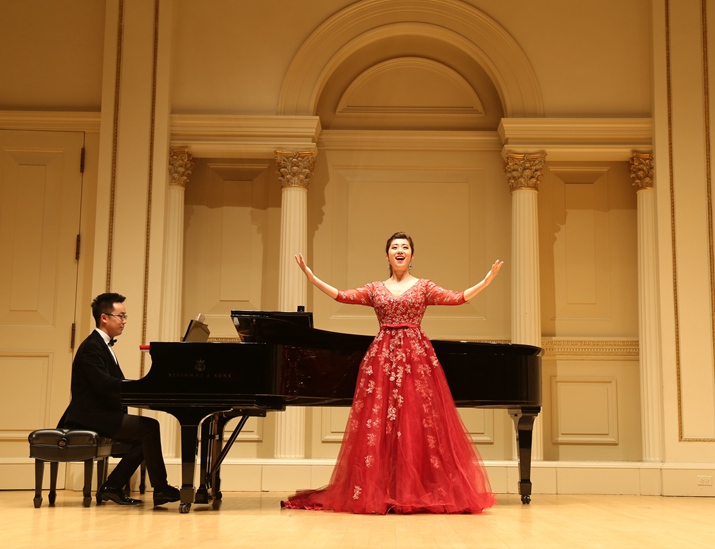 Chinese singer Yixuan Pang performs at the "Silk Road by Vocal Arts" concert at the Carnegie Hall in New York City on October 3 (COURTESY OF YIXUAN PANG)
On the afternoon of October 3, Chinese singer Yixuan Pang staged a solo concert titled Silk Road by Vocal Arts at the Carnegie Hall in New York City. At the concert, Pang not only performed Western classic works in German, French and Italian, but also sang Chinese folk songs such as
The Rippling Brook
in both Chinese and English. The performance earned loud applause from the audience.
The post-80s artist had won third place at the Liederkranz International Vocal Competition in 2013, becoming the first Chinese to win a prize at a well-known international contest, held annually in New York.
An artistic education
Pang was deeply influenced by her mother Wang Changzhi, who is a renowned folk singer herself and is a representative figure of folk songs from central China's Henan Province. Pang developed an interest in music, especially Chinese folk songs, from an early age.
"My mom kept on singing on stage when she was into her seventh month of pregnancy with me," Pang said in an exclusive interview with Beijing Review . "Even when I was very little, my mother had taught me nearly 100 Chinese folk songs."
Although Pang took up the bel canto style due to her vocal range and tone, her love for traditional Chinese folk music has never abated. After four years of musical training at the Central Conservatory of Music in Beijing, Pang was admitted by the Manhattan School of Music for a master's degree in 2010. She had kept her desire to learn all through her two years of study at the world-renowned institute of music.
"At this top-notch university, everyone has huge enthusiasm for art and works extremely hard," Pang said. She recalled that there were never vacant seats in the school library. A music score one wanted might have already been borrowed by someone else. Every time she sang a composition, she was required to look up the composer's biography, different versions of the song and the correct pronunciation of each word.
"The biggest difference between vocal music teaching in the United States and China is that Chinese professors put the emphasis on tone color and the techniques of singing while American teachers encourage digging into the deeper meaning of music compositions, including the historical background of the composition, its musical style and handling of details. The purpose is to enable students to truly understand a composition before performing it," Pang told Beijing Review .
In October 2011, Pang held a solo concert at the Manhattan School of Music, singing a dozen Chinese folk songs to her classmates and an audience from all over the world. However, the responses to the concert were mixed. Chinese students were moved hearing authentic songs from their home country in a distant land, but foreign students felt confused about what she intended to express.
"I didn't know what she was singing about at that time at all, although the melodies sounded beautiful," Pang's classmate Karl Scully told Beijing Review .
"Apparently the confusion has been caused by linguistic and cultural differences," said Pang as she reflected on the experience. "Folk songs represent folk customs and stories of various places in China. Their lyrics alone illustrate vivid scenes of life. Those who have little understanding of the Chinese language and culture won't be able to fully appreciate Chinese songs apart from the elegant rhythms."
In order to appeal to foreign audiences, Pang came up with the idea of rendering the lyrics of Chinese folk songs into English. She also realized the necessity of explaining the customs behind every song during the process of singing. "Only in this way can more Americans learn about excellent Chinese art," said Pang.
Pang launched the charity project China: A Lyrical Journey in the fall of last year, with the aim of promulgating Chinese folk songs overseas. She holds combined lectures and concerts of Chinese folk songs free of charge in American universities, communities and public libraries, with New York University being the first stop of her musical tour.
Pang sings and explains folk songs in both Chinese and English during the lecture-concerts, with the screen behind her displaying the bilingual lyrics and pictures related to the song.
"I like The Rippling Brook the most. The longing of a young woman for her lover expressed in the song is touching," Ann Palmer, a freshman at the New York Institute of Technology, told Beijing Review .
Palmer said she has always wanted to go to southwest China's Yunnan Province where the song was set in. She hopes she will be able to have her own memories related to the enchanting place one day.
Pang has also tried to add Western musical elements to Chinese folk songs in a bid to draw foreign audiences. For instance, when singing the Jasmine Flower , Pang has changed the originally slow rhythm by incorporating jazz music.
"I blend classic European music, Broadway musicals and jazz with Chinese folk songs organically to cater to different tastes. It is similar to cooking. Such a way of musical expression encompasses both inheritance and innovation of tradition, which will enable me to go further in promoting Chinese music," said Pang.
On April 12, Pang had the honor of being invited to present her lecture-concerts in the UN Headquarters in New York City on the annual UN Chinese Language Day.
Lyrical journey
Her charity project could not have been sustained without a team of traditional Chinese culture lovers, she said. Pang believes she was lucky to have known two translators Chen Feng and Wen Xuejun who work at the UN when she had the idea of translating Chinese folk songs into English. They later joined Pang's project as volunteers.
"Translating lyrics is far from easy as the translator is required to be loyal to the original while matching the target text with the melodies. Although we are familiar with these folk songs, we have to polish our translation many times," said Wen who translated the lyrics ofThe Rippling Brook .
"This is a great project. It is very hard to introduce a country's folk music to foreign audiences. Nevertheless, Pang has done an excellent job," said Karl Scully. The Irishman, who spoke absolutely zero Chinese several years ago, has now become a firm supporter of Pang's project. He has performed together with Pang at most of her musical tours in Chinese.
"As my Mandarin is not standard, initially I felt nervous on stage. However, later on I discovered that the audience didn't mind my pronunciation. They would always applaud me, which greatly encouraged me," he told Beijing Review .
Scully added that there were a lot of similarities between Chinese and Irish folk songs. He hoped one day he could fuse Irish folk songs with their Chinese counterparts.
Pang said she felt proud that her team is also made up of outstanding Chinese artists living in the United States who are predominantly from the post-80s and post-90s generations.
"We have a common aspiration to contribute to promoting traditional Chinese culture regardless of material gains. I will persist in my project and do even better in the future," Pang said confidently.
Profile
Born into an artist family, with a folk singer mother and a famous calligrapher father, Yixuan Pang absorbed profound artistic inspiration from her parents and her artistic gift was nourished and strengthened since childhood. She received extensive training in piano, dancing and painting, as well as traditional Peking Opera performance. She made her first stage debut at just 4 years old.
Pang's artistic talents were refined through an eight-year professional music education at China's Central Conservatory of Music and its affiliated high school. She majored in vocal performance as an operatic mezzo-soprano and graduated in 2010. The same year, she was admitted to the master of music program at the Manhattan School of Music.
Copyedited by Mara Lee Durrell
Comments to yanwei@bjreview.com