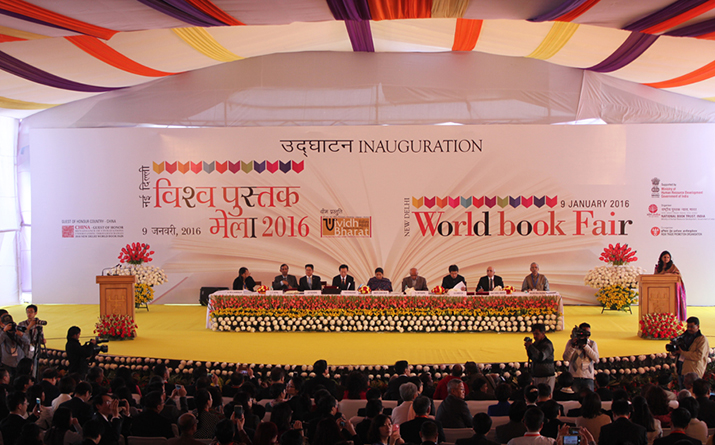 The opening ceremony of the 2016 New Delhi World Book Fair is held on January 9 (LIN LIYAO)
The English version of
Xi Jinping: Wit and Vision ,
jointly published by the Beijing-based Foreign Language Press and Shanghai Jiaotong University Press, was launched at the 2016 New Delhi World Book Fair on January 10.
The book selects and analyzes excerpts from Xi's speeches given after the 18th National Congress of the Communist Party of China, which was held at the end of 2012. The book's chapters are categorized into sections for metaphors, slangs and poems uttered by Xi. Readers from around the world can now understand Xi's speaking style in English.
"Readers may find that Xi does well in explaining deep thoughts by telling anecdotes, as well as integrating traditional Chinese culture with the world's civilization accomplishments," said Lu Cairong, vice president of the China International Publishing Group, which Foreign Language Press belongs to.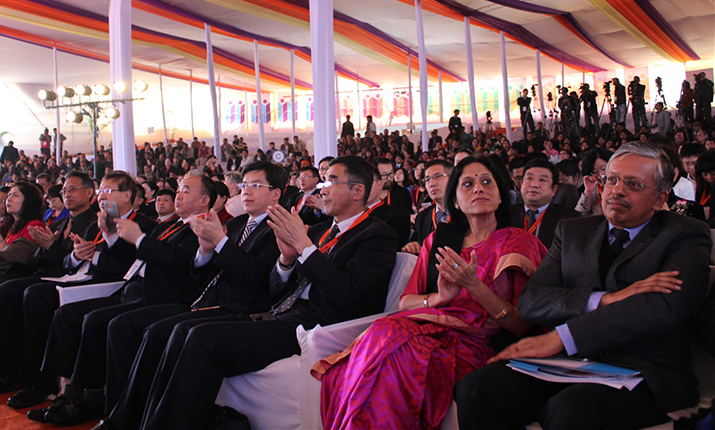 Hundreds of guests from both India and China attend the opening ceremony of the 2016 New Delhi World Book Fair (LIN LIYAO)
This year, the guest of honor is China, which has set up a beautifully designed pavilion spread across 1,200 square meters at hall number 7. During the nine-day book fair which kicked off on January 9, China presented more than 5,000 book titles and planned to hold more than 50 Sino-Indian publishing and cultural exchange events, including the China-India Publishing Development Summit, Chinese and Indian Writers Symposium and Exhibition of Publication and Printing in Ancient China.
More than 10 famous Chinese writers and over 81 Chinese publishers are in New Delhi for discussions with their Indian counterparts.