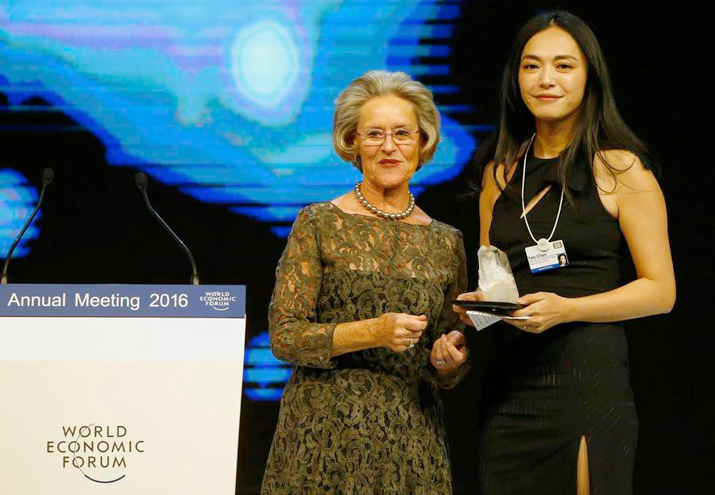 Chinese actress Yao Chen (right) receives a Crystal Award for her contribution to improve the state of the world from Hilde Schwab during the annual meeting of the World Economic Forum in Davos, Switzerland, on January 20 (FILE)
Chinese actress Yao Chen has been named among the recipients of the 2016 Crystal Award.
The announcement was made by the World Economic Forum on Wednesday. Other winners include actor Leonardo DiCaprio, artist Olafur Eliasson, and musician and entrepreneur will.i.am.
Yao Chen was awarded for her work on behalf of the United Nations refugee agency in raising awareness of the world refugee crisis.
Referred by the Chairwomen as the "Queen of Weibo" for having 78 million followers on the Chinese social media platform, Yao has also used her high profile to influence the public on a range of issues, including environmental pollution and food safety.
In her speech, Yao again called on all of the attendees to pay more attention to the refugee crises.
"You who are in attendance are the people who have the most positive energy of all. Each of you is like a beam of light. Once again, I thank you all," she said.
At the same time, the Academy Award nominee Leonardo DiCaprio has also been recognized for his leadership in tackling the climate crisis.
The World Economic Forum's Crystal Award honours artists whose important contributions are improving the state of the world and who best represent the "spirit of Davos."
The winners will be honored next week at the opening session of the Forum's Annual Meeting in Davos.
(CRIENGLISH.com January 20, 2016)