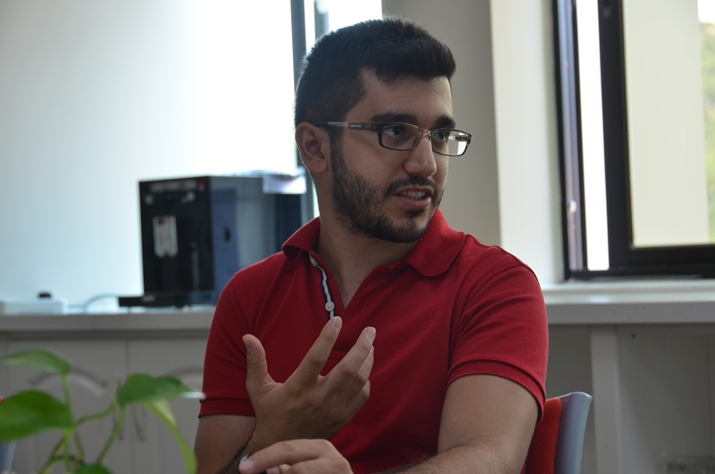 Idris Talha Kartav (CHEN RAN)
Xiamen University's sun-kissed campus is the earthly version of the Garden of Eden. The vast expanses of green, the majestic banyan trees casting shadows on the alleyways and the venerable buildings offer a delicate, otherworldly landscape. At its core, an awe-inspiring lake is incandescent against the immaculate blue sky.
This is the place where Idris Talha Kartav from Istanbul has studied for the last six years. The 24-year-old is now a first-year MA student in international relations. At 18, the precocious young man dropped out of his architecture school in Turkey and persuaded his family that international business and China were calling out to him.
"I could have studied business in the United States, the immediate choice that springs to mind. But I thought China would be a better choice for my future and my father fully supported me," he explained. Kartav's early interest in China has developed into an abiding passion.
Poised and reflective, he cuts a fine figure with his small designer glasses and trim beard. Fluent in Chinese, the soft-spoken young man radiates both authority and gentleness. He presides over the International Turkish Students' Association and attends Sino-Turkish official events. Kartav was selected as a volunteer interpreter during Turkish President Recep Tayyip Erdogan's official visit to China last year.
Kartav believes he can make a contribution to the cause of friendship and cooperation between the two countries. "It is important to enhance Turkey's image. I want to make sure that we, Turkish students, don't blemish our country's reputation," he said.
Xiamen is a commercial hub with its export processing zone and free trade zone. The island city is also destined to play a major role in the Belt and Road Initiative formulated by Chinese President Xi Jinping. Kartav is aware that as China promotes economic development along the Eurasian corridor, the whole area will experience a flurry of activities.
"Turkey will undoubtedly benefit from the Belt and Road Initiative," he said. "There are so many opportunities in terms of cooperation and partnerships. Turkey is located at the western end of the ancient Silk Road and is a traditional gateway to Europe and Africa."
He regrets that the Turkish population looks to Europe rather than China and blames the relative indifference of the Turkish authorities. However, things are starting to change, he added. "Our Consul General in Guangzhou Batu Kesmen is really active."
Kartav enjoys the delights of Xiamen. "Life here is not so fast-paced. Xiamen is clean and people are relaxed. There are a lot of great spots," he beamed.
Regarding the future, he hasn't yet made up his mind. "I might work in Turkey in foreign relations or do business with China," he said.
Whatever happens in the future, he has already become a hero in Xiamen after he made the headlines for saving the lives of the driver of a minivan and his passengers after they were caught in a traffic accident last year.
"I saw the accident on my rear-view mirror," he described the incident. "My first reaction was to stop my car, call the police and see if I could help."
The driver and the two passengers were severely injured. With the help of his cousin, he gave them first aid, stopped the bleeding and stood by them until the arrival of police and ambulances on the scene.
When praised for his actions, he played it down. "I just did my duty," he said.
Comments to chenran@bjreview.com