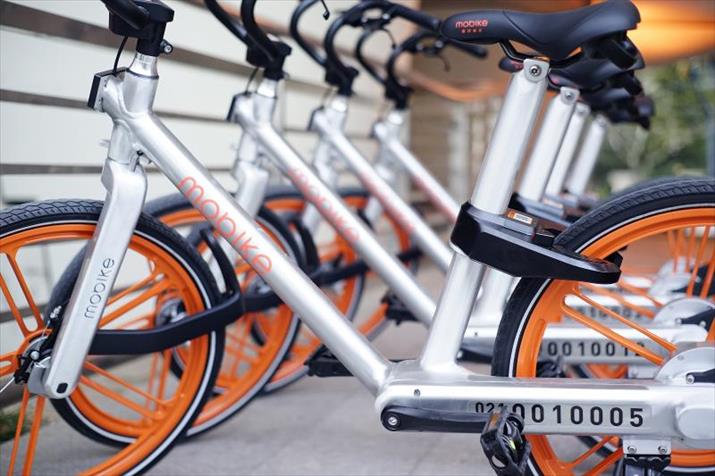 Mobikes have appeared in China's capital (XINHUA)
Mysterious, trendy bright orange bikes have sprung up around China's capital recently. Part of a new intelligent "rent-a-bike" service, these bikes allow more and more people to experience the joy and convenience of riding through Beijing's streets and lanes.
For Liu Chao, a 28-year-old real estate worker in Beijing, riding the bike is fashionable. "It is a high-tech product. Using and parking the bicycle is convenient and the fee is low," said Liu. "It is a waste of money to take a taxi to cover a short distance, but often it is also too far to walk. This bicycle can easily solve the problem," he told ChinAfrica.
The fashionable bicycle Liu spoke so highly of is part of Mobike, a bike-sharing network allowing users to grab a ride at the touch of an app. Launched in Shanghai in April, the program expanded to Beijing in September.
Mobike - a company created by a former Uber employee - not only allows app users to borrow a pair of wheels for just 1 yuan ($0.15) per half an hour, but is also happy for you to drop the bike off wherever you like in the city, rather than searching for a station as with the government-run alternative.
The "last mile" problem, i.e. the difficulty for people to get from a transportation hub, especially railway stations or bus stops, to their final destination, is a long-standing puzzle for urban commutes. With the development of urban smart management, the problem can be solved by linking Internet to transportation.
Station-free concept
A quarter before getting off work, Yu Hua, an editor in Beijing, opens the Mobike app and reserves a bike near her office. "It takes me 10 minutes to ride from my office to the nearest subway station; however, walking takes 20 minutes," she said.
Each Mobike bicycle features a special chip, GPS and sensors, which make it easy to locate and record the routes it travels. Using the app, riders can easily find the bicycle nearest to them. They then scan the QR code on the bike, unlocks the electronic lock and starts a timer. The standard cost is 1 yuan ($0.15) per 30 minutes, along with a 299 yuan ($46) reimbursable security deposit. Users can pay with popular mobile payment methods such as Alipay and WeChat.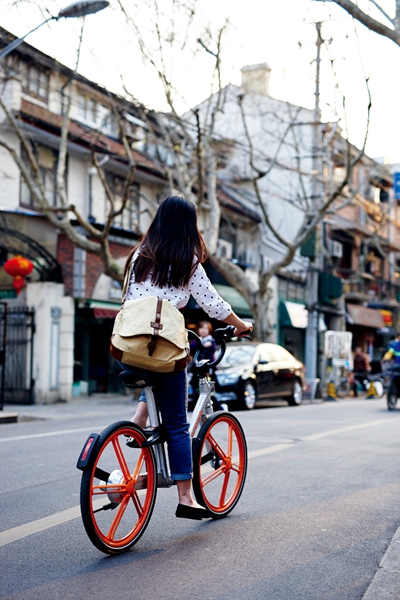 (COURTESY PHOTO)
Unlike ordinary bikes, Mobike bicycles boast an aluminum body and solid tires. The weight of the bike reaches 25 kg, which is two times heavier than ordinary bikes. Though it is reported to be somewhat heavy for riders, especially for women and elderly, it can effectively prevent sudden accidents caused by punched tires.
But Mobike's most impressive feature is perhaps its station-free concept. In comparison with Beijing's public bike rental service, which has a more complicated registration process and requires bikes to be returned to stations at specific locations, Mobike takes fully advantage of its advanced geo-location technology. Users can pick up and drop off the bike wherever they like in any public area of the city. "Those Mobikes are not site-specific. It is fun to search the bike using the app, like a hide and seek game," Yu told ChinAfrica.
Mobike has only 3,000 bikes in Beijing, but the company said it is increasing the number by hundreds every day. The company has had more than 10,000 bikes in Shanghai, allowing most riders to find a bike within a distance of 300 meters anywhere in the city.
Intelligent transportation
"The rental price of Mobike is half that of a ride on Shanghai bus, and one third of the subway starting fare," said Wang Xiaofeng, CEO of Beijing Mobike Technology Co. Ltd. Mobike is a typical example of the sharing economy, as citizens can enjoy lower fee by sharing bikes. "Mobike aims to make every citizen's short commutes more convenient at a price everyone can afford," said Wang. The "easy pick-up and easy drop-off" model has maximized the bikes' use efficiency.
In the long term, the importance of Mobike lies not only in sharing, but also in its environmental protection effects. As the global awareness for environmental protection is increasing, citizens in Chinese cities prefer to use environment-friendly travel methods. Mobike provides people with a convenient, comfortable, low-cost and green way to move about the city. It is consequent with the government's promotion of clean technologies, like electric cars and other green vehicles. At the same time, it promotes physical health by making it easier for people to ride their bicycles whenever they want.
The popularity of Mobike is also an epitome of the rise of "Internet Plus transportation" in China. Chinese cities are using the "Internet Plus" format to solve problems in public transportation. With the development of the big data industry and cloud computing, the Internet allows citizens to reap the benefits of intelligent transportation.
Like Mobike, more and more platforms are set up to help citizens, communities and regulators promote intelligent transportation, reduce congestion and pollution and build more mobile and smart cities for Chinese people. Some applications focus on booking bus commuting services (Didi Bus); some help locate buses in real-time and estimate their arrival time (Woxing Xuntong); others help users find parking slots (Easy Parking) and organize car-pooling (Dida). "Internet Plus will be plugged into the whole transportation system," said Cheng Wei, CEO of Didi Chuxing, China's dominant taxi app company.
This move toward intelligent transportation has been firmly supported by the Chinese Government. "The government encourages things that make commuting more convenient for our residents. We are looking forward to the change from offline to online," said Sun Jianping, former Director of Shanghai Municipal Transportation Commission.
In August this year, the National Development and Reform Commission and the Ministry of Transport of China jointly issued a program aimed at facilitating the development of intelligent transportation through Internet Plus technology. The program stated that 27 new projects will be carried out to promote the in-depth integration of transportation and the Internet.
Copyedited by Francois Dube
Comments to niyanshuo@chinafrica.cn