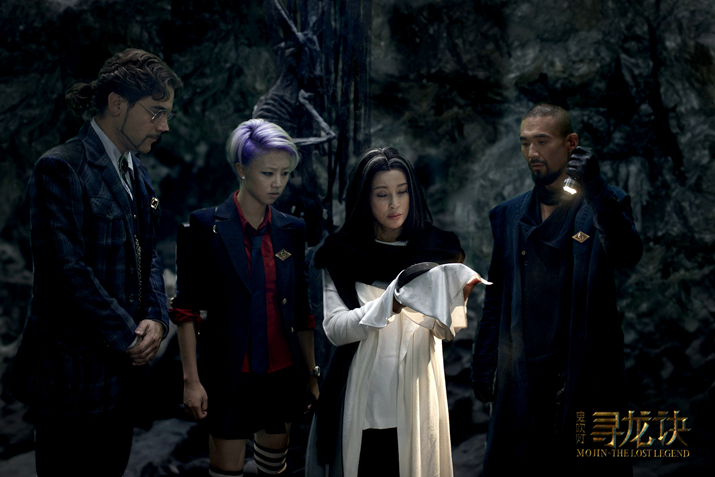 Jonathan Kos-Read in the 2015 blockbuster Mojin—The Lost Legend (FILE)
Getting up at noon and going to bed at 6 a.m.—this has been American actor Jonathan Kos-Read's schedule for the past month. Currently on location in Guiyang, capital of southwest China's Guizhou Province, he is acting in a movie soon to be released on the Internet.
The story concerns a group of heroes protecting Earth from invasion by dark wizards, and Kos-Read plays the leading wizard. After this movie, he's off to Zhejiang Province to take part in a TV show. "Then, I don't know what comes next," Kos-Read told Beijing Review.
Having moved with his family—wife, two daughters and mother-in-law—from Beijing to Oakland last year, he now crosses the Pacific between home and work. "It's a long commute," Kos-Read said.
Coming to China
Having played stereotype foreigner roles for years—soldiers, businessmen, priests—Kos-Read loves the part he plays in the Internet movie. "I love being a wizard with magic powers," he said. "But you can do this only in movies. It's the charm of this career—you can experience many different lives."
As a novel fan from childhood, Kos-Read, born in Torrance (Los Angeles County), always soaked himself in the novel's story and imagined himself living like a character in the novel. He stumbled on the career of acting in a post-college quest for adventure and idiosyncrasy.
With a strong sense of adventure, Kos-Read is keen on exploring fresh and strange experiences. While majoring in acting at New York University (NYU), he was required to learn a foreign language and chose Chinese. For him, it felt cool for a white man to speak an Asian language.
He chose "Cao Cao," the name of a famous historical figure—the penultimate chancellor of the Eastern Han Dynasty (25-220), as his Chinese name. "This name always appears in Chinese ancient stories and is frequently used in proverbs, and it looks easy to remember," Kos-Read said.
What is cooler than learning Chinese is to visit this country. After graduating from NYU with a degree in microbiology, Kos-Read made the trip in 1997 out of curiosity with little money and no idea what to do. His visit ended up lasting almost 20 years, partly due to romance. Kos-Read married a Beijing local soon after moving to China. "It's she who helped make my life count," he said.
As someone who enjoys spending money and who used to struggle to make ends meet every month, Kos-Read followed his wife's suggestions to make investments. "Without her, I might have ended up living on the street," Kos-Read said. When he received a check for 150,000 yuan ($22,390) in 2001, the single largest sum of money he had ever earned at that time, his wife persuaded him to invest in real estate. Using the money for a down payment, they bought their first property, a choice which turned out to be very smart, as Beijing's property market has since skyrocketed.
Like many foreigners coming to China in those days, Kos-Read started out as an English tutor, a role he continued for two years. Acting had remained his dream since childhood. But rather than fade in a foreign country, his enthusiasm grew when he saw foreign actors appearing in Chinese movies and TV shows.
"I thought I was better than they, both in acting and speaking Chinese, but I didn't know how to get to be like those people," said Kos-Read.
Opportunity knocked with an advertisement in an expatriate magazine seeking a foreign actor for a movie. He went for an audition and got the role, which launched his acting career.
The first few years were fairly uncertain. At that time, Kos-Read's roles mostly consisted of clichéd images of foreigners in China—the rich foreigner who falls in love with a Chinese girl but is finally refused, foreign friends of Chinese characters, or just a foreign face to give the story international flavor.
"After one role, I didn't know when the next one would come," he said. "And, there were more foreigners swarming into this industry. I was always worrying how long I could be in this career."
The uncertainty felt like the sword of Damocles above his head. Kos-Read practiced hard to learn his lines, and the struggle enabled him to gain confidence.
"I put 100 percent into every role. With all the hard work I put into this career, now I feel that although the sword is still there, it can hardly fall down on my head," Kos-Read said.
All efforts have paid off. As he has appeared in more than 100 Chinese movies and TV dramas, including major supporting roles in some big hits, Kos-Read has become "the most familiar foreign face on China's screens."
Last year, he played an antique dealer in the blockbuster Mojin—The Lost Legend alongside leading Chinese movie stars. The action fantasy movie earned 1.68 billion yuan ($248 million) at the box office.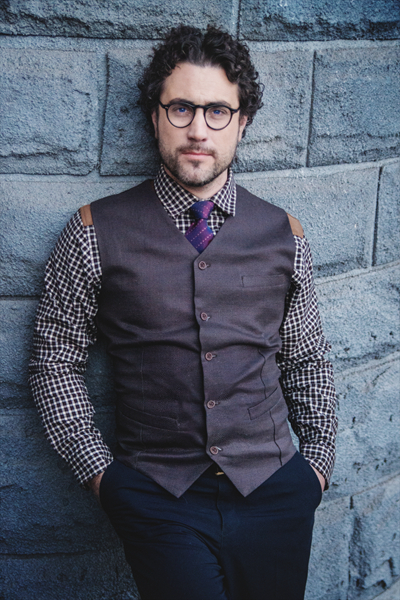 Jonathan Kos-Read (COURTESY OF JONATHAN KOS-READ)
Working for fun
While living in Oakland, Kos-Read often strolls down the city's Chinatown and chats with shopkeepers, who get stunned by his fluent Chinese. Although the city is starting to feel like home for the family, Kos-Read said his career is still deeply rooted in China.
"When people ask about my work, they usually focus on the income or other details, and some raise issues such as the lack of potential to achieve fame and fortune like the big Chinese stars," Kos-Read said. "But the one thing nobody asks is how much fun the career is. It's the fun that drove me to choose this career and stay with it for such a long time."
Such enjoyment though requires intensive effort. Given how limited foreigners' roles are in China-produced TV and films, currently just five foreigners—three men and two women—are able to make a full-time job out of acting, according to Kos-Read.
"There are more roles for guys, as guys can be general soldiers, business guys [or] bad wizards. The roles for women are quite limited though; most are women falling in love with Chinese guys," Kos-Read said, adding that he would like to be offered more roles in science fiction movies.
"I would say that even in Los Angeles, I'd still be a character actor. Now, I have a nice career with decent money, [and] I'm satisfied with it," he said.
As for his next project, Kos-Read is preparing to turn a murder mystery novel he has just finished writing into a movie. Set in the Southern Song Dynasty (1127-1279), the story revolves around a palace eunuch who becomes a detective.
"I will still be playing a supporting role," Kos Read said in fluent Chinese with a strong Beijing accent.
Copyedited by Chris Surtees
Comments to yuanyuan@bjreview.com