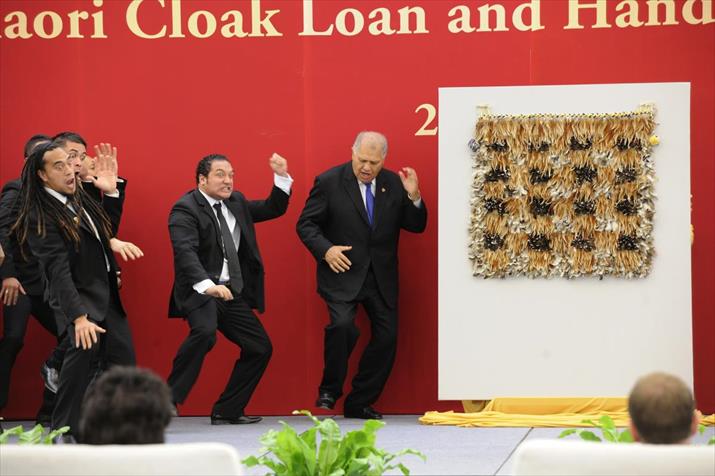 Maori representatives celebrate the handover of a traditional cloak presented to Chairman Mao Zedong in 1957 as a gift for an exhibition in New Zealand at the National Museum of China in Beijing on April 11, 2013 (CNSPHOTO)
Matilda Gaby knows she was born near Nanchang, the capital of Jiangxi, a province in central China, but she has no other recollection of her life there or her Chinese biological family. She was adopted by a New Zealand couple when she was 9 months old and spent her early years in London. Since then, New Zealand has been her home.
Today, she is back in China as a 21-year-old, studying Chinese as a second language at Peking University in Beijing. She is also a liaison officer at the New Zealand Center, founded by Peking University and the University of Auckland in 2007 to enhance New Zealand's profile, especially through academic exchanges, and deepen China-New Zealand understanding.
Maori links
Gaby is hoping that when a New Zealand culture and history course starts at the university next semester she can contribute to the classes on Maori culture.
"My father, a civil engineer, grew up in a very Maori-dominated community and is affiliated to a Maori tribe," she said. "Also, when I graduated from Victoria University of Wellington, my lecturers stressed the importance of understanding Maori culture as a New Zealander. I think it's very important for New Zealand as a multicultural country to understand the Maori culture, society and history as these form and enrich an integral part of New Zealand's identity."
The graduate student is one among the many links—human, institutional, cultural as well as commercial—that have created a multi-faceted bond between China and the South Pacific nation. On March 27, this bond was strengthened when New Zealand signed an agreement with China to cooperate on the Silk Road Economic Belt and 21st-Century Maritime Silk Road Initiative, also known as the Belt and Road Initiative, becoming the first Western developed economy to do so.
Close on the heels of the signing, Beijing Foreign Studies University (BFSU) announced it would start a slew of new foreign language courses including Maori, the language of New Zealand's indigenous Maori population, which was recognized as an official language of New Zealand in 1987.
The courses are part of a larger program. "We have a plan to cover all the official languages of all the countries that have diplomatic relations with China," said Jin Limin, Director of the BFSU Teaching Affairs Office. "We want to cover all these languages for two purposes."
The first is diplomatic. "When China goes global and globalization connects countries together… there is this need for foreign language majors not just to know the language and become interpreters but to use the language to study the target country so as to help build better relations between China and these countries," Jin said.
The second reason is socioeconomic. With the Belt and Road Initiative planning to connect regions speaking a multitude of languages, including many that are less commonly taught, there is a need to produce people who can act as communicators. "The Belt and Road Initiative will create a lot of jobs for people who studied these languages. There will be employers who will want them. We can feel the growing interest in these languages," Jin said.
Presently, BFSU offers courses in 70 different languages. By 2020, more than 100 languages will be taught. "We ourselves were amazed," Jin remarked.
Dou Wei teaches English at BFSU. She obtained her degree under an Australian studies program, and when BFSU this year sought volunteer teachers to learn Maori so that they could helm the course when it is introduced at the university, she volunteered. "It's all connected," Jin said. "Dou was in the Australian studies program, close to New Zealand and the South Pacific Islands, and now she will study Maori for a year at the University of Auckland."
A kahu huruhuru, a feather cloak made of wool and the plumes of five different bird species ranging from the homely chicken to the stately albatross, is one of the most august China-New Zealand links. A gift from King Korokī, the fifth Maori King, to Chinese leader Mao Zedong, it found a place in history on October 1, 1957, when Ramai Te Miha Hayward, actor, producer and the first Maori film director, handed it over in Beijing.
Cloak of brotherhood
In his 1995 book New Zealand Women in China, New Zealand educator-activist Tom Newnham quoted Hayward's description of the meeting: "Mao greeted me, and then I put the cloak on his shoulders and tied it. I said it was a gift from our Maori king of Aotearoa New Zealand, a gift of goodwill to the leaders of China. I said, 'We are the smallest nation in the world, giving this gift to the largest nation in the world.' He smiled and said, reassuringly, 'The smallest is as great as the largest'."
Subsequently, the cloak was kept in the National Museum of China, and little more was heard about it until John McKinnon, present New Zealand Ambassador to China, arrived in Beijing in the same capacity in 2001. His interest led to the embassy staff tracing the cloak.
On October 31, 2012, when China and New Zealand celebrated the 40th anniversary of their diplomatic ties, the cloak came into the limelight again, when it was displayed as part of two exhibitions from New Zealand. A year later, the National Museum of China loaned the cloak to New Zealand's national museum, Te Papa, where it was displayed for some four months.
Afterward, the Maori cloak was given back to the National Museum of China, Te Papa's Senior Communications Adviser, Ellie Campbell, said.
In 2010, Awataha, a Maori organization in New Zealand, tried to build a Maori theme park in Qufu City in east China's Shandong Province.
"Unfortunately, the project did not go ahead," Awataha leader and spokesperson Anthony Wilson said. "In hindsight, I think it was a bit ahead of its time."
That's why Wilson is looking forward to the Belt and Road Initiative. "The commitment from China's President [Xi Jinping] to figuratively recreate the Silk Road trade of old could lead to greater coordinated regional development in China [and] also open up trade with other countries such as New Zealand," he said. "The Maori economy in New Zealand is growing rapidly, with many Maori organizations measuring their wealth in tens of billions [New Zealand dollars] for the first time ever. Given the significant resource control that Maoris have, they will definitely become a major trading partner [of] China."
Wilson also hailed the Maori learning initiative. "Language is one means of bringing the cultures together and understanding one another's value systems. Maori values and Chinese values are closely aligned in some regards and can offer a more natural fit," he said.
The China-New Zealand cultural bond has been enriched by other cultures as well, demonstrating the concept of the world being one interconnected global village. British bibliophile Peter Goff is one of the many others who have contributed to this enrichment.
The 48-year-old, who first came to China in 2002 to study Chinese, returned three years later to set up Bookworm, a bookstore, restaurant and salon where authors discuss their work. The Bookworm Literary Festival started in 2007. The small store has played host to New Zealand writers like Witi Ihimaera, often called the best-known Maori writer alive, young adult fiction writer David Hill, and Anna Smaill, whose novel The Chimes, a fantasy about music replacing words, was long-listed for the Man Booker Prize in 2015.
The authors also had animated interactions with local students. While Ihimaera gave a talk at Peking University, Hill visited several schools in Beijing.
"Some local Chinese schools here have taught his books in the classroom," Goff said. "They were very excited to have him go to their schools. He also did workshops with young teens, teaching them how to write."
Reciprocal gesture
Goff said the language-learning drive was reciprocal. "China is opening up and studying other languages in the world, and it's the same with other countries around the world," he said. "I am Irish, and [Irish] Education Minister Richard Bruton has just announced that our main high school examination will offer Chinese as a subject from next year. It is nice to see that across the world, countries are getting more engaged with other countries and their culture and language."
Goff said the effort to create a cultural corridor alongside the Belt and Road was an important and progressive initiative. "Obviously, there are infrastructure, commercial and economic priorities, but it's great to see culture is an important part of that platform," he said. "It's a great way to bring countries together to promote mutual understanding."
Copyedited by Chris Surtees
Comments to yanwei@bjreview.com