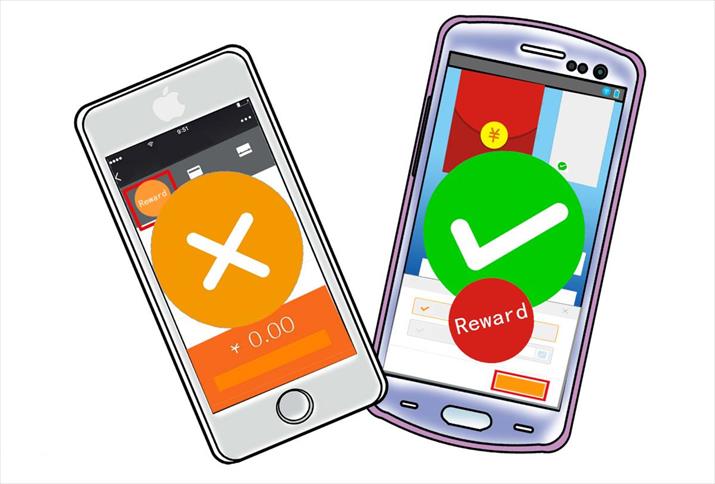 (LI SHIGONG)
WeChat, the widely used social media app developed by Tencent, notified its users on April 19 that its tipping function on Apple's iOS platform will be shut down. The function, which allows readers to tip WeChat content providers who publish and circulate articles via the app, contravenes Apple's in-app purchase rules. The change applies only to the iPhone and iPad versions of WeChat. The function remains available to users of Google's Android operating system.
Apple cited rules it made in June 2016, which stipulate that apps should not direct customers to purchasing mechanisms other than in-app purchases.
Since the rules came into effect last June, why has the decision to shut down WeChat's tipping function been taken only recently? Tencent's official reply was that after lengthy negotiations with Apple, Tencent had chosen to shut down WeChat's tipping function.
Through this mechanism, WeChat intends to encourage the creation of original content, as readers can tip WeChat public accounts, many of which are operated by private, original content creators. So far, Tencent has not taken any share of the tipping revenues of WeChat public accounts or levied any associated fees.
Since its initial beta test in October 2016, the function has become an important source of revenue for many original content creators. Thus, the shutting down of WeChat's tipping function on Apple devices is expected to cut such revenues.
Many see Apple's move to disable WeChat's tipping function as an attempt to pave the way for Apple Pay to seize market share in China, where WeChat Pay and Alipay currently dominate and Apple Pay is rarely used.
Competing for market share
Yang Feiyue (www.gmw.cn): To shut down WeChat's tipping function can't hide the fact that Apple Pay is struggling to gain market share in China. Apple Pay's share in China's mobile pay market is estimated to be lower than 1 percent, while both WeChat Pay and Alipay are widely used.
As an enterprise, Apple has a legitimate right to shut down WeChat's tipping function on the iPhone and iPad. However, let's imagine what might follow if apps like WeChat and Alipay retreat from Apple's operating system. Probably 70 percent of Apple users would throw away their device and turn to other mobile manufacturers. iPhone is not the only choice for people in China who are free to use Huawei and Samsung mobile phones, among others. The gap between these brands is narrowing.
This move is seen as going against the development trends of China's mobile Internet industry.
Apple's new rules will not only affect WeChat, but also other popular apps in China, such as video platform Youku, whose users will find making payments more difficult. Apple means to make easy money through its monopoly of an operating system, but its move will lead to regression. What Apple should do is upgrade its payment system to better adapt to the Chinese mainland market, instead of shutting down others' payment functions on iPhone and iPad.
Jia Jinghua (The Beijing News): Apple's new rules will have a shocking impact on WeChat, otherwise Tencent would not have spent 10 months negotiating with Apple. By demanding that WeChat shut down its tipping function, Apple intends to protect its Apple Pay service, which is no less than a milestone in its history. Apple is trying to embed Apple Pay in more application scenarios, pushing it into places such as supermarkets and restaurants. Like Apple Pay, WeChat is also planning to push its tipping function to more application scenarios. In this case, it's natural for Apple to restrict WeChat's similar function to prevent foreseeable competition from WeChat on the iOS platform.
WeChat Pay is undoubtedly a major rival to Apple Pay. Backed by Tencent's massive resources, WeChat has developed within a few years to become the most frequently used app in China, possessing hundreds of millions of users. Although Tencent is not Apple's arch rival, WeChat Pay and Apple Pay are already in competition in the field of online payments. More importantly, Apple Pay's share in the Chinese market is very limited. According to iResearch, the value of third-party mobile payments reached 38 trillion yuan ($5.51 trillion) in China in 2016, with WeChat and Alipay almost dominating the business. In contrast, Apple Pay lags far behind. Given this background, it's easy to understand that Apple is paving the way for Apple Pay in the Chinese market.
The abolition of WeChat's tipping function is more about competition for market share than Apple's new rules.
Jiang Debin (www.rednet.cn): In Apple's iOS, no matter what app you are using, when you want to buy things like music, video and novels, you can do so only through the payment channels provided by Apple's App Store. This makes it possible for Apple to charge 30 percent commission from app developers.
By promoting the tipping function, WeChat aims to encourage the creation of original content. Readers' tipping can motivate content creators, and monetary rewards have become a source of income for them. So far, WeChat has not deducted a penny. All of the revenue has gone to the public account operators. With WeChat's tipping function shut down, public account operators' revenues will be cut and WeChat Pay transactions will be reduced.
So far, apps like Toutiao, Weibo and Alipay, which also have iOS apps with tipping functions, have not been affected by Apple's new rules, but it's unknown whether Apple will take further action. As for WeChat, although the tipping function remains on WeChat's Android version, a decline in tipping revenues is certain.
Apple's App Store is a channel through which users must access apps; even the downloading and installing of WeChat depend on the App Store. Therefore, Apple must strictly control the in-app purchase payment channels to safeguard its profit streams.
However, WeChat is enriching its functions rapidly. It is now developing into a multi-function and even full-function platform. Boasting a huge number of users, WeChat is showing a tendency to replace Apple's many functions, particularly in terms of mobile payments. Apple Pay is completely overshadowed by WeChat Pay and Alipay and is now being further marginalized. The dispute over WeChat's tipping function is actually a competition for mobile payment rights.
Limited impact
Ma Jihua (it.sohu.com): Under Apple's pressure, Tencent has finally given in. This time, it is the tipping function that is disabled. Next, probably more Tencent products will be restricted by Apple's rules. Even Tencent's online gaming business might be affected. WeChat Pay, which is burgeoning, will bear the brunt of Apple's move. More importantly, it's feared that Google may follow Apple's example.
Actually, Apple did not initially intend to shut down WeChat's tipping function. Tencent elected to shut down WeChat's tipping function rather than agree to use Apple's iOS in-app purchase system. Neither of the two can benefit from this move. Still, we can read Tencent's choice as part of its struggle against Apple.
Up till now, Apple has never changed its rules and logic that the purchase of virtual products on its platform must go through the in-app purchase system and that all such products for sale are subject to App Store terms and conditions. The same rules apply globally.
Some argue that Apple's refusal to accede to Tencent's demands will force users to choose between WeChat and Apple, and thus Android will seize more market share in China. This supposition overestimates WeChat's influence. Apple's move affects the interests of only those who benefit from the so-called "payment for knowledge" model. As for users who wish to pay through WeChat's tipping function, removing the function from the iOS platform means the payment process will be more complex. Many people who tip WeChat public accounts are impulsive consumers. They will not bother to change their mobile phone just because the iPhone no longer supports WeChat's tipping function.
Copyedited by Chris Surtees
Comments to yanwei@bjreview.com