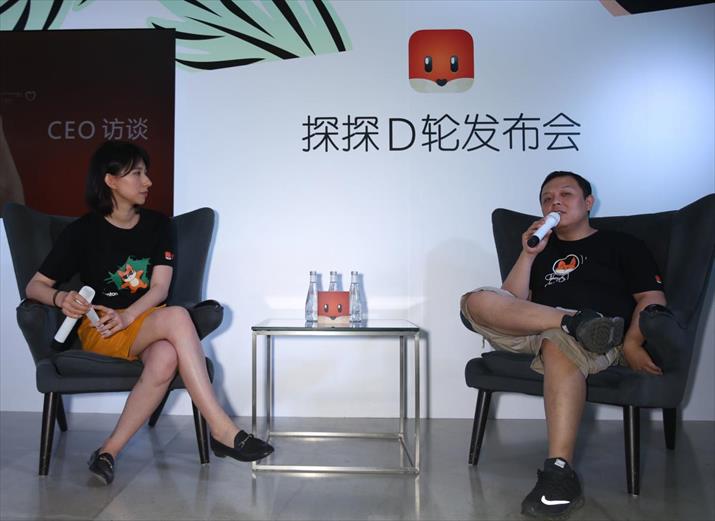 Wang Yu (right), CEO of Tantan, speaks at a press conference, announcing details of the company's D-round financing, in Beijing on June 21 (COURTESY OF TANTAN)
"Hey, you've got a secret admirer on Tantan. Do you want to sign in and see who it is? If you like him and hit the like button, the system will match you up. Come and have a look!"
When Liu Tong, a 20-year-old university student in Dalian, northeast China's Liaoning Province, received this text message on her mobile phone, at first she thought it was a hoax. But she couldn't help wondering whether it could be genuine since it addressed her by name. So after a bit of a struggle, she downloaded the app and signed in out of curiosity.
"There are a lot of people on the app, and some seem really nice, though some are not my type, flaunting their muscles or photoshopping too much," Liu said. She thinks it can be a good way to make friends, though she still doesn't know who her secret admirer is.
Tantan is the Chinese version of Tinder, the American casual dating app that since its inception in 2012 has often run into controversy for date rapes and other crimes. However, Tantan is more circumspect, with the focus also including friendship as well as marriage.
Its competitor Momo, a NASDAQ-listed company, was launched one year before Tinder. Momo has now expanded its business to live Web broadcasting, featuring ordinary people and making them stars, as the live streaming industry is on the rise in China. Its monthly active users reached 85.2 million by March 31.
Apps like Momo and Tantan are changing Chinese youngsters' way of making friends and dating.
"A lot of young people in China face an awkward situation: When they are in school, their parents forbid them to have a romantic relationship fearing it might affect their studies," Wang Yu, co-founder and CEO of Tantan, told Beijing Review. "When they're in college, they can't communicate with the opposite sex well because they are either too shy or don't know how to make themselves attractive, both physically and mentally. When they have a job, they are under a lot of stress and can't enjoy their leisure time. Their friends circle is small and limited."
"When you grow up, you find your world getting smaller, not bigger," Wang added.
This is what inspired Wang to launch Tantan, where people have more opportunities to meet others outside their friends circle. Based on their age, gender, location and other background information, the system matches them up with other users with an apparently compatible background. If a user likes someone's profile and the person returns the gesture, then they are connected for conversation.
"You get to chat only with people you are matched up with. In this way, the awkwardness of random messages can be avoided," Tantan's official statement says.
More than 598 million matches have been made on the app since its iOS and Android versions were launched in June 2014.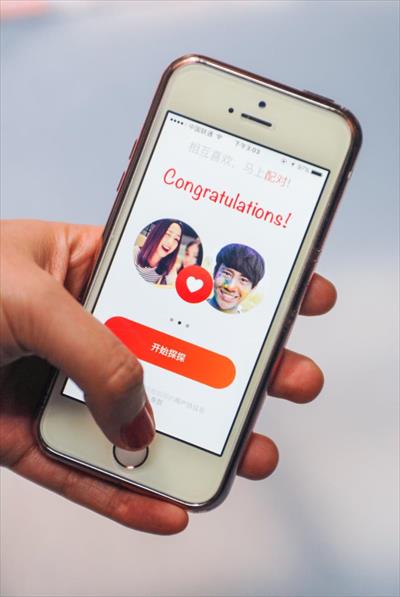 A user shows the Tantan app on her cellphone (WEI YAO)
Making new friends
Scott Chen, a 26-year-old from Xi'an, northwest China's Shaanxi Province, wanted to meet someone with similar hobbies like listening to rock music, cycling and playing soccer. He downloaded Tantan in 2015 while he was studying in England in the hope of meeting some interesting Chinese people in a foreign country.
Chen said he has already made three good friends who have also added him on WeChat, the prevalent instant messaging app in China.
"But it's a shame that sometimes I can't be matched with the people I like," Chen admitted. For instance, he once came across the profile of a girl whose favorite band was the same as his, which was a rarity since it was not a well-known band. But to his chagrin, he couldn't connect with her.
Coincidentally, Wang said the birth of Tantan had something to do with his own experience living abroad as well. Born in Beijing, he went to Sweden at the age of 7 and lived there for 19 years. He noticed the differences in socializing and dating in China and Western countries. In the West, there are many parties and get-togethers where people can make new friends but in China, there aren't so many opportunities.
Wang saw the demand and a huge market in China. "Besides, I had been single for some 26 years and I know how bad it is," he joked. "I want to make socializing easier for Chinese youngsters."
Today, the app's influence goes beyond Chinese users. Many foreigners living in China are also using it to make new local friends.
An Australian currently working in the Beijing-based Renmin University of China, who calls himself Max online, is one of the foreign users of Tantan. He installed the app around half a year ago only to uninstall it because he thought it was a waste of time. But later he changed his mind and reinstalled it, thinking it a nice way to make new Chinese friends.
"Many working people don't have a lot of opportunities to make new friends outside their workplace, so this is one way to be more social," he said. "It is not good to spend one's free time and weekends always with the same people."
Getting that special someone
Through Tantan, single people can also look for love and marriage. The website says the app "will help you find that special someone."
Li Shaoying, a 26-year-old clerk in Beijing, is enjoying the fulfilled promise. He met someone this year through the platform and now they are going steady. "At first, I couldn't believe it, because I know a lot of people on the app are not looking for a serious relationship," Li said.
He saw an advertisement on the subway and signed up two years ago. Then he was matched with some young women but the conversations languished due to a lack of common interest. "Meeting a person you can really talk to can be hard," Li said.
When he met the woman who would later become his girlfriend, they connected immediately. But he felt he had to be cautious because of reports of fraud under the guise of love. However, his doubts disappeared after their first actual date.
"We needed to get to know each other better since we were complete strangers before," Li said, describing the initial awkwardness when he and his girlfriend first met, which is often common when meeting people for the first time face to face, as opposed to chatting with them online. "But it got better and better every time we met. The app introduced us; now it's up to us to take it forward."
Dealing with challenges
Since Wang and Pan Ying, co-founder of Tantan and Wang's wife, created the app, there have been 60 million valid users and 6 million active daily users. Earlier in June, the company held its series-D financing round, through which it raised $70 million, a large step-up from its $32-million C round by a group of investors in May 2016.
However, like all online dating sites, Tantan has its challenges too. According to Wang, many people, especially young women, are reluctant to tell others that they are using such an app because it's still unconventional in China and even controversial in some people's eyes.
Also, there is a possibility of fraud since the information users post can't always be verified and there are possibilities of people lying about their age, financial and marital status and other details.
So Tantan plans to upgrade itself and build up its brand. In the future, it will improve its communication function by adding more widgets to meet young people's needs, like video chats and games.
"As more and more people know what we do, I hope they will get confident and say with pride, 'I've met someone on Tantan,'" Wang said.
Copyedited by Sudeshna Sarkar
Comments to luyan@bjreview.com