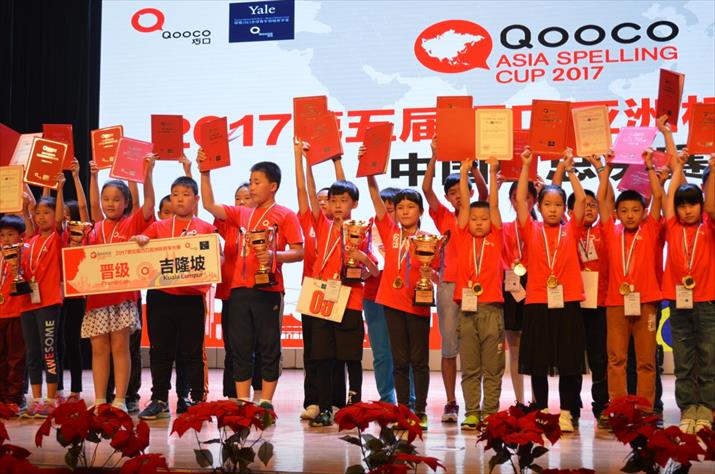 Winners of the Qooco China Spelling Cup 2017 show their medals to the audience after the competition in Beijing on September 24 (BAI SHI)
After multiple rounds of vocabulary dictation and spelling contests, 18 Chinese kids have won places in the Qooco Asia Spelling Cup 2017, to be held in Kuala Lumpur, Malaysia this November.
A total of 90 pupils, drawn from over 100,000 contenders from 400 schools in 200 cities across China, participated in the Qooco China Spelling Cup 2017, held at the Youth Activity Centre in Chaoyang District, Beijing on September 24.
The participants of the Beijing contest were selected through preliminaries conducted via the Qooco Arena mobile app and regional spelling competitions held over the past few months. At the final, the contestants were divided into three groups according to age and skill level – beginner, medium or advanced. The top six in each group qualified to compete with students from Indonesia, Thailand and Malaysia in the Kuala Lumpur final.
David Topolewski, Qooco Chief Executive Officer, told Beijing Review that "the Qooco Asia Spelling Cup is the largest spelling bee in China and the first to use this mobile application-based selection method."
The market for English language training in China has witnessed rapid growth. More and more Chinese families are willing to pay for extra English training for their children. Among Chinese people who have learned English at school, however, lack of ability to apply knowledge of the language in practice remains very common, Topolewski said.
"So, we held the first Asian spelling bee in Singapore in 2013 as an effort to improve the English level of children," Topolewski said.
Qooco combines offline and online modes of English language training. Its app allows students to train their English language skills via numerous intense, multi-segment listening, speaking and spelling lessons.
Nine-year-old Guan Zhinan won first place in the medium-level group in the Beijing final. Her father, Guan Daoheng, told Beijing Review that his daughter started learning English when she entered a bilingual kindergarten in Dalian, northeast China's Liaoning Province.
"My daughter spends an hour every day learning English, including reciting words and talking with English native speakers online. Mostly, she can study by herself via Qooco apps," Guan said.
"I hope she can make new friends and broaden her horizons by participating in the Asian final in Kuala Lumpur," he added.
Copyedited by Chris Surtees
Comments to baishi@bjreview.com