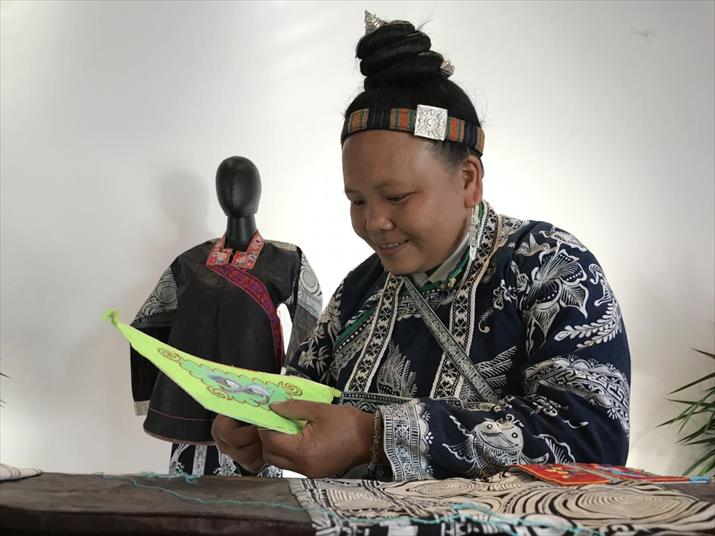 Yang'er is working on a design in her studio in Guiyang City (MA LI)
Zhang Xiaosong is Dean of the School of International Tourism and Culture at Guizhou Normal University in Guiyang, capital city of southwest China's Guizhou Province. But her work is not limited to teaching at university. Zhang is also a village researcher.
Over the past 26 years, Zhang has visited more than 700 villages in 89 counties across Guizhou, a multi-ethnic province which is home to time-honored traditions and customs with distinctive ethnic minority characteristics. With her endeavor, Zhang has established close ties with many intangible culture handicraftsmen living in villages.
"We are a family. They give strength and motivation to my work," Zhang told Beijing Review during a design competition for cultural and creative tourist commodities held in Qingzhen County, Guiyang, on August 20.
As one of its organizers, Zhang said the event, the first of its kind, was intended to help Guizhou's local distinctive handicrafts and tourist goods gain recognition outside the province.
"Such products that combine the traditional culture and fresh creativity together are very popular in market," Zhang said.
With inspiration gained from a multi-day tour of several Guizhou villages arranged by the event organizers, participants, most of whom were academics and students from Guizhou and Taiwan, created a total of 66 artworks for the competition.
"The trip to Guizhou Province was short but fruitful. It serves as a bridge of cultural communication across the Taiwan Straits," said Hong Quanhu, a professor at Yuan Ze University in Taoyuan City, Taiwan.
"Now I have a better understanding of the culture of Guizhou," Hong said.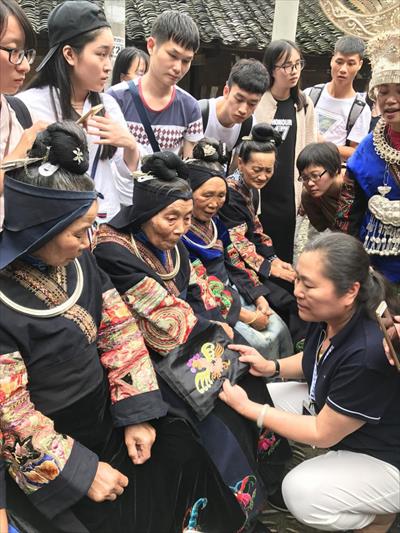 Zhang Xiaosong (right in front) and a group of visitors look at Miao villagers' traditional clothing (FILE)
A master of traditional arts
Guizhou's 49 ethnic minorities make the province China's fourth largest ethnic minority region and a place where long-standing skills and techniques in the textile arts are well preserved and promoted.
Yang'er Yeniu is a woman of the Miao. The Miao group is Guizhou's largest ethnic minority. The 39-year-old Yang'er is also an inheritor and promoter of the traditional craft of batik. Widely practiced for centuries throughout South Asia and South East Asia, most notably in Indonesia, the art also has a long history among southwest China's ethnic minorities and is one of Guizhou's 85 designated items of national intangible heritage. The production of traditional Miao costumes involves weaving patterns into fabrics, typically cotton and hemp, applying hot wax and then dyeing the cloth with indigo. Traditional designs include flowers and mythical fantastic creatures such as dragons and phoenixes.
Yang'er has never received formal education, but her batik and embroidery work is of great artistic value in Zhang's eyes. She is especially good at embroidering butterflies, which in Miao myth are the earliest ancestor of all creatures in the world. She creates them in different poses and at different stages of their development.
"She is really talented. She doesn't make a rough draft; just draws whatever pops into her mind, and they come out smoothly," Zhang said.
Yang'er mostly uses uncolored burlap cloth, giving her batik a mysterious and natural feel and a unique style that sets it apart from ordinary Miao batik.
Zhang first met Yang'er during one of her field trips and was impressed by Yang'er's handwork. In 2012, the two met again when Zhang visited an embroidery factory where Yang'er worked.
At that time, Zhang was a culture consultant for Guizhou Time, a tourist development project in Guiyang. The property developer provided Zhang with a rent-free facility and Zhang made it a center for cultural exchange and traditional craft display. Zhang invited folk artists from Guizhou to set up workshops in the center. Yang'er is one of them.
Yang'er now has her own office in the studio building. She has garnered a reputation for her batik and embroidery skills, acquiring a broad popularity, and enjoys a decent stable income by selling her designs. Many people have been attracted to the center by its reputation. They learn the traditional craft from Yang'er and other handicrafts masters. Every day, Yang'er would create artworks together with her students.
"Real art is born among folk. The key is how to discover and promote it," Zhang said.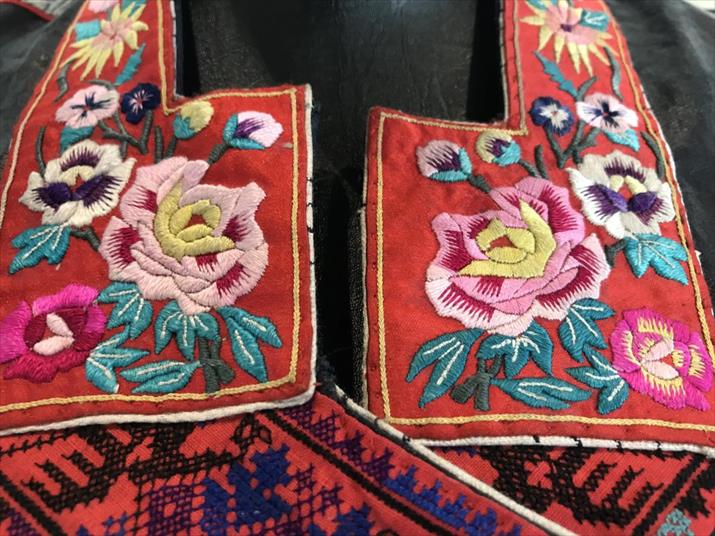 Embroidered clothing created by Yang'er Yeniu (MA LI)
The journey of rediscovery
In 2000, Zhang travelled to Jidao, a historical village nestled in mountains in Guizhou. She was doing research on the tourism resources of the village. There she met an old lady surnamed Yang. Yang and her family subsisted on corns and they had slender income. In Jidao, there were many elderly people like Yang living in poverty and most of the village's young people had moved to cities for making a living.
Zhang decided to lend them a hand. While talking with Yang, she learned about a particular local custom. The wedding dresses of local women were handmade by the brides' mothers. In Zhang's eyes, the dresses are excellent handmade artworks. But, only a small number of people in Jidao knew how to make them. What's more, local people had not found the value of these rare heirlooms in their hand. Local families had sold the wedding dresses simply for helping out with the family expenses in the past, leaving just 19 integral wedding gowns in the village inherited from their great grandmothers long time ago.
To continue and develop the unique Miao embroidery craft, Zhang began encouraging villagers to learn how to make the dresses like the existing gowns. They soon formed a group to practice together. Half a year later, Yang was delighted to inform Zhang that the villagers had managed to master the skill. Zhang and her colleagues then helped them to promote their embroidery outside the village, and they soon received buy orders from people who are interested in traditional Miao handicrafts.
The recovered traditional embroidery skills have been promoted among young people and are generating stable income for the artisans. Local villagers have begun to develop other tourism-related business such as homestay and agritainment. The over 100-years-old Jidao village has now become a well-known tourist destination in Guizhou Province.
"I would be gratified every time when I see them embroidering locally featured dresses and singing folk songs," Zhang said.
"Preserving traditional culture and handicrafts not only increases incomes for them, but also continues a nation's memory and intangible heritage," Zhang said.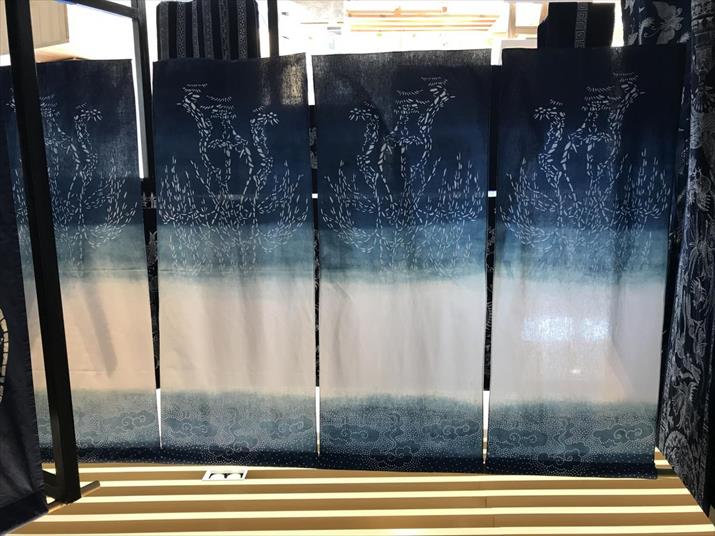 Batik cloth made by handicraftsmen of the Miao ethnic group (MA LI)
Copyedited by Chris Surtees
Comments to baishi@bjreview.com