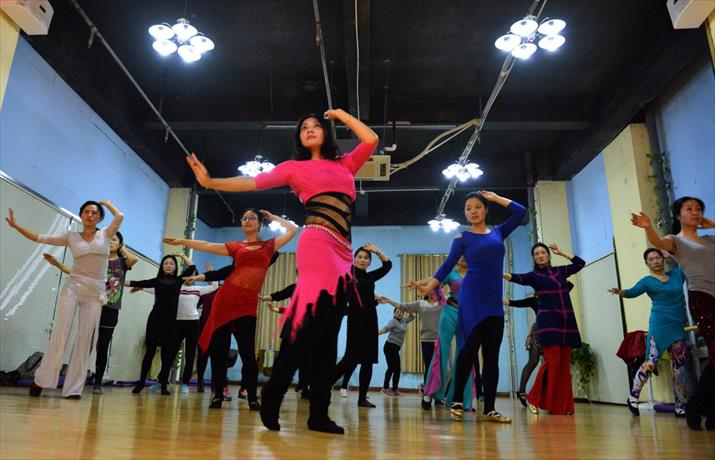 Belly dancing is becoming popular in China, even in sparsely populated counties such as Hongze in eastern Jiangsu Province, where amateur dancers learn the skill on December 13, 2015 (XINHUA)
When Sammia Du took her first step on stage in a Cairo five-star hotel, the public looked a bit ambivalent.
Her Asian features were unlike those of any other Egyptian belly dancers who performed that night. But as she closed her eyes and began to shimmy to the rhythm of the drums, the young Chinese dancer was quick to dispel any doubts.
"It's an indescribable pleasure for me to get on stage and allow myself to be carried away by the Arabic rhythms and melodies. I long for this and I need this," Du said shortly after her performance in the Egyptian capital. "I love this music and this dance, and I love Egypt as if I had lived here in a previous life."
Du—whose Chinese name is Du Xiangxiang—was among the first to introduce belly dancing in her home city of Shenzhen in south China's Guangdong Province. Over the last few years, this traditional dance, born on the banks of the Nile, has seen its popularity explode in China, thanks in great part to efforts of dedicated teachers like Du.
While belly dancers in Cairo are suffering from a slowdown in the tourist industry since 2011, their unexpected popularity boom in China has opened up new channels of exchange between the two countries.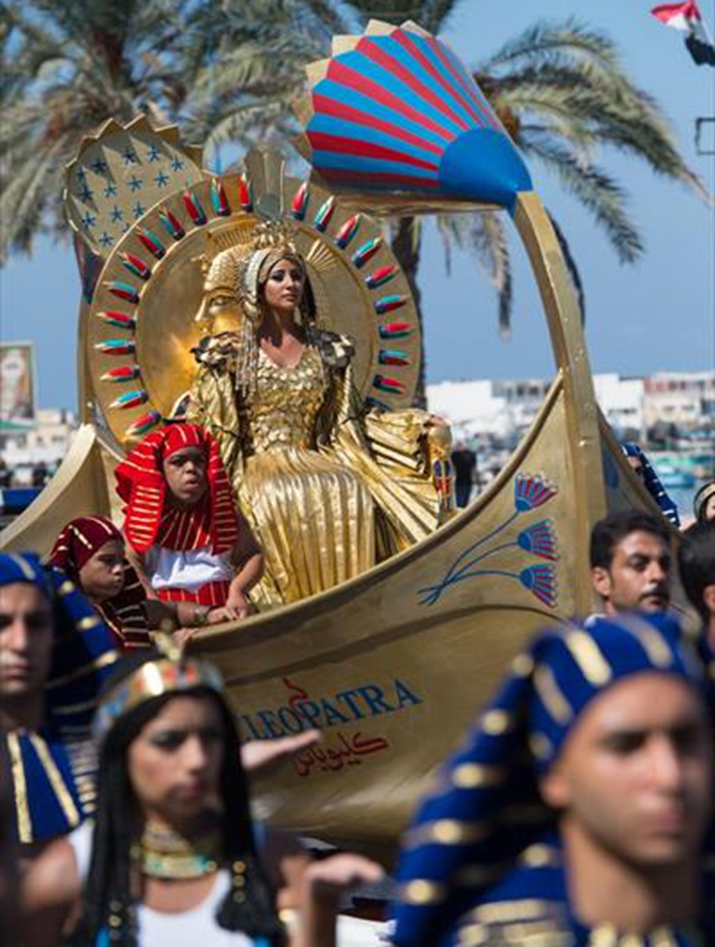 Citizens of the City of Alexandria, Egypt hold cultural activities to promote local trouism on September 30 (XINHUA)
Global recognition
It is by pure chance that Du first discovered belly dance, whose origins date back to the Ottoman Empire (1299-1922), according to historians. In 2003, an American friend sent her a DVD of Egyptian dance performances that immediately caught her eye.
"I was instantly fascinated by the unique movements and music. I found it incredible how the dancers could move only one part of their body, such as the hips or the belly. It is a dance that helps develop control of specific muscles," she said.
Called raqs sharqi in Arabic (literally, oriental dance), belly dance emphasizes complex movements of the torso. For Du, this was the start of a passion that led her on her first trip to Egypt in 2006.
"I love this dance because it allows me to express my deepest feelings," said Du. "Whether I am sad or happy, I can convey my emotions through the dance."
This love led her to establish the Sammia Dance Studio in Shenzhen in 2007, a 1,000-square-meter school specializing in belly dance, where she has already trained more than 1,000 dancers.
But what Du is most proud of is to be the first Chinese certified as a dance teacher by the international belly dance festival Ahlan Wa Sahlan, the most prestigious gathering of its kind held annually in Cairo.
"It was very difficult at first because I had studied belly dance only by myself in China, and over there in Cairo, I was with real experts and professionals. But year after year, I learned from them and have gone back there every summer for the last 14 years," she said.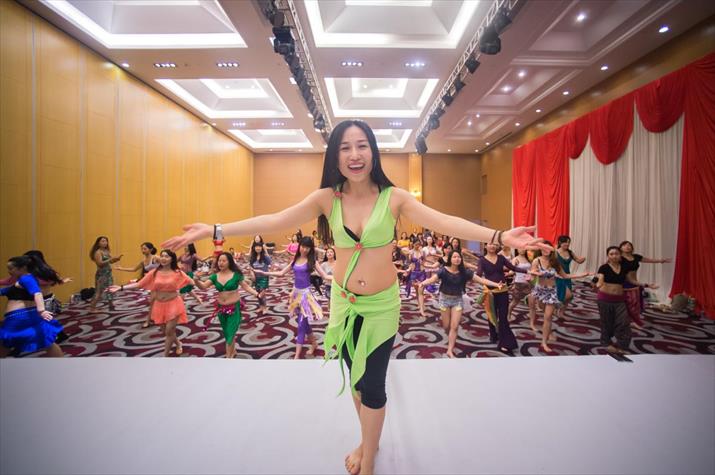 Sammia Du and her students in Egypt (XINHUA)
A new impulse
For long a pillar of tourism, belly dance has been hard hit in recent years by a fall in popularity in Egypt, according to industry experts. After a glorious period in the 1950s during the golden age of the Egyptian film industry, it is at its low ebb.
If belly dance shows were a must-have entertainment in the past at Egyptian weddings, they are now frowned upon by the conservative segments of society, said Raqia Hassan, head of Ahlan Wa Sahlan. This is not a good sign for the future of belly dance, she added.
"Belly dance, through its intoxicating and natural charm, symbolized above all Egyptians' love for music. But now, many dancers neglect this expressive and emotional aspect," she said.
In light of this, the Chinese craze for this dance is seen as a breath of fresh air. China is now a belly dance "giant," with tens of thousands of students and hundreds of schools, according to insiders.
"My students come from all walks of life, including lawyers, doctors and businesswomen, as well as the occasional male dancers. They are attracted by what they see in movies, by the music and oriental clothing, while others see it as a hobby or a way to get back in shape," said Du.
The demand is such that belly dance schools in Cairo, such as the Raqia Hassan School, now offer classes with simultaneous Mandarin translation to meet the needs of Chinese students.
"I believe that to fully master belly dance, one needs to explore its roots and the region where it was born," said Du.
For the last 10 years, she has been organizing study tours to Egypt. Every year, she brings about 15 students from all over China to Cairo, where they undergo intensive training and can dance alongside some of the greatest masters.
These trips allow students to better assimilate the spirit of belly dance by immersing themselves in the local culture, she said.
"Egyptians are more willing to express their feelings and desires directly and simply. This is reflected in their dance. Chinese dancers, on the other hand, are more reserved. As far as I'm concerned, I found that my personality changed as I learned the dance. Little by little, I became simpler, more open-minded and less restrained because I love this dance, this culture and this country," she said before jumping back on stage for her next number. (Reporting from Cairo, Egypt)
Copyedited by Francisco Little
Comments to baishi@bjreview.com