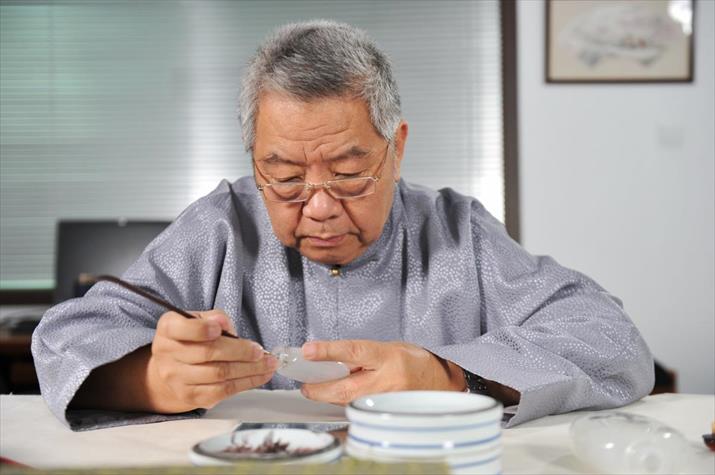 Liu Shouben is working on a inside-bottle painting in Beijing on October 13
Liu Shouben began painting snuff bottles almost 60 years ago, when he came across the handicraft as a 17-year-old in 1960. Since then, Liu has dedicated himself to mastering the art of decorating the insides of snuff bottles.
"Generally, it would take three years for an apprentice to learn this handicraft, but I was capable of doing the work after one year of training. However, it took me 20 years to develop my own style of snuff-bottle painting," Liu told Beijing Review.
Only a very small number of craftsmen were doing the job of decorating snuff bottles in Beijing back then, so after the older generation of masters passed away one by one in the 1970s, Liu took upon himself the responsibility of passing on Beijing's traditional snuff-bottle craftsmanship.
"In the process of self-learning and improving my skills, I gradually developed my own genre and became renowned in the capital city."
The inside-bottle painting One Hundred Children is an artworks by Liu Shouben
Liu attributes his achievements mostly to the initial artistic training he received. He spent quite a long time learning how to paint, in both traditional Chinese and Western styles, in a part-time training program organized by the Beijing Arts & Crafts Factory.
"I think the most important thing in learning to paint is diligence and persistence. Those who have already gained basic knowledge may grow faster than others, but most learners start from scratch. Thanks to their persistence, they also make great progress and achievements," Liu said.
Liu's snuff-bottle designs mainly feature traditional figures vividly portrayed through the use of shape and color. Over the years, Liu combined outstanding practices of other art masters in Beijing, gradually forming a unique snuff-bottle painting style of his own.
According to Liu, the art of making snuff bottles culminated in the Qing Dynasty (1644-1911), reflecting the social, cultural, economic and political life at that time. Many kinds of snuff bottle exist. Those painted inside are just one type, accounting for no more than 5 percent of the whole snuff bottle family. Although snuff-bottle painting was a popular art form in the Qing Dynasty and in the 1930-40s, the number of practitioners was quite small, so the endeavor was regarded as a secret craft, shrouded in a mystical aura. Liu said there is nothing particularly unique about snuff-bottle decoration, only that it requires patience and some skill. The essence of the craft is similar to that of traditional Chinese painting.
With age, Liu has found it increasingly difficult to engage in the exquisite work of snuff-bottle painting, which requires long periods of concentration while sitting at a desk. Nowadays, he spends most of his time training others in the tradition. Three years ago, Beijing Light Industry Polytechnic College invited him to teach at the institution and opened a studio named in his honor. Besides imparting the techniques of snuff-bottle painting, Liu always impresses upon his pupils the importance of traditional Chinese painting and Chinese literary classics to the work.
"Snuff-bottle craftsmanship is based on both artistic techniques and traditional Chinese culture," said Liu.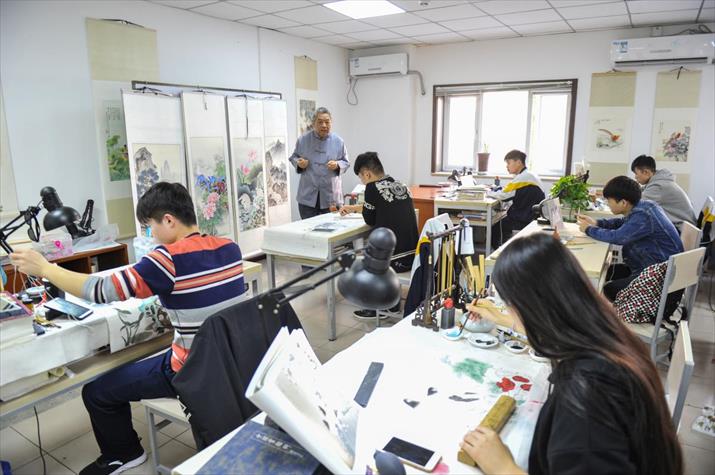 Liu Shouben teaches students at Beijing Light Industry Polytechnic College on October 13
As for the future of the art of snuff bottles, Liu believes the key to continuing the life of the traditional handicraft lies in fostering new talents. In reality, its low income, however, discourages young people from taking up the art. Currently, Liu has seven apprentices in Beijing, most of whom are not young. Sometimes, they even have to turn to their teacher for help in finding business opportunities so as to make a living.
According to Liu, when he began his work almost 60 years ago, a majority of snuff bottles were made for export. He said the bottles were very popular with Westerners, who bought whatever Chinese craftsmen had to offer.
The International Chinese Snuff Bottle Society was established in 1986, with its headquarters in New York City, the United States. Every year, the association holds an annual meeting. Liu attended the meeting twice in the past. He said during one of the meetings he met a British collector who had over 1,000 snuff bottles.
In recent years, more and more Chinese collectors begin to show interest in the artworks. Quality snuff bottles made during the Qing Dynasty can fetch as high as several millions of yuan at auction, while modern works also attract significant interest. Liu thus believes that there is still a market for premium snuff bottles.
(Photos by Wei Yao)
Copyedited by Chris Surtees
Comments to baishi@bjreview.com