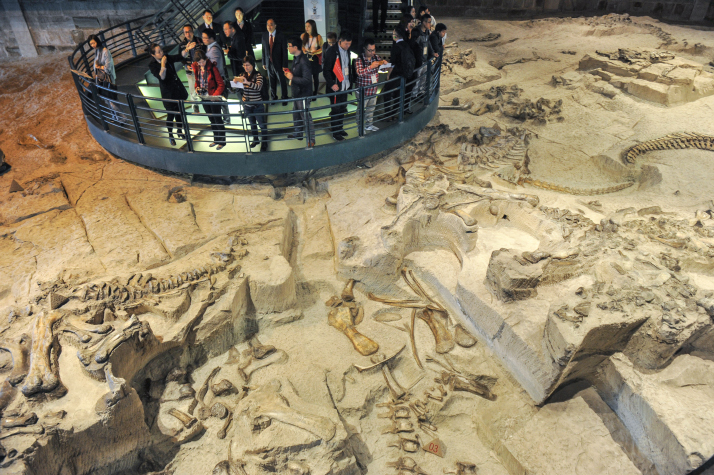 Visitors appreciate a dinosaur excavation site in Zigong Dinosaur Museum on November 17 (WEI YAO)
It was 10 years ago when an exhibition of bionic dinosaur models from Japan, held in his hometown Zigong, a city of southwest China's Sichuan Province, deeply impressed Guo Qihong. He and his business partners smelled an opportunity and swiftly took action to establish a bionic dinosaur manufacturing company, Zigong Gengulongteng Science & Technology Co. Ltd. (ZGST), which has developed over the last decade into the biggest such company in Zigong City.
Zigong is famous for its dinosaur excavations in China and even around the world, enjoying the appellation "the hometown of dinosaurs." The local area has yielded fossils of all known dinosaur species from the Jurassic period, dating back to 145 million to 200 million years ago. The city boasts China's first professional dinosaur museum, which has become one of the world's three major dinosaur museums, together with the Dinosaur National Monument in Utah, the United States, and Dinosaur Provincial Park in Alberta, Canada.
A worker shapes a dinosaur, a task which requires a lot of experience on November 17 (WEI YAO)
Paleontologists are still unable to definitively explain the collective extinction of dinosaurs in Zigong which took place 145 million years ago, nearly 100 million years earlier than the large-scale extinction incident of dinosaurs on the Earth. However, one thing is certain for today's Zigong; the city is undergoing a sweeping revival as a "dinosaur kingdom."
Statistics from the Zigong Bureau of Commerce show that at least 80 percent of bionic dinosaurs across the globe hail from Zigong. According to foreign media outlets such as Reuters, the figure is as high as 90 percent. Zigong now has more than 30 specialist bionic dinosaur manufacturers, some of which export to nearly 40 countries and regions in total, including the United States, Canada and Australia. This year, the city's output of bionic dinosaurs for export is expected to hit $10 million in value.
ZGST is a giant among these companies, manufacturing hundreds of dinosaurs of different sizes annually in three large buildings. A number of already completed dinosaurs stand outside in the company's compound, moving slowly as they undergo testing, wagging their tails, shaking their heads and continually howling.
The creation of bionic dinosaurs mainly involves 3D designing, framework manufacturing, model building and shaping. The finished animations are then packaged and shipped to museums, zoos, parks and shopping malls, among other places, where they'll be assembled and installed. Guo said ZGST's bionic dinosaurs have never been returned due to quality problems.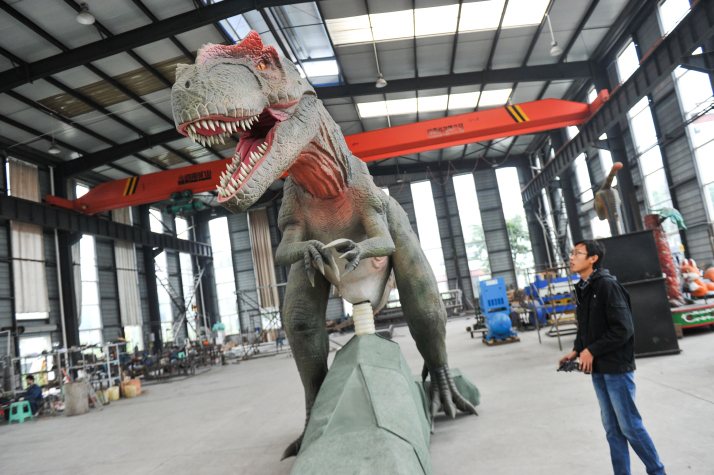 A worker tests the functional ability of a bionic T-Rex on November 17 (WEI YAO)
Although Zigong's dinosaur products have occupied a big share in the international market for its sound quality, their prices remain much lower than the same products made by foreign producers.
Guo told Beijing Review that the prices of ordinary bionic dinosaurs made in Zigong are generally lower than 200,000 yuan ($30,242). But the market prices of high-end bionic dinosaurs made by foreign companies would be 10 times higher than Zigong's.
Guo said that ZGST once sold a 40-meter T-Rex at a price as high as $160,000, which created a record for local manufacturers.
"Most of the specialist manufacturers lack their own brands or intellectual property rights and simply make dinosaurs as original equipment manufacturers," Guo said.
Guo believes it's important for local dinosaur producers to increase their awareness of intellectual property. In particular, they should develop their own brands.
"Only in this way can Zigong's dinosaur kingdom be truly revived," Guo said.
(Reporting from Zigong, Sichuan Province)
Copyedited by Chris Surtees
Comments to baishi@bjreview.com