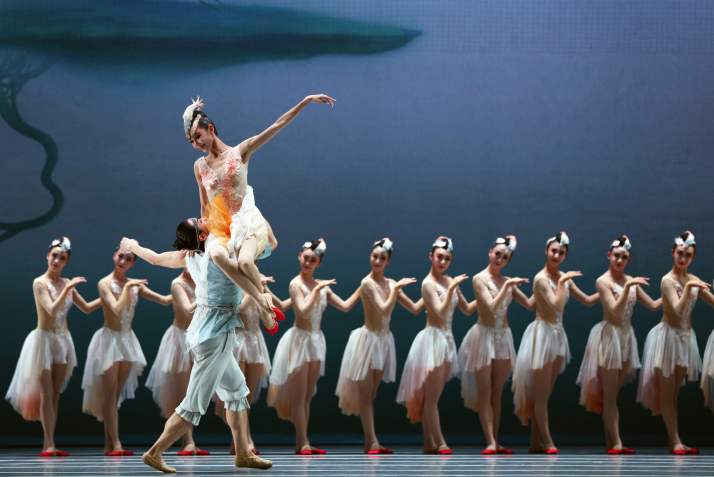 Performers dance drama Soaring Wings at Lincoln Center in New York, the United States, on January 5 (XINHUA)
New York City, a city of world culture, is never short of top-level art performances. New Yorkers have the pickiest ears, eyes and tastes for art.
Soaring Wings, a new dance drama by the Shanghai Dance Theater about "the bird of good fortune," crested ibis, performed at New York City's David H. Koch Theater at the Lincoln Center from January 5 to 7, won the hearts of New Yorkers with its elegant cultural atmosphere from China.
Oriental charm
It is quite rare that a dance drama from another country can attract such a big audience. The audience not only stood and applauded for a long time after the performance, but also waited in a long line to take photos with the principal dancers and asked for their autographs.
"This is undoubtedly a top-level dance show," said Jane Lim, a Chinese American lady who took her 10-year-old daughter to the play. "My daughter has practiced ballet for five years. I am so glad that she can watch such a high-level dance performance tonight. And I think she also can feel the beauty of Chinese culture from other elements of the play," she told Beijing Review.
With traditional Chinese music, opulent costumes and expressive choreography, Soaring Wings is a dance drama about crested ibises, beautiful, precious and rare creatures, which symbolize happiness and blessings. The drama, which focuses on the importance of keeping a harmonious relationship with animals and reflects the interdependence between human beings and nature, actually is a history of the species.
The drama pictured a harmonious coexistence during the agrarian age in the beginning. Centuries ago, human beings lived in harmony with these birds—reserved, elegant, sacred and noble, yet also sensitive, vulnerable and occasionally distant. They once were on the edge of extinction due to the destruction of their environment in the industrial age. Fortunately, people discovered the last seven birds in 1981, carried out protection plans for them, and made great achievements to save this precious creature by protecting the environment.
"Elegant!" said a man in his 50s who gave his name as David. "That is the only word I can think of right now to describe the drama." He stressed that the dance part was wonderful. However, what touched him most were all the details: costumes, stage design and music. "I saw how Chinese people lived their lives in ancient times. As those girls walked on the stage, I felt I really saw a group of birds at that moment," he added. "It is quite different to the ballet dance that we are familiar with, but it is also extremely beautiful with its oriental charm."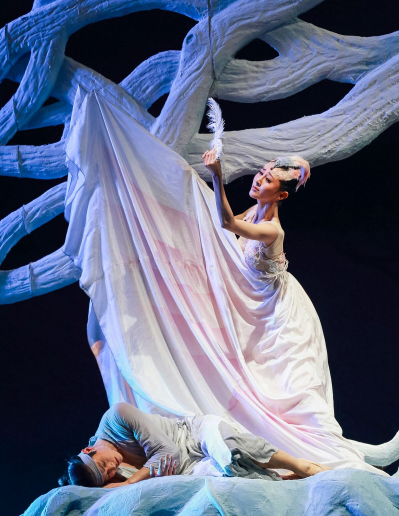 Performers dance Soaring Wings at Lincoln Center in New York, the United States, on January 5 (XINHUA)
A feast of Chinese arts
With a perfect combination of classic ballet and traditional Chinese folk dance, a stage design based on Chinese ink and wash painting, and a background of Chinese folk music, Soaring Wings indeed is a feast of Chinese art cooked up by the Shanghai Dance Theater. Since its premiere on October 7, 2014, Soaring Wings has been honored to receive many awards in China.
Chen Feihua, Director of Soaring Wings, said that his team had made great efforts on the costume design. "As the audience can see, performers wear two sets of costumes of the bird. Their major costume color is the pinky white of the crested ibis, their skirt is shaped like the body of the bird, and their ballet shoes are specially made with a red tip, which is exactly like the bird's feet," he explained. When performers play the part describing how the crested ibis died due to the polluted environment, they wear the other costume in the color of ink, giving the audience a direct experience of pollution.
Soaring Wings has played nearly 200 performances in China and other Asian countries. This was the first time that it performed outside Asia. Soaring Wings stars Zhu Jiejing and Wang Jiajun, both principal dancers of the Shanghai Dance Theater, were very excited about their debut at the Lincoln Center.
"Performing at the Lincoln Center is the dream of a dancer like me," said Wang. "It is of special significance to us to perform here at the beginning of 2018." He remarked that the reaction of the audience was beyond their expectations. "We had performed in Japan before, and Japanese audiences were very enthusiastic about the show because the crested ibis is Japan's national bird," he explained.
Zhu Jiejing said she believes dance is the art that can act as a bridge between peoples with no need of language. "Soaring Wings shows the importance of keeping a harmonious relationship with animals and reflects the interdependence between human beings and nature. Actually, people of different backgrounds and nationalities also need to peacefully coexist in this world. New York City is a city of cultural diversity. I hope the crested ibis, the bird of good fortune, can bring them peace and friendship as well."
Soaring Wings is a part of Image China, a cultural exchange initiative of China Arts and Entertainment Group (CAEG).
"Nature has always been an integral part of Chinese culture and philosophy, and we tend to focus on the relationships between the various elements in nature, rather than what controls them," said Wang Xiuqin, Deputy Director of CAEG.
"We hope that this dance drama, performed with artistry and grace by the Shanghai Dance Theater, will engage the hearts and minds of audiences and bring the story of these beautiful creatures to life in unexpected and exhilarating ways," Wang told Beijing Review.
CAEG seeks to introduce traditional and contemporary Chinese performing arts to audiences around the world. Since its inception in 2009, Image China has presented works at performance venues across the globe, including the Lincoln Center in New York City, the Kennedy Center in Washington, D.C., and stages throughout Europe and Australia. Recent productions include Confucius, Dragon Boat Racing, The Legend of Mulan and the acclaimed American debut of Peking Opera star Zhang Huoding.
(Reporting from New York City)
Copyedited by Chris Surtees
Comments to dingying@bjreview.com