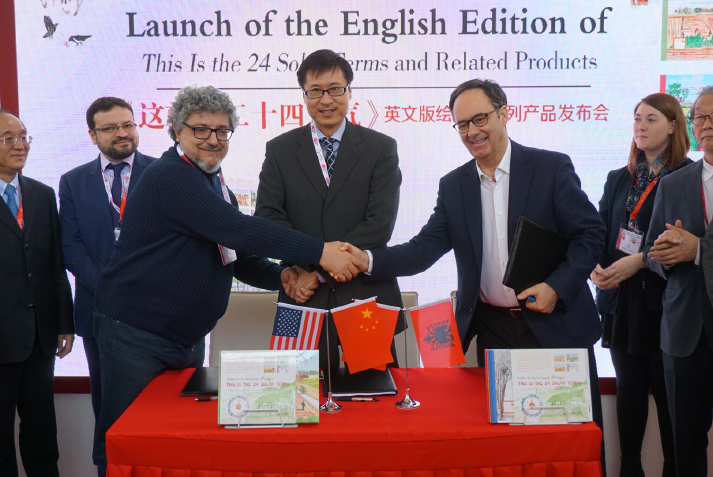 Cai Jianfeng(center), President of Dolphin Books, and representatives of publishing houses from the U.S. and Albania celebrate after they reached agreements to publish foreign language versions of This is the 24 Solar Terms at the Bologna Children's Book Fair on March 26(COURTESY PHOTO)
A series of children's stories about the mysterious adventures of Li Xiaoyu, an 11-year-old girl from Beijing, and all kinds of mythical creatures in the Palace Museum in Beijing, the Forbidden City that was home to 24 emperors across Ming and Qing dynasties (1368-1911), had three new titles launched at the Bologna Children's Book Fair which ran in the northern Italian city from March 26 to 29.
When Chang Yi, a Chinese children's author, first put pen to paper several years ago while she was pregnant, she perhaps never expected that Monsters in the Forbidden City books would one day debut on the global stage.
"The Forbidden City, one of the largest palace complexes in the world, is home to over 500 cats, nine dogs as well as countless hedgehogs, mice, pigeons, magpies and crows. Moreover, there is a large ensemble of monsters charged with various responsibilities in guarding the palace over the past few hundred years," Chang said at the launch ceremony of the latest installments of her book series in Bologna.
"The monsters aren't made up or figments of the imagination but in fact exist in the form of statues and artifacts at the palace. Records of them can be found in ancient documents such as The Classic of Mountains and Seas (a compilation of mythic geography and myth)," Chang added.
As of February, over 1 million copies of the book series had been printed and 900,000 copies sold.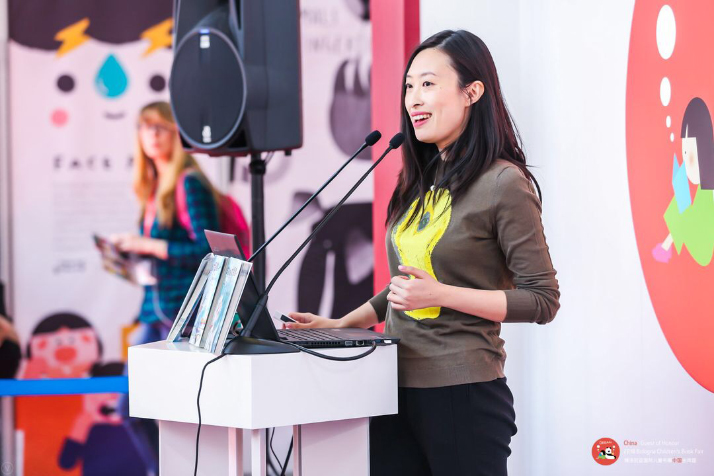 Chang Yi, author of Monsters in the Forbidden City, speaks at the launch ceremony of her new books during the Bologna Children's Book Fair in Italy on March 27 (COURTESY PHOTO)
Spreading Chinese culture
Born in Beijing, Chang said the protagonist of her books Li Xiaoyu, whose mother is an employee at the Palace Museum, was created in her own image. As a child, Chang often visited her grandfather who lived near the museum. At that time there were fewer means of entertainment than today and her grandfather often took her to the museum, while his neighbors, many of whom had worked at the museum prior to retirement, often told stories of ghosts and monsters to children in the hutong alleyways where they lived. Chang was awestruck upon seeing in person the monsters of which these neighbors had spoken.
Enamored with these captivating tales of strange creatures, Chang began tracing their historical records in ancient books. She found that less and less people were able to distinguish them and cites this as a major factor in deciding to write books on their stories for children.
"I hope that when Chinese children talk about monsters, those that spring to mind are not only monsters from Europe and the United States but also from China," Chang told Beijing Review.
Chang's Forbidden City books not only draw upon traditional Chinese culture, in particular Chinese mythology, but also address universal themes of nature and love just like the Western fantasy fiction, The Lord of the Rings and the Harry Potter series, which, according to Ma Lina, Director of the International Cooperation Department of the books' Chinese publisher Encyclopedia of China Publishing House (ECPH), is essential for their acceptance by foreign readers.
Robust sales and favorable reviews at home are other factors that have contributed to the stories' globalization as many overseas publishing institutions regard domestic market response as an important criterion when deciding on the purchase of copyrights, Ma said.
She added that the books have also won recognition among sinologists from countries such as Egypt, Peru and Poland, who volunteered to translate them and find foreign publishers for their work.
Contracts to publish the books in local languages have been signed between the ECPH and publishing houses in Mongolia, the Republic of Korea, Romania and several Arab countries. The ECPH is also negotiating contracts to publish the stories in English, Japanese, Spanish, Thai and Hindi.
Speaking about the difficulties of promoting the books overseas, Ma said some foreign publishers had never heard of the Palace Museum. However, she believes that the situation will improve with China's growing global presence and increasingly frequent cultural exchanges with the rest of the world.
"For instance, more people may recognize the Palace Museum after seeing Chinese President Xi Jinping take visiting U.S. President Donald Trump and his wife on a tour around the historical site last November," Ma said.
Fruitful coalition
The sales volume of children's books surpassed 20 billion yuan ($3.2 billion) in 2017, accounting for 24.64 percent of the total sales of books in China, according to statistics from OpenBook, a Beijing-based industry researcher.
However, imported titles account for a large proportion of the children's book market and works by Chinese authors are lacking.
Cai Jianfeng, President of Dolphin Books, a subsidiary of media conglomerate China International Publishing Group (CIPG), believes that it is time to reverse the deficit of children's books by promoting original Chinese works abroad.
Dolphin Books launched the English version of This Is the 24 Solar Terms at this year's Bologna Children's Book Fair, where China, as the guest of honor, had a pavilion occupying 900 square meters. More than 90 Chinese publishing houses took part in the event, showcasing about 4,000 titles.
"Although the 24 Solar Terms, which are derived from China's lunar calendar, are a product of traditional Chinese culture, the wisdom, science and beliefs embodied in the system are useful for foreign readers. It is also more imperative to inform people of the system since it was included on UNESCO's List of Intangible Cultural Heritage in 2016," Cai told Beijing Review.
"As a subsidiary of CIPG, which is dedicated to international communication, Dolphin Books mainly publishes children's books for international readers. However, the goal is difficult to realize by relying solely on our own strengths," said Cai.
In order to promote Chinese children's books overseas, Dolphin Books has formed a coalition with over 10 private domestic publishers of the genre.
Examples of their collaboration include an activity book and online games based on the 24 Solar Terms, as well as an audiobook of the English version of This Is the 24 Solar Terms, which were all co-developed by Dolphin Books, the Yiqu Culture Co. in Ningbo, east China's Zhejiang Province, and e-book publisher Kada Story before being launched at the Bologna fair.
Wang Gangyi, Vice President of CIPG, said the coalition will combine the strengths of state-owned enterprises with the market knowhow of private institutions.
Cai said Dolphin Books also has plans to establish an online promotional platform for Chinese children's books targeting overseas Chinese as well as children abroad learning the Chinese language. Foreign publishers are also welcome to promote their copyrighted books on the platform.
Ma pointed out that popular science books for children have the potential to reach international readers. "Although this genre doesn't often focus explicitly on Chinese themes, we prefer to include content related to China. For instance, we elaborate on the efforts of the Chinese people toward realizing the dream of space travel in Chinese Children's Illustrated Encyclopedia on Space," Ma explained.
Copyedited by Laurence Coulton
Comments to jijing@bjreview.com