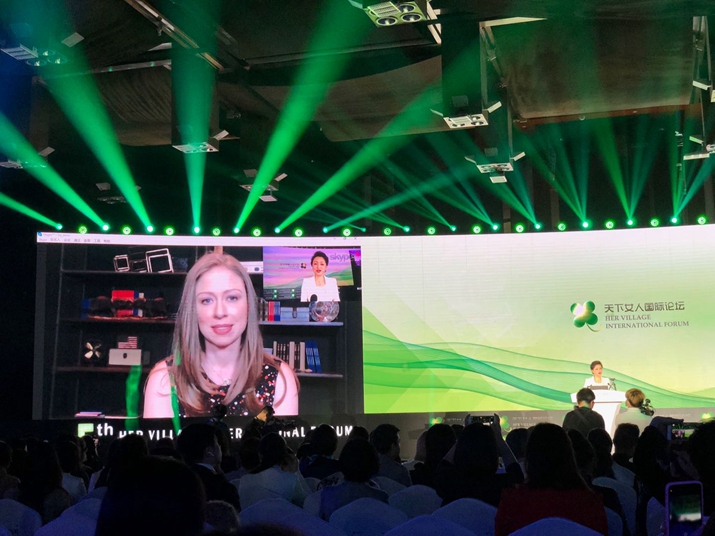 Chelsea Clinton, Vice Chair of the Clinton Foundation, is interviewed by Chinese media personality Yang Lan via Skype at the Her Village International Forum in Beijing on April 23 (LI FANGFANG)
Chelsea Clinton, the daughter of former U.S. President Bill Clinton and former U.S. Secretary of State Hillary Clinton, spoke about how she has benefitted from the education her mother provided and her thoughts on women's development via a Skype interview at the Her Village International Forum in Beijing on April 23.
"My parents and grandparents all read to me a lot when I was a child, and they encouraged me to be an early reader," she told Chinese media personality and entrepreneur Yang Lan, who is the founder of the Her Village International Forum.
Chelsea was invited to be a keynote speaker at the event, but was unable to attend in person due to her participation in the funeral of former first lady Barbara Bush.
For Chelsea mothers are not nannies but role models. "My mother was my first teacher," Chelsea said.
Chelsea got her bachelor's degree in history at Stanford University, followed by master's degrees in international relations and health, as well as a doctoral degree in international relations.
Devoted to women's causes for many years, Chelsea puts her thoughts and expectation for the future of her own children and all children worldwide in her latest book She Persisted Around the World, which brings together the inspiring stories of women for young girls and boys.
"The women may not be known to every reader, but their stories are unified to their theme of persistence against often unimaginably challenging obstacles," Clinton said in a video speech ahead of an on-site interview.
On why it is also important for young boys to hear more women's stories, she explained: "It's critical for girls to imagine themselves as anything they want to be. It's equally critical for boys to see their sisters, their classmates and their mothers as having ambitious aspirations that are as relative as their own."
"My hope is that these stories inspire every young reader around the world who never takes no for an answer and so they feel emboldened by the stories of women who persisted before them to persist in pursuing their dreams," she said.
Copyedited by Laurence Coulton
Comments to ffli@bjreview.com