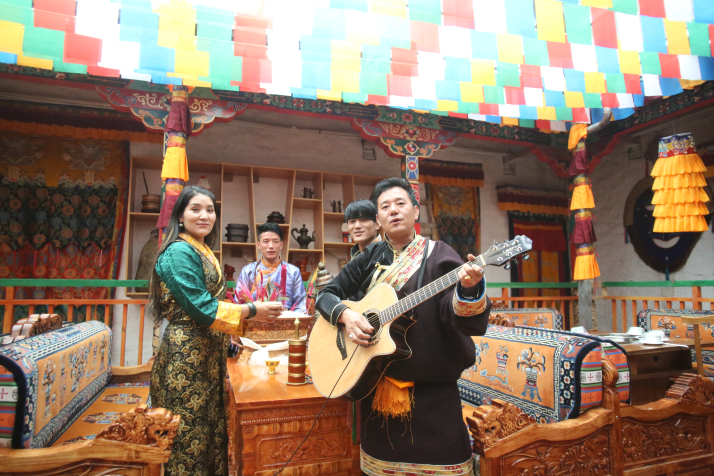 Dawa Dorji in a performance in Lhasa, Tibet Autonomous Region (COURTESY PHOTO)
Dawa Dorji has multiple jobs: singer, barkeeper and English tourist guide, but it is his role as the lead singer of the first folk pop band in southwest China's Tibet Autonomous Region that makes him most proud. In 2003, Dawa Dorji met two other big fans of Tibetan music in a musical instrument shop in the regional capital of Lhasa. The young Tibetan men became fast friends and started the Dzi Bead Band, later expanding to a total of five.

A few years ago, their songs often hit number one on the local radio billboard charts and were heard in most streets and alleys in Lhasa.

"The Dzi Bead Band was a household name in Lhasa," Dawa Dorji, now 44, told Beijing Review.

Each member of the band had his own job. They rehearsed every day in a small village after work and then rushed to perform in a restaurant for free. Dawa Dorji and his band members believed that to write good songs, they needed to interact with their audience. The restaurant proved to be a good choice. At the beginning, most audience members were foreigners, but after a couple of months, many local business people were drawn to the restaurant to hear the band perform.

None of the members of the band knew how to read music when they first started the band; all of their adaptions and creations were done through musical instincts alone.

"Whenever there is a festival, we Tibetans sing and dance. I sang songs with the elders and naturally, I learned how to sing," said Dawa Dorji.

So far, the band has released four albums with a combined 48 Tibetan language songs, many of them adapted from traditional melodies. According to Dawa Dorji, in the early 2000s, many Tibetan singers turned to pop music. Tibetan folk songs were mostly sung by performers who were in their 70s and 80s.

"Traditional Tibetan folk songs are in danger of being lost and forgotten once all the elder singers pass away. We don't want to see our unique ethnic music die," said Dawa Dorji.

The band members visited rural Tibet and studied folk songs with their predecessors. To make folk songs popular again, the Dzi Bead Band decided to combine the traditional music with modern instruments.

"It's difficult for traditional folk songs, sung and played in the old way, to win the ear of today's audiences," said Dawa Dorji. "We polish and enrich the folk songs with our own ideas. In this way, we preserve their essence and make them easier to be learned and picked up by ordinary people." By adapting and playing folk songs with modern musical instruments, the band has rejuvenated many old folk songs. Dawa Dorji believes that their efforts are significant for introducing Tibetan folk music to the whole nation, and even the whole world.

"If we just follow the same beaten track of old folk songs, our songs will never reach outside of Tibet," he said, calling for more musicians to take part in this work. "Folk songs, undoubtedly, are intangible assets accumulated by the Tibetan people. We have to do much more to preserve them."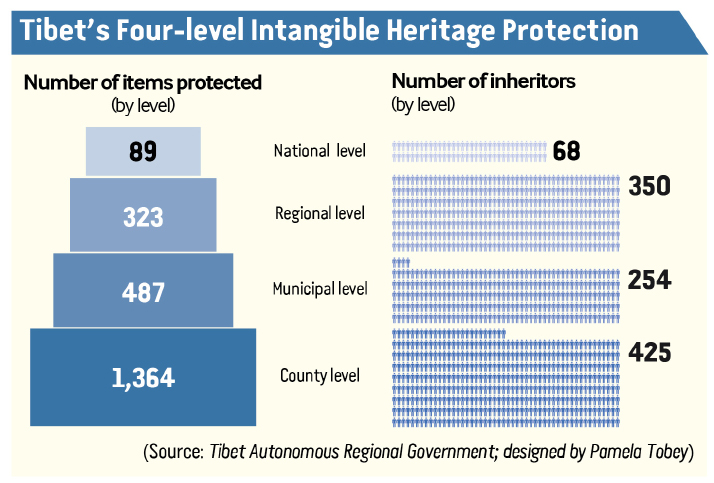 In 2005, the Tibet Autonomous Regional Government launched a program to preserve folk music. A total of 13 kinds of folk songs have been included in a Tibetan intangible cultural heritage list. With 2,263 items under its protection, the list has four tiers: national, regional, municipal and county. Funds are earmarked to encourage more folk singers to write down or make recordings of folk songs.
The first regulation on intangible cultural heritage preservation by the Tibet Autonomous Regional Government went into effect in June 2014. It's the 14th regional regulation of its kind in China.
"This means that Tibet's intangible cultural heritages will be further protected according to law," said Jiji, an official from the Department of Culture of Tibet, in an interview with Tibetol.cn.
Copyedited by Rebeca Toledo
Comments to linan@bjreview.com