Danish tenor Peter Lodahl, who played Marco Polo, during a rehearsal at the Guangzhou Opera House in April (COURTESY PHOTO)
In 2015, Zhang Li, Chairman of the Guangzhou Opera House, had an idea to create a new original opera. After many discussions, the opera house settled on a work about Marco Polo, the historical Italian traveler who represents the cultural exchanges between East and West.
"As a cultural landmark in Guangzhou, we shoulder the responsibility of cultural exchanges. In addition to importing excellent works from abroad, we also want to promote our productions on the international stage. Marco Polo is a subject both China and the West are interested in," Chen Rui, General Manager Assistant and Program Director of Guangzhou Opera House, told Beijing Review.
After three years' painstaking efforts by an international team, Marco Polo finally opened to audiences, premiering at the Guangzhou Opera House and then at the Beijing Tianqiao Performing Arts Center in May. The opera is not a faithful reproduction of The Travels of Marco Polo written by the 13th-century Venetian merchant, but weaves a new plot into the original story.
"Marco Polo is very familiar to Chinese audiences. Although there are controversies surrounding the authenticity of the explorer's account of his experiences, it nevertheless provided plenty of room for imagination in the new script," said Chinese scriptwriter Wei Jin. "Most of the plot and structure of the libretti are fictional, except the names of the characters," Wei said in a previous interview with Guangming Daily.
In order to write the script, Wei traveled to historical sites in South and Southeast China related to Marco Polo in Hangzhou, Zhejiang Province, Fuzhou and Quanzhou in Fujian Province, and Guangzhou in Guangdong Province.
In Wei's adaptation, Marco Polo travels to the East via the ancient Silk Road with his father and uncle, falls in love with a Chinese lady, and takes part in an intrigue between the Southern Song Dynasty (1127-1279) and the Mongolian Kingdom. With an investment of over 10 million yuan ($1.6 million), the work is the first original opera produced by the Guangzhou Opera House, which was founded in 2010. It is now a part of the Silk Road International League of Theaters, a China-proposed international alliance of theaters founded in October 2016. The league, comprising over 80 members in 33 countries and regions, is aimed at boosting cultural exchanges under the framework of the Belt and Road Initiative.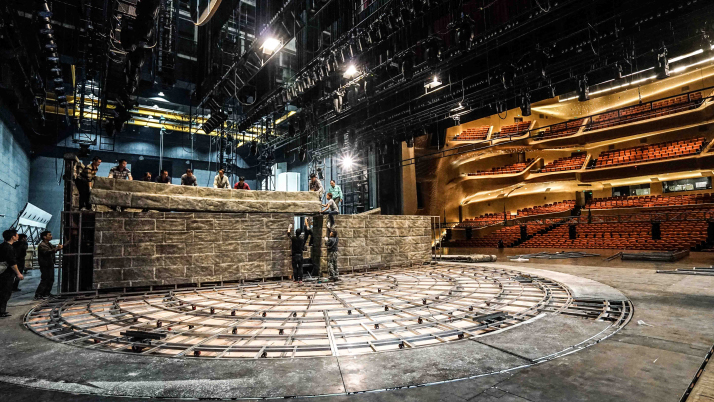 The stage for Marco Polo under construction at the Guangzhou Opera House (COURTESY PHOTO)
Overcoming differences
The star-studded cast and crew had to surmount both linguistic and cultural barriers during the creative process since it was a collaboration between East and West. Dane Kasper Holten, who was director of the Royal Opera House in London from 2011 until 2017, directed the opera.
"It's a weird mix because Marco Polo is in one way a Chinese opera, commissioned by the Guangzhou Opera House and written by a Chinese writer. It is performed in Chinese and it's a Chinese story," said Holten. "At the same time, it's a Western opera in the sense that it's written in the tradition of Western opera by a German composer. It's genuinely a meeting of cultures," he added.
Since the opera was written in Chinese, it was a big challenge for German composer Enjott Schneider to write the score for the show. The composer first read a German translation of the script, but just knowing the plot was not enough. He listened to tape recordings of the lines read in Chinese over and over again in order to create melodies for the Chinese words. "Because Marco Polo is a figure hailing from Venice, Italy, we tried to melt the Italian culture of opera with Chinese culture," said Schneider.
It was also difficult for foreign singers to sing the opera in Chinese. "When I sing in Italian, we only have five vowels. But in Chinese, I have to invent new vowels. What happens technically is that my larynx is held higher. It's like tuning my instrument and having to change it just a little bit. Now I have to use my instrument in a different way," said Danish tenor Peter Lodahl, who plays Marco Polo in the opera.
"It's already a huge challenge to learn three hours of music by heart and go on stage without notes and a score. It's a double challenge to sing in a language you have never sung in before," Schneider commented.
In addition to the linguistic challenges, the international team also had to overcome cultural differences. For instance, in a scene before a man is to be executed, Holten planned to let him kiss his daughter goodbye. However, several Chinese artists in the production said such a scene contradicted Chinese culture. Holten was surprised but took their advice. Nevertheless, despite these subtle cultural differences, human emotions are still universal.
"It is the language of opera that is international. We have the words, but we also have the music and emotions that are universal. All human beings know about love, jealousy, hate, fear, anxiety and death. Opera can give us a language to express all of this," said Holten.
"For me, that is the beauty of opera, cultures can come together through music—whether it is Mozart or the Chinese language—to overcome cultural differences and have a language that we can all understand," Holten added.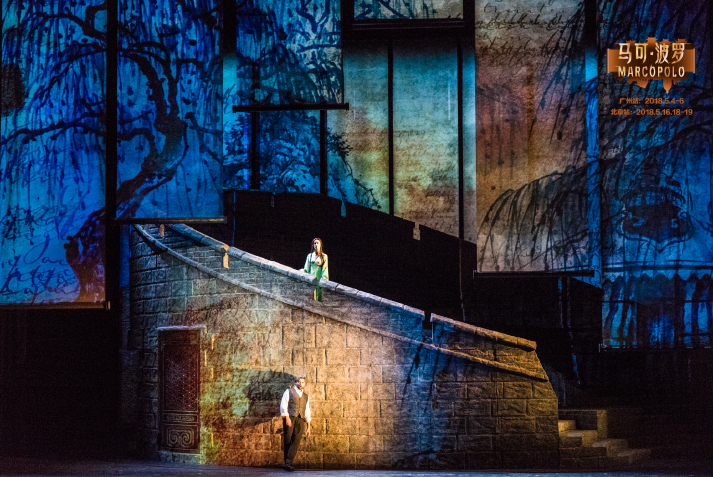 The love-struck couple in Marco Polo during a rehearsal at the Guangzhou Opera House in April (COURTESY PHOTO)
Unique stage design
The rotating stage, combined with 18 mobile scrolls which are also projection screens, create many tantalizing stage effects. The stage's rotation and the change of images on the scrolls indicate a shift in time and place.
The video designer, Luke Halls, from the United Kingdom, has produced video design and animations for a wide variety of music, theater and dance performances, including Othello for the Metropolitan Opera House in New York and Carmen for the Bregenz Lake Stage in Austria as well as the 2012 London Olympic and Paralympic closing ceremonies.
"The stage design reflects foreign artists' full respect for Chinese culture. They have used multi-media technology to show Chinese culture through elements such as Chinese calligraphy, ink painting and seals," said Luo Huaizhen, Vice President of the China Theater Association. "It's very rare for foreigners to sing an opera in Chinese…hopefully more Westerners will participate in Chinese operas and set a new trend," said Tian Haojiang, the Chinese baritone who plays Kublai Khan, the first emperor of the Yuan Dynasty (1271-1368).
Jiang Yimin, Vice President of the Academy of Opera of Peking University, added, "In view of the history of opera, the art form has always been international. Marco Polo represents a very important step for Chinese opera toward globalization."
Copyedited by Rebeca Toledo
Comments to jijing@bjreview.com