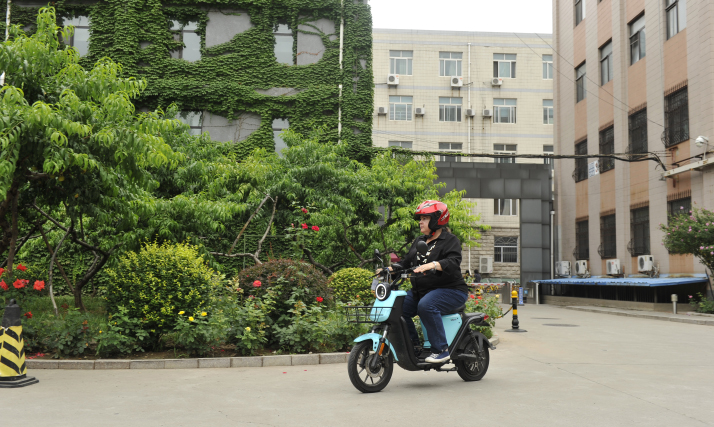 The author rides to work on her scooter in Beijing on July 13 (SHI GANG)
Arriving in China several years ago, I was struck by the sheer number of bicycles and electric motor scooters that zipped around the bike lanes of Beijing's streets. At first, it was intimidating to cross at intersections, but in time I grew accustomed to the hectic activity. I began by riding an old bicycle around the campus neighborhood where I live, getting a feel for being amid the riding masses.
A year later, I took the plunge and bought my first electric-powered bike with the assistance of a Chinese friend and learned how to ride safely in the busy bike lanes. I appreciated the ability to get everywhere more easily and could carry home heavy grocery bags on my trusty vehicle. Then I began to commute to work on it since the route is pretty simple, leaving campus to head south along a large road with wide bike lanes on each side, and one left turn onto the street where my office is located. I recently upgraded my ride to a new brand replete with lots of safety features and a sleek design, and since it is electric, I named it Sparky.
I love the views along my commute south: the BeiDa (Peking University) campus, the thriving Zhongguancun area known as China's Silicon Valley, the traditional architecture of the elegant Friendship Hotel and the big National Library. When I leave for work early, I often see the same elderly men slowly pedaling along on their old bicycles, a bird cage hanging from each handlebar as their little birds get some outdoor time and fresh air. I see the same traffic guards, either in blue uniforms or bright yellow jackets, each morning and evening at many intersections, trying to impress safety on the riding masses and guide the cars on right turns into traffic while letting pedestrians safely cross. My favorite traffic guard is an older gentleman who uses a small microphone and amplifier to make sure his voice is heard. He is fierce in his determination to have riders and pedestrians obey the traffic lights at the busy intersection, and he doesn't hesitate to yell at those who try to run the light. The riders and pedestrians usually back down and listen to him.
But a recent commute added another dimension to my daily trek.
It was a lovely, clear summer day on my way to work. I was enjoying the cool morning breeze, but a sobering sight greeted me a few kilometers from my apartment. A white baseball cap lay in the middle of the bicycle lane in Zhongguancun. Just beyond it, a large electric motorcycle lay on its side. I usually drive slowly in this area due to the busy traffic, but this time I slowed down even more. Then I noticed a foot under it. A woman was still astride the motorcycle but unconscious, and a pool of red lay on the road under her head. Nearby pedestrians and workers seemed to be taking charge of the situation and with my limited Chinese, I would have been of no help, so I kept going.
After this, I drove Sparky like an elderly grandmother and let all the others in a hurry pass me by as I thought about what I had just seen. Few electric motor scooter and motorcycle riders wear helmets, and if this woman had been wearing one, it would have protected her head from hitting the road directly. It also made me appreciate the recent move by the Beijing authorities to introduce new safety regulations and lower speed limits for electric-powered scooters and bicycles. Observing lower speed limits can lessen injuries in an accident and possibly prevent many of them.
My commute now takes longer, but I am reminded to slow down and notice my surroundings, keep an eye on my fellow travelers and arrive at my destination safely. I think of this woman every time I get on my little motor scooter.
The author is an American living in Beijing
Copyedited by Laurence Coulton