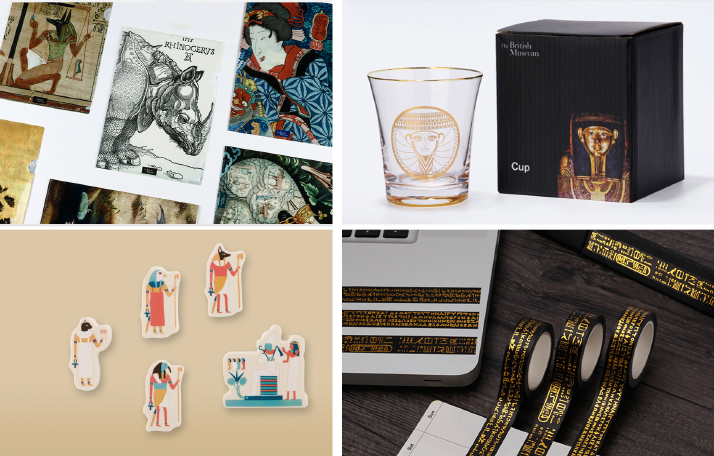 An array of products in the British Museum's Tmall store (COURTESY PHOTO)
On July 1, the British Museum opened a souvenir store on Tmall.com, China's largest business-to-consumer online retail platform, owned by e-commerce giant Alibaba Group.
More than 20 different categories of products were launched, including handbags, accessories, stationery and toys. The products incorporate elements of the most popular and famous artifacts on display at the museum, from adhesive tape patterned with the scripts of the Rosetta Stone to cloth handbags bearing the iconic image of the woodblock print The Great Wave off Kanagawa by 19th-century Japanese painter Katsushika Hokusai.
Within one month, most of the items for sale on the British Museum's Tmall store sold out and as of August 1 only four items were still available, two of which were available only for preorders.
This is not the first time that the British Museum's cultural and creative products have been sold on the Chinese market. The museum previously allowed a Chinese company to trade its intellectual property (IP) rights on AliFish, Alibaba's platform for IP authorization. In this instance, domestic umbrella brand Paradise launched umbrellas with illustrations licensed by the museum.
The British Museum's Tmall debut came amid a wave of similar activities by domestic museums in recent years, with a number of Chinese institutions also opening online stores to sell cultural and creative products led by the Palace Museum, housed in the Forbidden City in Beijing. The Palace Museum has online stores on both Tmall and Taobao, another of Alibaba's major e-commerce platforms. Collectively more than 500 Palace Museum products are available for purchase across the two websites.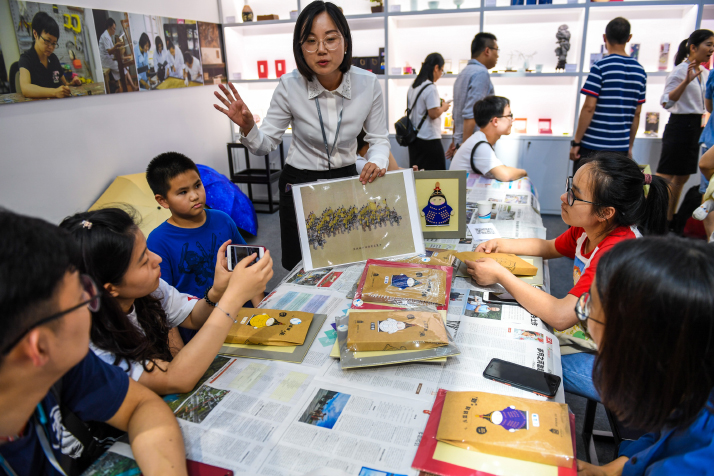 An employee of the Palace Museum talks about the source of inspiration for the museum's cultural creative products at the 14th China (Shenzhen) International Cultural Industries Fair on May 13 (XINHUA)
Innovative methods
According to Wang Yamin, Vice President of the Palace Museum, sales of the museum's cultural and creative products reached 1 billion yuan ($147 million) last year. Yet despite these impressive figures, compared with Western institutions such as the British Museum which boasts a complete value chain for cultural and creative products, the Palace Museum's foray into the industry is still in its nascent stages, having begun only a few years ago.
In this time, the museum has developed nearly 10,000 different cultural and creative products either independently, in collaboration with other companies or through IP authorization, with partners such as LKK, a creative design company headquartered in Beijing, having designed over 800 categories of products across 17 themes for the Palace Museum.
A striking example of this collaboration is products bearing cartoon images of the Forbidden City's cats. According to LKK's website, the cats of the Palace Museum not only catch rats, but also have auspicious connotations. The company has designed a number of products including backpacks, shoes and watches featuring cartoon images of a palace cat wearing the blue robes of a Qing Dynasty (1644-1911) official uniform and even the yellow garment of the emperor himself.
Among the Palace Museum's most popular cultural and creative products is adhesive tape adorned with intricate patterns lifted from ancient bowls, plates or clothes. Many customers have used the tape to customize the casing of cosmetic products and personal items, with the posting of finished goods becoming a popular trend online.
The Palace Museum's promotional methods have also contributed to the popularity of its products. The museum has a public account on WeChat, China's most popular instant-messaging app, which it uses to publish light-hearted content such as animated images of emperors adapted from ancient paintings. The strategy has brought the museum closer to ordinary people, especially younger generations, and piqued public interest in traditional culture, thereby helping to promote the museum's wares.
"When developing cultural and creative products, we study the needs of people's daily lives so that our products fulfill some sort of function. We hope users learn about culture by using our products so as to spread the Palace Museum's ethos," said Chen Fei, an employee with the museum's cultural service center.
Reaching out
Many other museums in China have also thought outside the box in designing cultural and creative products to reach a wider audience.
The Suzhou Museum, set in the historic heart of Suzhou in east China's Jiangsu Province, sold cookies that looked like a lotus-shaped porcelain bowl from the Five Dynasties and Ten Kingdoms period (907-960) that was designed by the museum in 2014. The treat was a big hit among visitors.
Another of the museum's successful products is the seeds of a wisteria from one of Suzhou's famed gardens, supposedly planted by Ming Dynasty (1368-1644) painter and calligrapher Wen Zhengming 500 years ago. The seeds were made all the more marketable by delicate packaging using a special kind of paper imported from Japan, and served to symbolize the vitality of culture across generations.
In order to attract young consumers and inspire their love for museums, the Suzhou Museum held a fashion show in 2016 to display costumes fusing traditional cultural elements such as the calligraphy of Ming Dynasty master artist Tang Bohu (1470-1524) with modern designs. They were put on sale on Taobao's group-buying platform ju.taobao.com to coincide with the show.
To date the Suzhou Museum offers over 3,000 cultural and creative products of which only 70-80 were developed by the museum independently, the rest having been produced through cooperation with other companies or by other companies alone.
The museum also utilizes multiple sales channels, with consumers able to purchase products either on the museum's flagship Taobao store, the museum souvenir shop on site or at Eslite Bookstore in Suzhou. Last year, the sale of museum souvenirs surpassed 14 million yuan ($2.05 million).
In November 2016, the State Administration of Cultural Heritage selected 92 museums to start trials for developing cultural and creative products, encouraging them to start companies for such products by using money made through the trading of their IP rights.
But despite favorable government policies, the cultural and creative products of domestic museums are facing problems in the form of product homogeneity, with most domestic museums offering similar products such as adhesive tape, handbags, mugs and fans.
Wang Yamin suggested that the answer lies in strengthening the protection of cultural and creative product brands and promoting the integration of the sector with other industries to give full play to the role of cultural products in preserving history and culture.
Copyedited by Laurence Coulton
Comments to jijing@bjreview.com