Laotian and Nepali participants pose for a group photo during a training course (COURTESY PHOTO)
Chou Xay Chorvang was on duty when a woman in her 30s stumbled into his clinic, doubled up in pain. "Doctor, please do something," she gasped. "I have had this terrible stomach pain for a week now and it's killing me."
As the 37-year-old doctor, who practices traditional medicine at the Setthathirat Hospital in Vientiane, the Laotian capital, examined her, he found the acute symptoms of parasitic infection and thought of the quickest remedy he could offer her.
He took out a bag of needles and gave her an acupuncture treatment for six hours. The result was gratifying. "The patient excreted three worms," Xay Chorvang said. "Each was the size of an adult man's finger."
Xay Chorvang, a former physiotherapist, decided to learn acupuncture after the Laotian Government began developing indigenous herbal medicine. He went to Thailand in 2010 to learn the practice, a technique of traditional Chinese medicine (TCM) that is gaining popularity worldwide due to its efficacy and affordability, and was gratified by the response from his patients. "I had never seen an acupuncture doctor before," he recalled one of his first patients telling him after a session, "but my illness disappeared immediately."
Encouraged by the results, Xay Chorvang decided to further his knowledge of TCM techniques. But he was met with a problem in that Laos didn't have any TCM medical colleges due to a dearth of infrastructure and investment after decades of invasion and civil war. So instead he went to China, self-funding the trip.
Yet by the time he arrived in Beijing in June this year for additional training, the process had become smooth and, more importantly for Xay Chorvang, free thanks to cooperation between governments of the two countries. Xay Chorvang was one of 69 healthcare professionals and managers from 16 developing countries who took part in a two-month TCM training session in Beijing. Hosted by the Chinese Ministry of Finance, it was run by the Beijing Research Institute of Traditional Chinese Medicine and Beijing Hospital of Traditional Chinese Medicine (BHTCM).
"It is part of an international assistance program started by the Chinese Government since 2004," said Wang Tian, Director of the International Communication and Training Center at BHTCM. "Western medicine, which is laboratory-based, has a history of only a few hundred years, but TCM is thousands of years old and originated from the experiences and practices of the Chinese. It is the world's oldest comprehensive healthcare system, encompassing medicine, massage and prophylactic treatment. Now many modern medicine practitioners outside China are also realizing that if they integrate the philosophies of TCM and Western medicine, they can improve their practice. So the training program was started to help improve health quality and treatment worldwide, especially in developing countries."
Working remotely
Shankar Gautam works in a place where you need to be a millionaire to get prompt modern medical treatment. He is employed at the state hospital in Mustang, the northernmost district of Nepal, a remote, high-mountain area that was once a forbidden ancient kingdom cut off from the rest of the world. If the 5,000 or so people living there need advanced treatment, they have to charter a helicopter and fly to the capital Kathmandu or one of the larger cities in the south. There is no train and road transport consists of buses and private vehicles.
The area's first responders are grassroots healers known as amchis who practice herbal-based Tibetan medicine. Gautam is himself a practitioner of Ayurvedic medicine, a traditional medicine that originated in India and is prevalent in Nepal as a first line of treatment.
"People prefer traditional medicine because it is holistic and doesn't have side effects, unlike some modern medicine," the 28-year-old said. "Nepal, although a small country, has many indigenous communities and each has its own traditional system of medicine. But now some of the large cities also provide certain TCM techniques, like acupuncture, moxibustion, tui na (massage) and cupping."
He rolled up his shirt as he spoke to reveal nearly a dozen red, round marks. He had himself just come from a cupping therapy.
"During the therapy, glass cups are placed in fire to burn out the oxygen in them, so that they become like miniature vacuum pumps. They are then placed on a person's body and create suction on the skin, relaxing the muscle and restoring energy balance," his colleague Vijay Bhurtel, a planner in the state Ayurvedic Department in Kathmandu, explained. Moxibustion consists of burning dried medicinal plants on certain points on the body, while tui natherapists push, pull and squeeze to manually stimulate pressure points.
"Since the World Health Organization (WHO) recognized the ability of TCM to treat certain clinical disorders, the Nepali Government has sought to study TCM in cooperation with the Chinese Government," Bhurtel said. "There are many similarities in the philosophies of the traditional medicines practiced in Nepal and TCM, and the two can be synergized for more effective and affordable treatment."
The four-member Nepali team is struck by how deep-rooted TCM is in Chinese culture. "Our training also taught us about Chinese culture," Bhurtel said. "In China, all Chinese, irrespective of their social and economic status, know about TCM and follow certain guidelines. The Chinese have realized that a nation cannot advance unless it is based on its own culture. But in our country, we tend to think 'West is best.' This trip inspired us that we need to strengthen our own cultural foundations."
Participants in the training program, which ended on August 20, hailed from a diverse range of countries including Sri Lanka, Grenada, South Sudan and North Korea. Every year there are three to four such sessions, with the latest having started on August 24.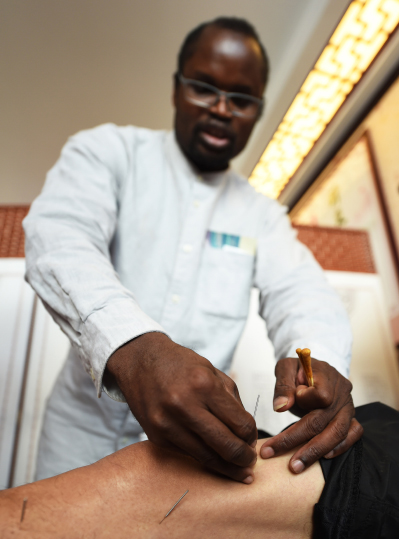 A traditional Chinese medicine practitioner from Mali administers acupuncture on a patient in Kaiyuan, southwest China's Yunnan Province, in June 2017 (COURTESY PHOTO)
Backed by policy
"Before the year 2000, doctors and medical students from developed countries like Australia, the United States, Germany, Japan, Spain and France came to China to learn TCM, sponsoring themselves," Wang said.
"At that time, China was not so economically advanced and the initiative to spread TCM was confined to communication. However, after subsequent development due to further reform and opening up, the government added financial support for the program. This project started from 2004, especially for developing countries in Africa, Southeast Asia and Latin America. It also provides service for the Belt and Road Initiative, showing the real China and Chinese culture to the countries along the routes."
So far it has trained thousands of people from more than 120 countries. Besides the training center in Beijing, three more centers have been opened in Shanxi, Yunnan and Sichuan provinces, and every year Chinese TCM doctors are sent to select countries where they work for a set period, treating patients as well as training local doctors.
"Every year, TCM doctors come to work in Ghana following a cooperation agreement between the two governments in 2001," said Martin Azaglio, head of monitoring at the Traditional Medicine Practice Council under the Ghanaian Health Ministry in Accra.
Seventy percent of Ghanaians consult traditional African medicine (TAM) practitioners as their primary healthcare resource according to a 2010 WHO survey. But despite the ubiquity of TAM in Ghana, Azaglio is overwhelmed by the gap between TAM and TCM in two major regards.
"I walked into a drugstore in Beijing and it stocked TCM and just TCM," he said. "It was an amazing sight, especially the packaging. If you look at the level China has reached in TCM manufacturing and packaging, we have a lot to learn."
The second aspect is research. "In China, the government is actively supporting TCM and has dedicated TCM hospitals and research institutions," he said. "But in Ghana, traditional doctors mostly work independently. When an expert dies, the knowledge dies with him. We have to modernize our traditional medicine to win international acceptance and these are things we can learn from China."
The author is an Indian living in Beijing
Copyedited by Laurence Coulton
Comments to dingying@bjreview.com