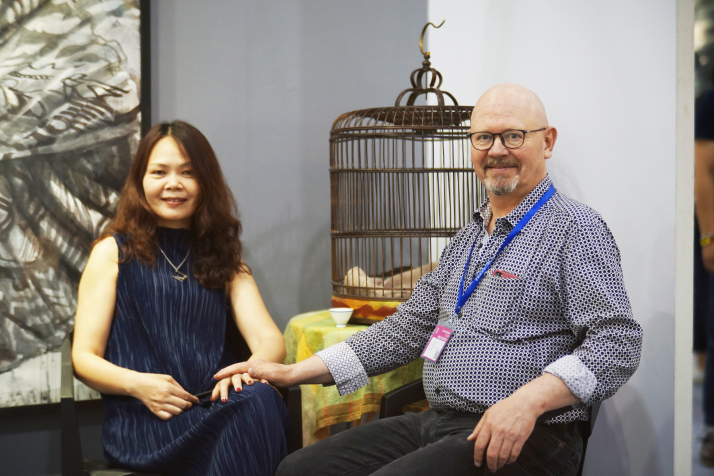 Lars Søren Ravn and his wife Zi Fanmei (COURTESY PHOTO)
Almost pushing 60, Lars Søren Ravn has dedicated his entire life to painting and graphic arts, even dabbling in sculpture with some success. Now, this self-taught, free-thinking libertarian from Denmark has found a new creative haven in Xiamen, in southeast China's Fujian Province. And perhaps more importantly, he also met and married Chinese writer Zi Fanmei.
Xiamen Dada meets Young Wild Ones
In the 1980s, a new art scene was emerging in Northern Europe, the Young Wild Ones, influenced by Joseph Beuys, the Fluxus movement and expressionist painters. This generation of young Danish artists were critical of the mainstream artistic creations. Ravn, an aspiring young painter from Vejle, in the southeast of Denmark's Jutland Peninsula, was immediately captivated.
"My late mentor was Peter Louis-Jensen. I was his assistant and he had a big impact on me. It was very experimental. It was not only about art, it was about creations that would make a difference in people's lives," he recalled. "He was a pioneer. He devised a water heater powered with solar energy, sold organic food and explored all kinds of alternatives that had to do with recycling and environmental awareness. We did things that would become commonplace later in the 1990s."
During that period, Ravn was a volunteer in a bookshop and became acquainted with China. "We were selling posters, books and items imported from China," he said. But the defining moment came when he was 20. "Someone gave me a book in Danish about Chinese art and culture in the 1930s. That was the first book I ever read about the topic in China."
"I did an exhibition in Dandong, north China's Liaoning Province, just after the Summer Olympics Games in October 2008," he remarked. Since then, Ravn has toured extensively in China and gained growing recognition for his work.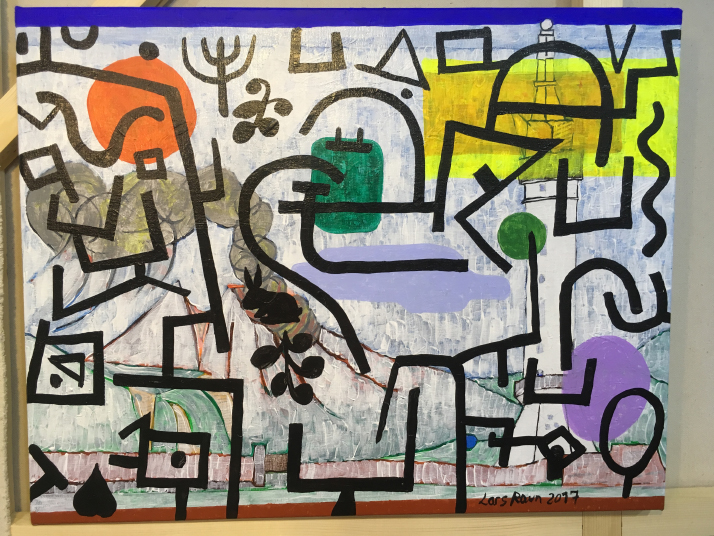 Red Sun Over Mount Vesuvius by Lars Søren Ravn (JACQUES FOURRIER)
Creating change
Lars Ravn has always pursued his creative instincts, with money and fame absent from the equation. "Whatever touches me, not my money or my material life, inspires me," he remarked. "Love plays a substantial role, but I find my inspiration elsewhere, in issues such as environmental protection, the refugees crisis or climate change."
Since China has become the world's second largest contemporary art market behind the United States, Ravn worries about the commoditization of art. "That's what I've seen with the new generation. They have to follow the money. They create what the market wants. It's produced for the market," he riled. "So why don't they just choose to be bank managers? It's not produced for the sake of art, human creation or human understanding."
There are grounds for optimism though, and Ravn sees a growing awareness on environmental protection and globalization in China's civil society. Traveling back and forth between Denmark and China, he plans to settle down on Kulangsu Island, a UNESCO World Heritage Site off the coast of Xiamen, and share his positive outlook on life.
"I would love to have my own studio in Kulangsu, but most importantly, I want to open a dialogue with young Chinese people about globalization, and how to address this issue in the future," he said. Ravn has already been in contact with investors who bought the old art school on Kulangsu, where he will have his own space. "My life is my inspiration. I am very open to the possibilities that I have in China. I now work toward creating art which is much more global. I cannot create from a Danish or a Chinese perspective. I have to try and find a perspective that touches upon problems in daily life. The problems we are facing are not locally Chinese or Danish, they are global."
For Ravn, art is essentially a means to spread positive energy. "I want to make a point and convince people, raise awareness. This is what you can do as an artist, because you can't change economic models. I see myself as someone promoting sustainability and love, things that are positive."
Lusting for life
This indomitable optimism and unflinching faith in human nature is undoubtedly what drew Zi to Ravn. They met at an exhibition in 2015 and were married two years later in Denmark.
Zi is a former professor of Chinese literature and also a poet, publishing her first book in 1993 at 24 years old. She has already penned eight books and many poems, short stories and illustrated stories. She has a passion for flowers and plants, which transpires in her work and life. "Flowers are an essential part of my life. But I also need to make a living. I opened a coffee shop on Kulangsu Island in 2014 and it enables me to write poetry and travel around the world," she explained.
Although from different cultures, they share the same visceral proximity to their environments. "We have the same areas of interest. However, we look at them from different angles. As a writer, I pay attention to the changes occurring in the world, either environmental or political. For instance, when I was in Denmark, I focused my writing on environmental protection and how China fared compared to this country, to tell the Chinese what the Danes were doing and what we as Chinese should do," she remarked.
Ravn's comments echoed his wife's. "I see myself as a free thinker, and possibilities are boundless" he said, adding that Xiamen is an inspiring place capable of fulfilling his creative urges. "It's just like seeds scattered on the ground: given the right amount of light and fertile soil, you just need to water them and they will start growing."
For both of them, art speaks louder than words and creation is a universal language. "We can't speak each other's language," Zi acknowledged. "However, there was a lot of curiosity in the beginning and this apparent limitation became an advantage, something much more enticing. In the beginning, we found out we were different in many ways, but I personally believe that it's all the more fascinating."
No doubt that the magic will prevail in the future and that Xiamen will carry on its time-honored tradition by building bridges across cultures and ideas.
Copyedited by Rebeca Toledo
Comments to dingying@bjreview.com