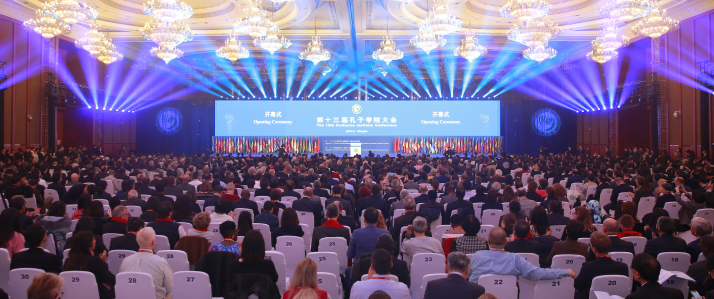 The 13th Confucius Institute Conference opens in Chengdu, southwest China's Sichuan Province, on December 4 (COURTESY PHOTO)
When 12-year-old Kamila Carter walked up to the podium with a beaming smile and greeted the audience, her composure was amazing. Even more so was her fluent Chinese. The seventh grader from California, the United States, shared how she became multilingual at the 13th Confucius Institute Conference held in Chengdu, southwest China's Sichuan Province, on December 4 and 5.
Born to hearing-impaired parents, Carter's mother communicates to her in Spanish, her father in the American sign language, and her grandmother in English. She was enrolled in a kindergarten that offers a Chinese language program because her family wanted her to pick up a new language.
Seven years since her first Chinese class, Carter is a proficient speaker now who has won several prizes at the Chinese Bridge Competition (CBC), a worldwide Chinese proficiency contest for non-native speakers sponsored by the Beijing-based Confucius Institute Headquarters, or Hanban.
"The Confucius Institute has created many challenging opportunities for me," Carter said, recalling the competitions she has taken part in. In her fifth grade, she took the first place with her rendition of the popular Christmas song A Thankful Heart in the Chinese sign language.
Recently, as a middle school student, she won the best speech award in the CBC, where she was the youngest contestant. "I have met many wonderful people from many parts of the world. Knowing other languages has helped me realize how important communication is," Carter said.
'Davos' of education
Hanban's annual conference, a gathering of more than 1,500 people this year, included Chinese and foreign university presidents and representatives from Confucius Institutes all over the world. The event, dubbed the Davos of education, offers educators an opportunity for sharing experiences and strengthening cooperation.
"The Chinese Government encourages cross-cultural communication," Sun Chunlan, Vice Premier of China, said in her speech at the opening ceremony of this year's conference. "The unique role of language in enhancing understanding, building consensus, promoting cooperation and strengthening friendship should be given better play so as to build a community with a shared future for humanity, and promote common prosperity and development of all countries."
The Confucius Institute was inspired by Britain's British Council, France's Alliance Francaise, Germany's Goethe-Institut and Spain's Instituto Cervantes. The first Confucius Institute in the world was set up in Seoul, South Korea, in 2004. Today, there are 548 Confucius Institutes based in universities and 1,193 Confucius Classrooms in primary and secondary schools in 154 countries and regions to meet the growing needs of people to learn Chinese and understand the culture and other aspects of China as the Chinese economy grows and exchanges with the world increase.
"The most important bridges are the ones between people… not the ones built of steel or stone, but of friendship and understanding," Keith Burnett, former Vice Chancellor of the University of Sheffield and Hanban Council member in the United Kingdom, said, talking about the bridge of cooperation built between China and the United Kingdom by the Confucius Institute at the University of Sheffield.
The friendship and trust built through Confucius Institutes provide a very good opportunity for jointly coping with future challenges and promoting world peace, he added.
Language-learning platform
Rebecca Nukuoro, who is majoring in public administration in the University of Zimbabwe in Harare, has been studying in the university's Confucius Institute for a year. "The Chinese language is of great importance as the Zimbabwean Government is involved in business with China. I feel I would be better equipped and greatly advantaged to have an extra language when I join the job market," she told Beijing Review.
Isaac Meroka Mbeche, Deputy Vice Chancellor of Kenya's University of Nairobi, called Confucius Institutes a platform for heart-to-heart exchanges and educational cooperation between China and the rest of the world. The Confucius Institute in his university, the first of its kind in Africa, is an important bridge promoting mutual understanding and friendship, he said.
Deja Watkins, a senior at the George Mason University in Virginia, the United States, is juggling three majors: data science, international relations and Chinese. He started to learn Chinese when he was in high school, with the Chinese program sponsored by a Confucius Institute.
He told Beijing Review what motivated him to study Chinese, "It was a language that many people I knew did not speak. I thought the culture is very interesting as well."
Confucius Institutes have helped to bring knowledge of the Chinese culture and language not only to university students, but to the community in general, said Roberto Lafontaine, Director of the Confucius Institute Latin America Regional Center in Santiago, Chile. The center was established in 2014 to coordinate and support the work of Confucius Institutes in the region.
"In this way, Confucius Institutes have become one of the main institutions in Latin America to foster ties with China," Lafontaine told Beijing Review. "The first stage to bring people closer is to know their culture and language, as well as [their] history and evolution. In the case of Latin America and China, this process gradually took place and has acquired strength in recent years."
Currently, more than 100,000 people study in the 40 Confucius Institutes and 11 Confucius Classrooms in Latin America and the Caribbean, he said.
Columbia, Missouri in the United States has an estimated population of about 100,000. In the city's public schools, all sixth graders take three weeks of Spanish, French and Chinese for a total nine weeks of exploratory language. Starting in the seventh grade, students can choose to take Chinese classes in select middle schools and high schools.
"We send volunteer teachers to teach in local schools," Liu Lan, Chinese Director of the University of Missouri Confucius Institute (UMCI), told Beijing Review. The UMCI is a partnership between the University of Missouri and Shanghai Normal University.
"About 1,500 students in the Columbia Public Schools (CPS) are learning Chinese as part of their regular academic curriculum. There are six middle schools and four high schools in the CPS system, and UMCI teachers teach Chinese at all six middle schools and in three high schools," Sang S. Kim, Director of UMCI, told Beijing Review. Chinese language classes have reached over 8,000 students since the UMCI's founding in 2011, according to the organization's recent self-assessment report.
Explaining why Chinese has been introduced in local public schools, Peter Stiepleman, Superintendent of CPS, said, "In our school system, we say our purpose is to prepare children so that they will be prepared for an ever-changing and unpredictable world… It is predictable that our children will inherit a world that will require cooperation skills, communication skills and cultural competencies. Learning Chinese in our school district helps our children achieve in each of these areas."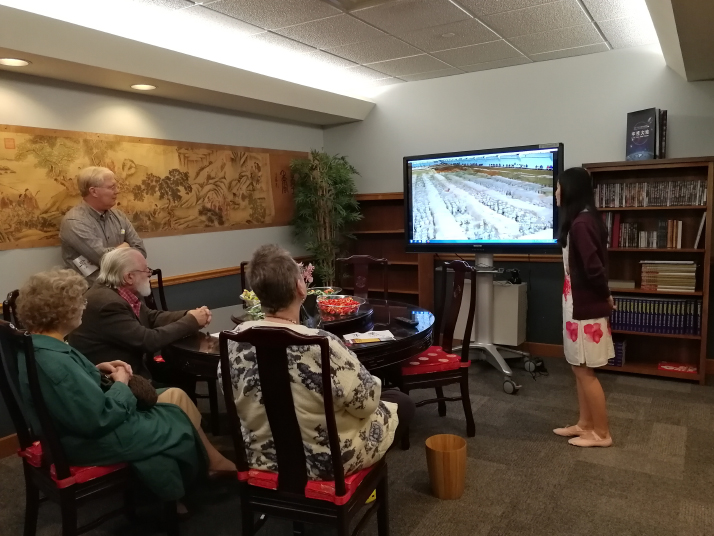 Residents of Columbia, Missouri, the United States, watch a video on scenic spots in China, at the University of Missouri Confucius Institute on March 10 (WANG HAIRONG)
Culture-sharing channel
In addition to promoting language learning, Confucius Institutes also engage in culture sharing.
At an event hosted by the UMCI in March, Zhang Rong, a young volunteer teacher from Shanghai Normal University, demonstrated Chinese calligraphy to two pre-teens and their guardians. She asked for the girls' names, and then wrote the Chinese characters for the names with a brush pen, which made the girls agog with excitement.
Also during the event, locals experienced dumpling making, practicing martial arts, tying Chinese knots, and playing the guqin, a stringed Chinese musical instrument. Some watched a video featuring scenic spots in China.
At the annual Chinese Lunar New Year gala hosted by the UMCI in February, Zhang led a group of U.S. middle school students to perform a spirit-lifting horse-riding dance of the Mongolian ethnic group of China. The gala featuring poem reciting, singing, short plays, lion dancing, drum beating and other performances by students added a festive flavor to the cold winter in Columbia, drawing a big audience.
"We have been invited to perform at various celebrations in local communities. Sometimes, we are too busy to meet the demand," said the UMCI's Liu. The UMCI hosts more than 30 events each year.
According to Hanban, in the past decade, Confucius Institutes and Confucius Classrooms worldwide held 220,000 cultural activities, attracting 100 million participants.
In Latin America, Confucius Institutes have brought together more than 1,000,000 people to cultural activities such as art tours, competitions and exhibitions, Lafontaine said.
Two-way exchanges
In addition to sponsoring events offering foreigners opportunities to experience the Chinese culture, Confucius Institutes have facilitated people-to-people exchanges between China and other countries.
For example, Lafontaine's center has brought together Chinese writers and filmmakers with their Latin American counterparts, and promoted exchange activities between Latin American and Chinese academics and intellectuals in the fields of commerce, social work, the environment, ocean and educational technology.
Such cultural exchange experiences can be life-changing, said Elizabeth Kangas, Director of the South Redford School District in Michigan, the United States. Kangas initiated the Fisher K-12 Confucius Institute Classroom in South Redford due to her son.
"About 10 years ago, when my son was in elementary school, there were visiting students from China. He told me that he wanted to learn the Chinese language and culture," Kangas said. She discussed this with the school principal who said the school did want to start Chinese classes but needed money. So Kangas started an organization to raise money so that all students there could learn Chinese.
Later she learned about the CBC and wanted the students to participate in it. In 2007, she came to China and visited the Tongshenghu Experimental School in Changsha, capital of Hunan Province in central China, where she learned about Hanban and its programs. As her son's primary school needed more teachers, Kangas decided to set up a Confucius Classroom in partnership with the Changsha school.
Now, the school in Redford and its partner in Changsha regularly exchange students. When U.S. students come to Changsha, they stay with Chinese families and vice versa. That is the best way to understand each other's culture, Kangas said.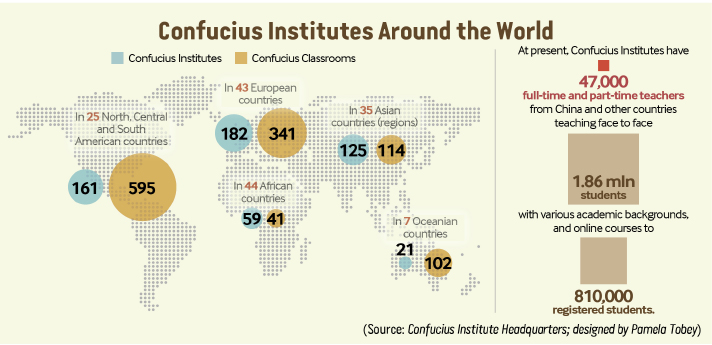 Copyedited by Sudeshna Sarkar
Comments to wanghairong@bjreview.com