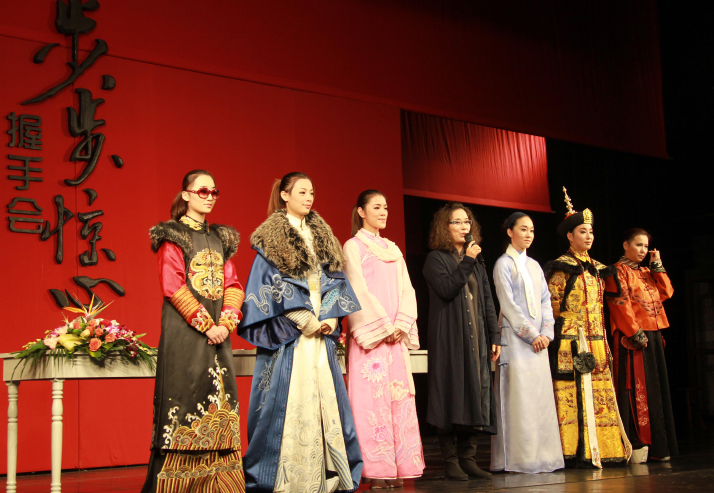 A Yue Opera based on the popular Web novel Treading on Thin Ice being performed in Hangzhou, east China's Zhejiang Province. The Yue Opera, a local opera originating from Zhejiang hundreds of years ago, is now the second most popular opera in China (XINHUA)
Web writer Zhang Wei, known as Tang Jia San Shao, used to primarily write fantasy novels before he began contributing to Web literature in 2004. In February, his contemporary urban romance Embracing You Beyond Lies made it to the List of Excellent Original Web Literary Works published by the State Administration of Press and Publication and the China Writers Association (CWA).
The list, which started in 2015, aims to promote healthy development of the Web literature industry by selecting outstanding works for other writers to follow.
"I hope to shoulder more social responsibilities," said Zhang, who has turned to realism in recent years.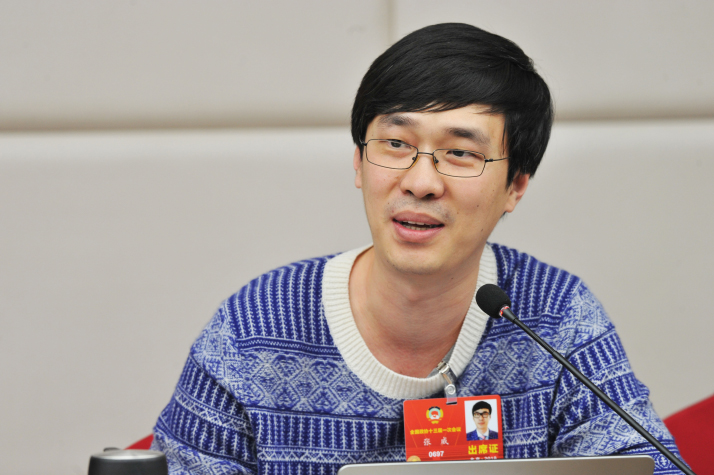 Zhang Wei, a member of the National Committee of the 13th Chinese People's Political Consultative Conference, speaks during the First Session of the national political advisory body in Beijing on March 7, 2018 (WEI YAO)
Dose of realism
China's Web literature has developed leaps and bounds over the past 20 years, He Hong, Director of CWA's Web Literature Center, said in a recent interview.
In the preliminary stage of development, the genre focused on fantasy and wuxia, the tales of warrior heroes with superhuman capabilities. There were also historical novels, especially love stories with time travel.
"Realistic works have been the weakest links of Web literature. Web writers need to face up to how to reflect reality," He added.
However, the number of realistic Web novels was on the rise in 2018. Of the 530 submissions from 15 provinces, municipalities and autonomous regions, many addressed contemporary societal issues such as entrepreneurship, community management and poverty alleviation.
Chen Qirong, head of the judges' panel and Director of the CWA's Web Literature Committee, said Web literature has been moving closer to mainstream ideology, cultural traditions and aesthetics. "Works describing the history of reform and opening up have increased and some are set in contemporary society," Chen said.
There are around 680,000 contracted authors for key websites and another 14 million who write online irregularly. There are over 16 million Web literary works with 406 million readers.
Chinese Web literature is regarded as one of the four cultural phenomena worldwide, along with Hollywood movies, Japanese anime and South Korean TV dramas.
To Zhang, the emergence and presence of Web literature is a milestone in the history of Chinese literature. There has never been so many writers engaged in literary creations at the same time in any country or at any time in history.
Given the vast amount of Web novels, even if only 1 percent is of high quality, it will still be a remarkable feat, Zhang told the media.
He Hong believed this genre will dominate literature in the future. "When people wrote on turtle shell or ox bones thousands of years ago, long literary works were inconceivable," he said. "It was only when printing technologies matured that long novels began to thrive. For the same reason, the emergence of the Internet, a revolutionary way of communication, is bound to bring fundamental changes to literature. I think Web literature will become the dominant form of literature in future."
However, he added that Web novels have to deal with real issues to have a bigger social impact.
"Web novelists need to pay more attention to reality, and learn about ordinary people's lives and aspirations to tell China's stories and play a positive role in fostering social morality," He said.
Zhang's autobiographical novel My Story for You, which portrays his pre-fame struggles, reflects the huge social transformation taking place in China over the past 20 years. It was adapted into a Web drama series and aired on streaming website Iqiyi.com and Shenzhen satellite TV in 2018.
Zhang's new novel about young people devoting themselves to protecting the Grand Canal, the world's longest artificial waterway at 1,797 km running from Beijing to Hangzhou in east China's Zhejiang Province, will be published in April. After that he is planning a novel themed around ice and snow as his contribution to the Winter Olympics to be held in Beijing, Yanqing and Zhangjiakou in 2022 as well as winter sports in China.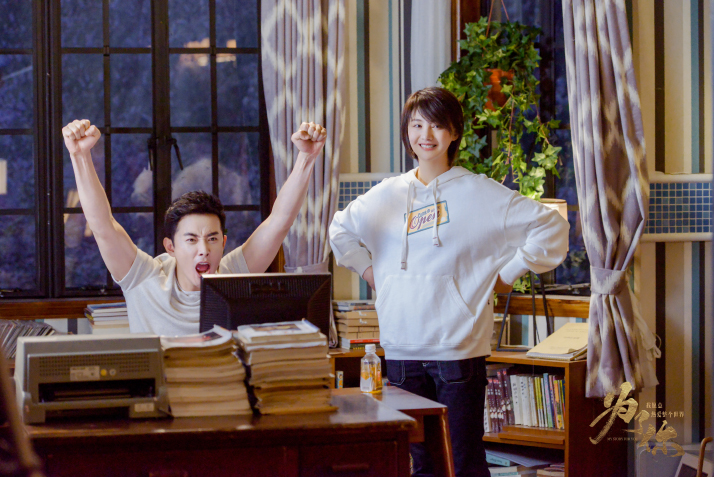 A poster of the TV drama series My Story for You adapted from Web author Zhang Wei's eponymous novel (FILE)
New trends
In addition to more realistic works, other new trends have also emerged in 2018. According to a report by China Literature, China's largest online publishing company, in February, the number of Generation Z members reading Web literature increased nearly 20 percent year on year. Generation Z refers to those born between 1996 and 2010.
An increasing number of post-90s people and those born even later have become online writers, bringing new lifeblood for the genre's development. Of the newly contracted writers of China Literature last year, over 70 percent were born post-90s. As these writers are of similar age and hold similar values, they are better at interacting with young readers and maintain their popularity.
The report also says that compared with traditional literature, Web literature boasts more interactions between writers and readers as readers can say what they feel online. In addition, Web literature has started to become popular abroad. Today there are over 100 overseas websites dedicated to translating Chinese Web literary works into foreign languages. Some websites in North America raised money through crowdfunding to get Chinese Web novels translated. Industry insiders say Web literature has become an important force for the globalization of Chinese literature.
Take Webnovel.com under China Literature, for instance. Launched in May 2017, it has developed into an English website introducing Chinese Web literary works abroad. The site boasts over 20 million hits and more than 19,000 works.
"Web literature is the result of Chinese people's vibrant creativity and represents the unique contribution of the Chinese to world culture," Chen Qirong, Director of the Web Literature Committee of CWA, told Guangming Daily.
Also, an increasing number of Web novels have been adapted into films, TV dramas, anime, video games and audio books, expanding the value chain of the genre.
"Web literature has boosted the development of China's cultural industry…It has started to change people's reading habits, aesthetics, ways of life and thinking," Chen said.
Nonetheless, ethnic Tibetan writer and Chairman of the Sichuan Provincial Writers Association, Alai, added a note of caution. He said although Web literature has achieved explosive growth in recent years, there are few premium works. Some authors have pursued quantity at the expense of quality. No matter how the medium of communication changes, the issues authors focus on and their values should not change.
Copyedited by Sudeshna Sarkar
Comments to jijing@bjreview.com