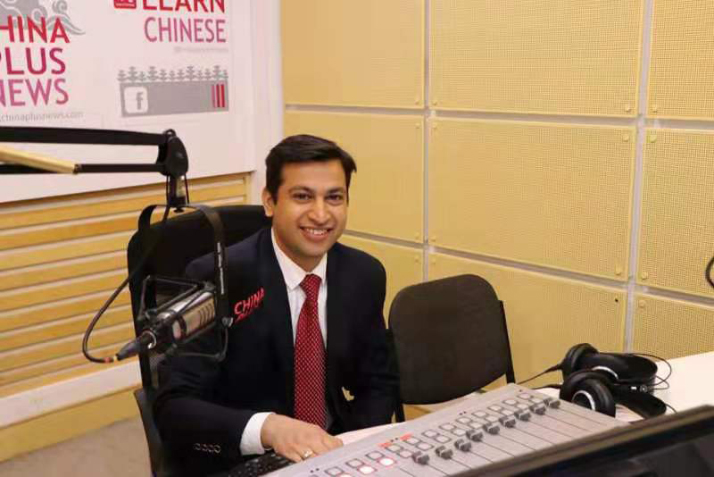 Akhil Parashar at work (COURTESY PHOTO)
I got a call from a very close Chinese friend in Beijing who asked me to have dinner with him one day last year. I was happy to say yes but was a bit taken aback when he suggested the KFC in Qianmen. Since we hadn't met for some time and this was to be a reunion of sorts, I felt a Chinese or Indian restaurant would have been more appropriate. My friend read my mind.
"You are wondering why this common fast food joint, right?" he said. "Let me give you a historical tour."
The Qianmen KFC restaurant opened in 1987 and was the first Western fast food outlet in China. "I was a young boy at that time and badgered my father to take me," my friend said. "It was a place only the rich could afford. A piece of chicken was about 2.50 yuan (about $0.7 at the then exchange rate), too expensive for ordinary families like mine. My father ordered food for me but nothing for himself. 'I ate a huge lunch and am not hungry,' he told me."
"Today, there are thousands of KFCs in China and any Chinese can walk in and eat there. I brought you here to share a piece of our history, to show you a tangible result of reform and opening up begun in 1978, which has led to the current amazing development of China," he explained. I hugged him.
I have been living in China for nearly a decade, first as a student and then as a journalist with China Radio International (CRI). It is part of our job at CRI to show the changing face of China, but my friend, with his inspirational story, brought home to me what the development actually means for Chinese people today.
This is one of the interactions I mention in my book, The Unforgettable Innings in China, published last year. I come from India, one of the countries neighboring China, and yet, I have found that the people in the two countries don't know much about each other. Instead, there are a lot of myths and misconceptions.
For instance, when I go back home, people ask me things that make me laugh. Like, is it true that the Chinese eat insects? Do they all know kungfu and leap from one place to another using it? Are all Chinese Buddhists and is China full of Buddhist temples?
When I first came to China to study Chinese at the Beijing Language and Culture University, even though I had studied Chinese privately back home, I too wasn't really aware of the real China. My desire to come to China started as a thirst to experience another culture, learn another language and generally expand my horizons. I wanted to explore the unknown.
I found China immensely better than what I had expected. Besides outstanding development, there is also the warm hospitality you get from the people, who go out of their way to help. Working for CRI, I have learned more about the politics, society and culture of China and want to share my experiences and facts with my Indian friends. That's how the idea of a book on China's economic, cultural, social and historical elements based on my experiences while living in China was born.
I hope the book will build a bridge connecting the Indian and Chinese people. It is an attempt to change the general perception in India about China, to have them realize that the real China is not what is projected by the Western media. Generally, Indians look at China through the glasses of Western countries, thus many wrong perceptions have been formed.
Extensive reporting of events in the two countries will increase mutual information and understanding. While the media of both countries are full of news related to far off Western countries, the development in neighboring countries is not so well covered.
In the absence of information, people can't understand each other's attitudes and opinions, which leads to misunderstandings. Media cooperation is an effective way of creating a positive image of a country and a solid foundation for bilateral relations. If there is trust and cooperation between the people of India and China, it will have a tremendous impact on bilateral ties.
I have plans to translate the book into English since I would also like Indians who do not speak Hindi to learn about the new China. And perhaps after that I will translate it into Chinese so that my Chinese friends can read it too.
The author is an Indian living in Beijing
Copyedited by Rebeca Toledo