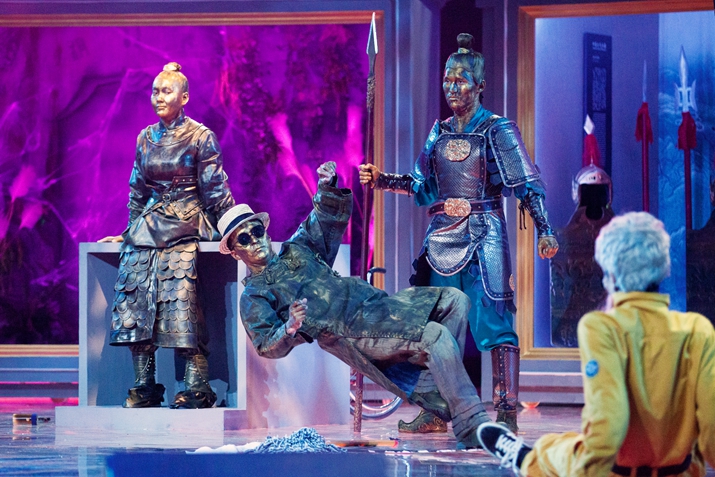 The Atai Omurzakov Totem Show, a performing troupe from the Czech Republic, on World's Got Talent (COURTESY PHOTO)
As an all-male dance troupe from the Philippines did backflips and splits in stilettos on stage, the four judges and audience members cheered and applauded, giving them a standing ovation.
It's become a common scene on the new TV program World's Got Talent (WGT) on Hunan TV. The 63 teams of contestants from 49 countries and territories are mostly winners from Got Talent shows across the globe, now competing on the world stage in a crowd of winners.
Originating in the UK in 2007, Britain's Got Talent has spawned spin-offs in over 70 countries. Co-owned by Fremantle and Syco Entertainment, the show has versions across Europe, the Asia Pacific, the Middle East, Africa and the Americas.
Simon Cowell, who created the Got Talent format and worked as a judge for both the UK and the U.S. shows, expressed his wish to create a world version of the show for quite some time. This has finally come to fruition and is taking place in China, specifically in Changsha, capital city of central China's Hunan Province.
A world show
"When I brought up the idea of hosting a world version of the Got Talent show in early 2016, few thought I could really make it happen," Yin Xiaowei, CEO of Fremantle China, said. In October 2016, Yin rolled into action and within nine months, she had a team working specifically on the project.
China's Got Talent made its debut in 2010 on Dragon TV and was an instant hit. But to host a world version demanded many more considerations. "The stage design alone is a big challenge," Yin said. "The show involves various forms of performances including acrobatics, magic and dancing and the stage needs to meet all their requirements."
The preparation didn't go smoothly until cooperation with Hunan TV, a provincial TV station in China that is open to ideas from around the world. On April 19, the program was finally launched on primetime.
David Foster, a renowned musician from Canada who has won 16 Grammy Awards; Vivian Wu, or Wu Junmei, a Chinese actress and an Academy Awards voter; Coco Lee, a Hong Kong-born U.S. singer and songwriter; and Xie Na, a popular host in China, are the show's judges.
The 63 teams of contestants were organized into nine groups for the initial competition. Each team had one winner selected by the audience and another chosen by the four judges. These 18 winners were then put in three groups for the semifinals. In addition, each judge can press a golden buzzer once that will send a contestant straight through to the final round.
The contestant search, which began in July 2018, took months to finalize. Tiffany Yao, Fremantle China's project manager of the foreign teams from around the world and in charge of casting candidates, said based on the Got Talent criteria of "any talent, any age, anywhere," they selected contestants in seven categories: singing, dancing, musical instrument playing, acrobatics, creativity, culture and magic/others.
"We were surprised to get an e-mail invitation from WGT," Junior New System (JNS), the all-male dance troupe from the Philippines, told Beijing Review. "It is a Got Talent show not just for one country but for the whole world."
In 2018, JNS made waves on America's Got Talent. Cowell commented after their performance, "I think this is going to be the most talked-about act and for all the right reasons."
Yao noticed this group in 2015 when it first took the stage on Asia's Got Talent. "They broke routine and combined dancing with high heels," Yao told Beijing Review. "This innovative performance is just what WGT was looking for."
Growing up as neighbors in a poor area of Sampaloc, Manila, JNS was formed 10 years ago when its members were very young. They started off entering street competitions. Since they didn't have regular jobs aside from dancing, they relied on the prize money they won for their main income. "We felt energized every time we heard people cheering for us," JNS said.
Their performance awed more audiences which led to invitations to bigger events. "The Got Talent shows gave us a platform to showcase our talent to the world," JNS said. "We would like to inspire our fellow youths who have similar dreams that no matter where you come from or who you are, just put heart, determination and passion into your craft. Nothing is impossible."
In the eighth episode of the initial competition, they were the audience's choice and entered the semifinals. "We are happy performing in front of a Chinese audience because they're so appreciative," JNS said.
Tulga, a Mongolian who won the audience's choice during the second episode, also expressed his appreciation of the Chinese audience. "Out of all the shows I have been on, the show in China was my favorite," he told Beijing Review. "The crowd showed me lots of love and I made lots of Chinese friends."
Making his name as a weightlifter on other shows, Tulga has participated in shows in many countries and was very excited when he got the invitation from WGT.
"When I heard the news I was touring with a circus in the U.S. but I started practicing right away," Tulga told Beijing Review.
Born and raised in the Gobi Desert in Mongolia, Tulga, like many other Mongolian boys, liked wrestling and the nomadic lifestyle. As a teenager, he joined the circus and made a career of it for the past 15 years. Seven years ago, he started his strongman act. He likes spinning a heavy pole on his back. "When I am spinning the pole it reminds me of wrestling," Tulga said. "I love wrestling and the circus and when I have both it's amazing. I try to practice every day with my props such as a telephone pole, bowling balls, car tires and kettle bells."
It is the first time Tulga has performed in China. In the first round of the competition, Tulga spun a 6-meter 50-kg log with four people on it and also a 5-meter 40-kg log held in his mouth. "I held my breath when he used his teeth to hold that heavy log," a netizen posted online after watching the program. "He is the strongest man I've ever seen."
"The show in China had the fiercest competition and largest program out of all the shows I have done," Tulga said.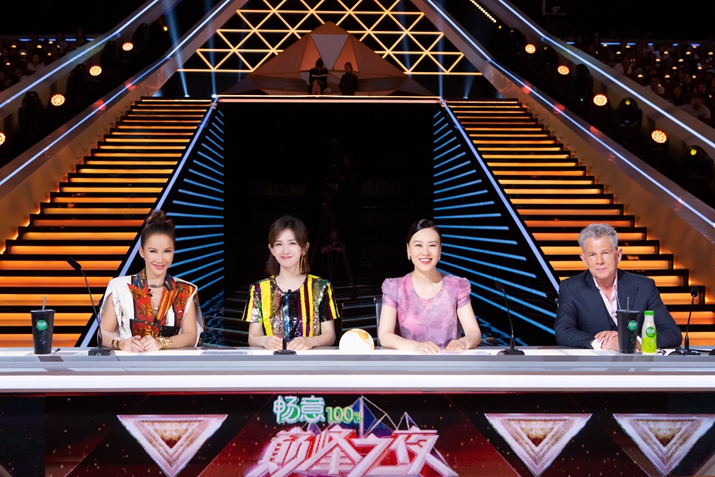 The four judges of the World's Got Talent show: (from left to right) Coco Lee, Xie Na, Vivian Wu, and David Foster (COURTESY PHOTO)
Not just about winning
The Atai Omurzakov Totem Show, a performing troupe from the Czech Republic, were popular on China's social media including Douyin (Tik Tok) even before their appearance.
Dressing up like senior citizens, the group, mostly made up of 18-year-olds, wowed the viewers with their flex dance. They imitated robots with a shade of the dancing style of Michael Jackson.
Team leader Omurzakov participated in Czech & Slovakia's Got Talent in 2011 alone and got the gold medal. "My childhood movies influenced my decision to start dancing," Omurzakov told Beijing Review. "I was watching 1980s and 90s films where there were robots. I liked them very much and I started to imitate them in front of the mirror. I studied and learned for 10 years, and then I began to teach other youths everything I had learned."
One day in 2018, a group of teenagers appealed to him to let them be his students. He saw their performance and saw great potential. With them, he formed the group Atai Omurzakov Totem Show. So in January, when he got the invitation from WGT, he was thrilled.
"I always dreamt of participating in a global talent competition. After receiving the invitation, I was very happy and started to prepare a performance that could surprise the viewers," he said.
This was also the troupe's first show in China. They won the judges' choice in the first round of the competition. During the semifinal aired on June 21, they staged a new act incorporating some Chinese elements such as the Peking Opera. Titled Magic Museum, the act featured the performers dressed as terracotta soldiers with faces painted the color of dark brass.
The creativity and their brilliant performance made them the only winner of the semifinals in the first season. Tulga, who was also in that round, failed to advance into the final round.
However, winning is not the only reason to compete, many contestants also place great importance on the message they want to share through their performances.
"During the first round of the competition, Tulga's father went on stage during the performance to support him, during the semifinals, it was his daughter," a netizen wrote online. "They are a great family. I can feel from his big and lovely smile how he loves his work and his family. This happy message is very infectious. It doesn't matter whether he wins or not."
Omurzakov's group hopes their dance can awaken the soul and pass on its beauty. "With our dance we convey a lot of philosophical thoughts about life values and true love for art," he said.
Deng Nanzi, a magician from China, won the audience's choice with his Rubik's Cube performance in the first round of the competition. Deng, who has been performing magic for about 10 years, said the most impressive experience is to teach students magic and inspire them to have scientific and technological ideas through learning magic.
Shi Yanze, founder of the Yanze Martial Arts Troupe from central China's Henan Province, brought his students, all born after 2000, to perform a martial arts show. Among them, two little boys including Shi's son, were born after 2010.
Even though David Foster said he was "blown away," by their act, they didn't advance past the first round due to the fierce competition. But Shi was happy to have had the opportunity to display Chinese kungfu to a wider audience this time.
"These young people are the future of Chinese kungfu," Shi said. "We are here to encourage more people from China and around the world to understand how wonderful it is."
Copyedited by Rebeca Toledo
Comments to yuanyuan@bjreview.com