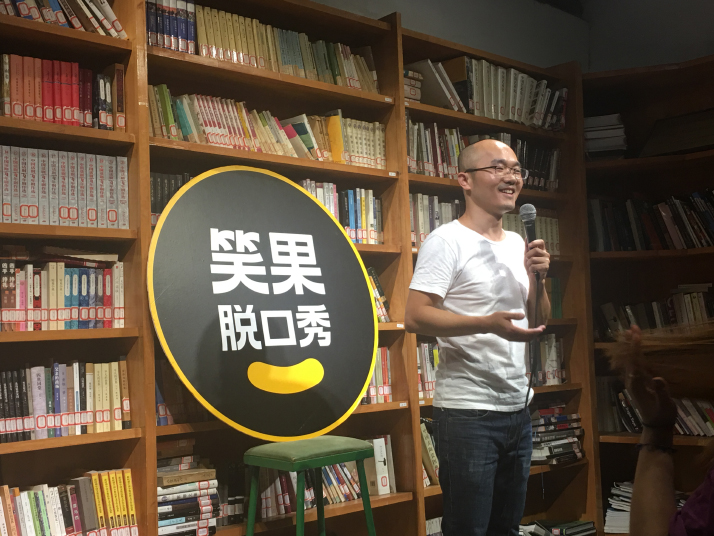 Zhao Lin does an open-mic show in Beijing on August 27 (YUAN YUAN)
Zhao Lin, a native of east China's Anhui Province, has allergic rhinitis and had to leave Beijing six years ago because he couldn't adapt to the relatively dry climate. But this year, he moved back to the capital and dons a mask on his way to the cafe for his interview with Beijing Review.
He said the attraction is stand-up comedy, which he wants to develop as his full-time profession. "Compared to my stand-up comedy career, my physical discomfort is not even worth mentioning," Zhao told Beijing Review.
The career
When Zhao, in his 30s, left Beijing in 2013, he didn't even know what stand-up comedy was, even though there were already some comedy clubs and open-mic shows in the city back then. Zhao, known as Xiaopao, did his first open-mic show in Nanjing, capital of east China's Jiangsu Province, in late 2017.
"There were more than 50 people in the audience and I was the last one on stage," Zhao recalled. "I can't remember clearly what I said since I was super nervous. I performed for more than 10 minutes and it was awkward because my jokes didn't go over very well."
Nevertheless, Zhao was certain that he was right for his chosen career. "I am an introvert and would rather be by myself than go out with friends. But I have this strong urge to express myself and share my ideas with others, even if they may be considered crazy."
Zhao later discovered that most stand-up comedians have a similar personality. With the boom of live-streaming stand-up comedy programs including Roast (Tucao Dahui) and Rock & Roast (Tuokouxiu Dahui) over the past several years and the popularity some comedians have gained, Zhao started to seriously consider developing his talent as a full-time career. Beijing, with many more comedy clubs and over 20 open-mic shows a week, won out easily over Nanjing.
"In Nanjing, I could only do one open-mic show a week, but in Beijing, I can do about 15," Zhao said. "This is very crucial since open-mic practice is very important for comedians."
Zhao currently has no full-time job in Beijing. He lives in an eastern suburb and takes the subway 40 minutes to get to downtown Beijing. Since June when he returned to Beijing, with his frequent presence at open-mic shows, Zhao has begun to make a name for himself.
At an open-mic session on August 27 in a small cafe, Zhao was voted the best-performing comedian by the audience. "He is hilarious," said an audience member who voted for him. "I think he has a promising future in this industry."
Aside from open-mic shows, Zhao also gives commercial performances on Fridays and weekends. The pay is low, about 200 yuan ($28) each, he said, admitting that he has to live on his savings.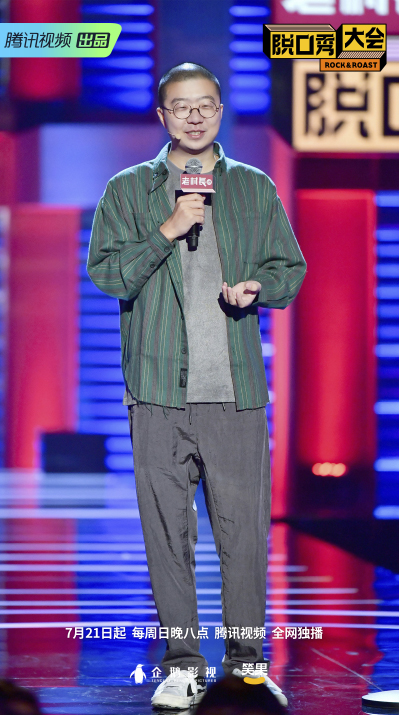 A poster of live-streaming stand-up comedy program Rock & Roast featuring Li Dan, a comedian and the planner of the program (COURTESY PHOTO)
The fun
Li Xiaobai, a 31-year-old working in Beijing, was surprised to see a peer's performance online. Two years ago, when Li made her first attempt at stand-up comedy, Wang Lu was in the same circle and was also a newbie.
"I gave up after a short time in 2017 but she persisted," Li told Beijing Review. "If I hadn't given up, perhaps I would also be there too."
Li started doing open-mic shows again earlier this year, and according to her, the atmosphere for stand-up comedy in Beijing is much more heated compared to just two years ago. Comedians must compete to win a spot on open-mic shows now, while in 2017, as long as a comedian was willing, he or she could go right up on stage.
"Now, the organizer sets up a chat group on the messaging app WeChat and those who want to perform must submit their jokes ahead of time. Only after they are approved, can a comedian win a spot on the line up," Li said.
Li was the first on stage on August 27, telling jokes about her husband. "Let me tell you a big secret about my husband," Li said. "He is actually bald, and he has hair pasted onto his scalp. Every morning when I wake up, I see a bald head with patches of loose hair and the view is just spectacular."
The open-mic shows are a refuge from her regular life. "I have depression and take medication every day for it," Li said. "As far as I know, most stand-up comedians suffer from depression. To be a comedian may worsen the situation for some, but for me, it is a way to relieve the pressure."
Li lives in a western suburb of Beijing and her commute to downtown can easily take over four hours. She has to leave early for every show to catch the subway.
She is looking forward to getting commercial performance invitations. "I would say everybody that does open mic wants to be doing it," Li said. "But many regard it as only a hobby to do in their spare time. Only about 30 percent want to be full-time stand-up comedians, since it is still not easy to make enough money to live on. Maybe it will get easier in the future."
The industry
In China, stand-up comedy is always compared to xiangsheng, or crosstalk, a traditional comedic performance featuring a dialogue between two people. It is regarded as a highly skilled performing art that requires years of practice.
Joe Wong, known in China as Huang Xi, a well-known Chinese-American stand-up comedian, once said that crosstalk had a strong impact on him, since he grew up listening to crosstalk shows on the radio. For Wong, stand-up comedians are freer to touch on more subject matters compared to crosstalk performers, who pay more attention to traditional skills.
Wong has also had an impact in China. His 2011 stand-up performance at the White House Correspondents' Dinner inspired a new breed of Chinese comedians. Back then, stand-up comedy clubs had already begun to spring up in Beijing and Shanghai but had yet to receive much attention.
In May 2012, Wang Zijian, a Beijing native who trained in crosstalk for years, hosted a TV program titled Post 80s' Talk Show on Shanghai's Dragon TV. The program, which ran for about five years, gathered a group of comedy writers and comedians and is regarded as an incubator for many of today's stand-up comedy stars.
Li Dan, who initially was a writer for the program, went on to be one of the founders of the Fun Factory, the company that launched Rock & Roast. He is now a comedian as well as the planner of the program. Currently, he is worth about 100 million yuan ($14 million), according to some reports.
"Even though more comedians are becoming well-known in China, this art form is still in its nascent stage and we eagerly need more new talent," Li said during the program.
For Li, stand-up comedy may seem to have low entry barriers, but there are many hurdles. "We have to rack our brains to find topics for our jokes and properly deliver them to the audience," Li said. "We also need to put in a lot of practice to synchronize our rhythm with our body gestures. It is definitely no small feat. Most of us suffer from insomnia."
Shi Yan, an English teacher and a popular stand-up comedian, has ventured to train new talent for the industry. He went on tour in 15 Chinese cities in 2018, and held a series of training camps along the way, targeting college campuses as his main base.
"We are planning to cooperate with colleges and discuss the possibility of listing stand-up comedy as an elective," Shi said.
Copyedited by Rebeca Toledo
Comments to yuanyuan@bjreview.com