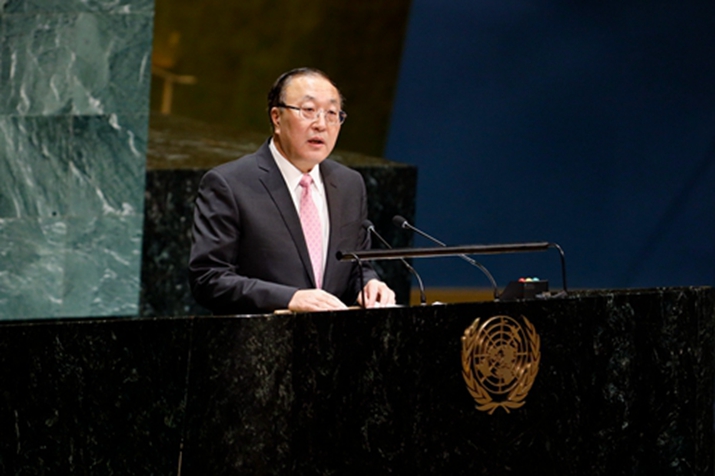 Zhang Jun, Permanent Representative of China to the United Nations, speaks at the 74th Session of the UN General Assembly on the agenda of Sport for Development and Peace on December 9 (XINHUA)
When China hosts the 2022 Winter Olympic Games, clean energy will be used in all the venues and there will be zero tolerance for doping, China's Permanent Representative to the United Nations Zhang Jun said at the 74th Session of the UN General Assembly on sport for development and peace in New York on December 9.
"We will hold a green Olympic Games and prioritize ecological consideration, resources conservation and the environment by… implementing a low-carbon work plan," Zhang said. "The Beijing Winter Olympic Games will be as clean and pure as ice and snow."
Oversight of the preparations will be tightened to combat corruption and uphold integrity. All member states should bridge differences, resolve disputes, and stop the use of all military force and hostility during the Games, he added.
In preparation for the Olympics, winter sports are being developed with women, children and people with disabilities accorded more opportunities to take part in them.
Zhang said China will strengthen sports cooperation and people-to-people and cultural exchanges through the Beijing Winter Olympic Games.
The 2022 Winter Olympic Games will be held in Beijing, Yanqing, Zhangjiakou in neighboring Hebei Province. This is the first time that China will be hosting the Winter Olympics. It held the Summer Olympics in Beijing in 2008.
Copyedited by Sudeshna Sarkar
Comments to yushujun@bjreview.com