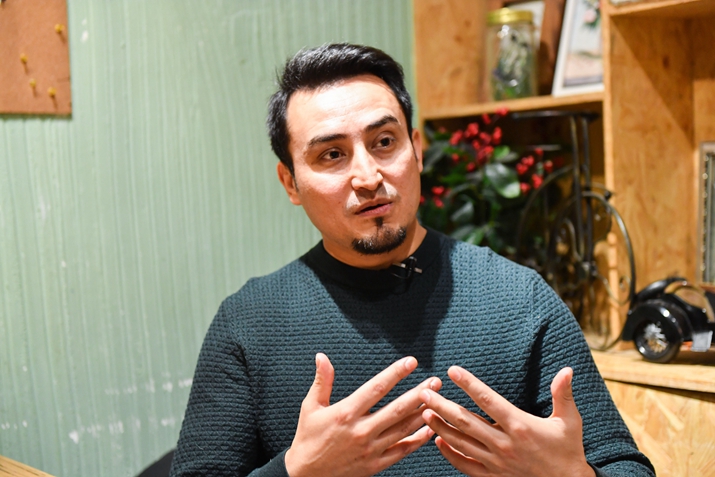 Kurbanjan Samat (WEI YAO)
When photographer Kurbanjan Samat's flight landed at Los Angeles International Airport and he proceeded to the immigration desk, the official asked him twice if the Chinese passport he was showing was actually his.
"Sorry, you carry a Chinese passport but you look Mexican," the doubtful officer said.
"You may have heard of the Uygur ethnic group in China," Kurbanjan answered, explaining why he looked different. China has 56 ethnic communities and some of them have different features from the Han Chinese, the majority community.
The above conversation, which took place in July 2016, forms the beginning of his new book I Am From China.
The United States was one of his stops to meet some of the subjects for his book, people from Xinjiang Uygur Autonomous Region in northwest China who now live outside China. He also went to France, Italy, Germany, Japan, the Republic of Korea and many more places.
The book, published in December 2019, is the last one in his Xinjiang trilogy. The earlier two volumes are I Am From Xinjiang on the Silk Road and I Am Going to Xinjiang. The third book involved the most investment and risks.
Getting rid of labels
Kurbanjan's books introduce China's ethnic minorities with different beliefs and customs. But one common trait runs through all of them. They all show a desire to work hard for a better life.
Kurbanjan grew up in a diverse culture in Xinjiang where more than 40 ethnic groups, including Kazak, Han, Uygur and Mongol, live in harmony. Even the children are educated in the customs and taboos of different ethnic cultures.
Xinjiang is a place of mystery, due to its remoteness and the huge Gobi Desert standing as a barrier, and outsiders tend to misunderstand the region. In the past, it was stereotyped as a land of beautiful scenery and dancers as well as different cultures. In recent times, Xinjiang and Uygurs are invariably associated with terrorism.
The frustration caused by misunderstanding drove Kurbanjan to do something about the information gap. His effort is to present the real Xinjiang without any label.
As he sees it, people in Xinjiang are no different from others. It is the stereotypes that color people's judgment about the region. "Everyone is born as crying babies and we will all go back to nature after we die, only in different ways," the 37-year-old told Beijing Review. "We need to think about human nature regardless of ethnicities and skin colors."
He said he believes his readers may know Xinjiang better after they read his first book. "Actually, I think it's more than that. They will see themselves in those stories," he said. "Ask themselves where they come from and where they are heading."
After the first book, he felt it was necessary to write another to explain that, Uygur alone can't represent Xinjiang. People from different groups have shaped the region together.
I Am Going to Xinjiang presents the stories of 26 people, both Chinese and foreigners, who moved to Xinjiang, a developing region that has been receiving financial aid and talent from other provinces for more than 20 years. These people have given their life to the region. Some have lived there for about 50 years, soon after the autonomous region was carved out 65 years ago. Even today, university graduates in big cities are encouraged to go to Xinjiang to assist in the region's development.
Kurbanjan himself is one of the beneficiaries of that trend. He was mentored by Meng Xiaocheng, a documentary maker from Beijing who made a film on the desert poplar growing in Hotan, Kurbanjan's hometown near the Taklamakan Desert. Meng helped Kurbanjan with his further studies in Beijing and inspired his career choice.
On Weibo, the Chinese Twitter-like platform, the two hashtags of his first two books have been viewed 360 million times and 52 million times, respectively.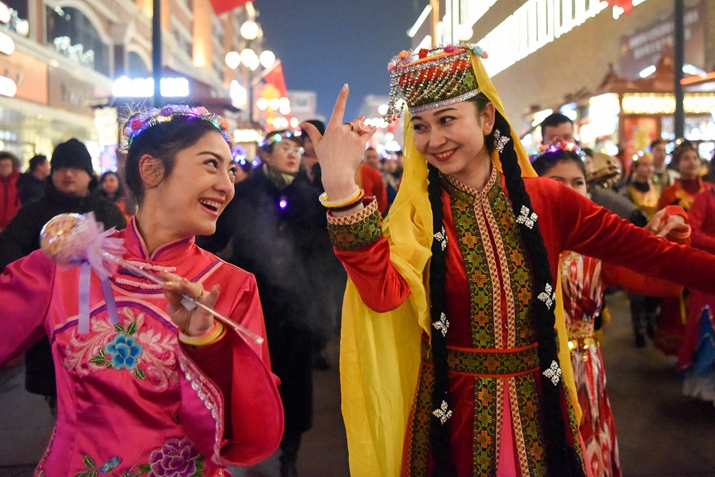 Performers in the clothes of different ethnic groups lead a new year celebration parade in Urumqi, capital of Xinjiang Uygur Autonomous Region in northwest China,on December 31, 2019 (XINHUA)
People's stories
As an independent photographer seeking Chinese Uygurs in the U.S. to interview, Kurbanjan faced online threats by separatists who are trying to create instability in Xinjiang. There were attempts to sow doubts about his credentials and intentions.
Some people he wanted to interview also received threatening e-mails telling them not to talk to him and some refused to be interviewed, worrying they would be targeted by online smear campaigns.
One day, after an interview, three young men, each holding a baseball bat menacingly, closed in on him, accusing him of being a spy. He managed to persuade them that if they hurt him it would recoil on their heads and they finally left.
In I Am from China, he also tells the stories of women from Xinjiang. They are doctors, lawyers, dancers, scholars, cooks and teachers. They are positive and ambitious and rise above adversities.
The empathy was inspired by his father, who would always tell him, "If you want to delight Allah, you should delight your mother first."
When his mother suggested that Kurbanjan's 19-year-old sister give up her studies and get married when the family business was in difficulties, Kurbanjan refused. He looked after the family and supported his sister until she graduated from college and became a teacher.
A part of the preface to I Am From China is by Zhang Xingang, a Hong Kong-based Chinese scholar who has lived overseas for 28 years. "Some people from Xinjiang who are living abroad are easily misled because they are not aware of the real history of Xinjiang and their ethnicities. Xinjiang has been governed by the Central Government since the early Eastern Han Dynasty (25-220), following which the region has always been an important area for the Central Government of China," Zhang wrote.
To Zhang, people from Xinjiang are "confident in learning new languages and getting along with different ethnicities since they grow up in an environment mixed with many ethnicities and languages."
"The stories in the book prove that everyone is different but similar. Those from Xinjiang and from the rest of China are also hard working, just like you and me," wrote Wang Hui, a Chinese author and professor with Tsinghua University, in another part of the preface.
Communication and understanding is always the best bridge in the world, added Bai Yansong, a famous media person in China who is a Mongol. "Kurbanjan has built up one bridge after another with his books and documentaries."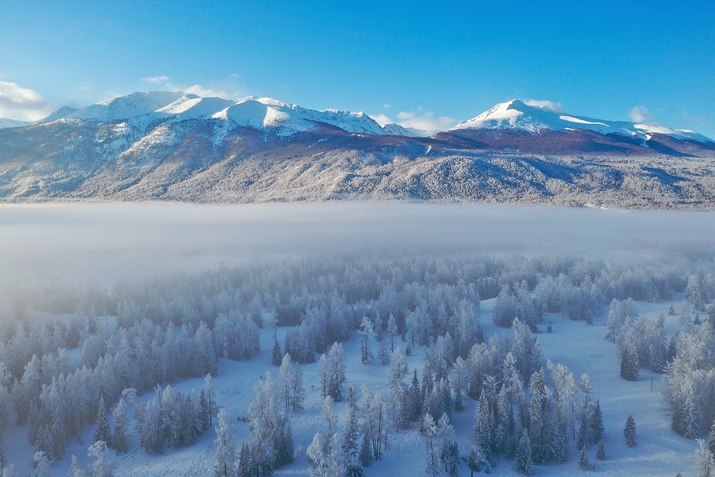 Kanas Resort in Xinjiang Uygur Autonomous Region in northwest China, on January 3 (XINHUA)
__________
Xinjiang's TCM Envoy
Tursunjan's story is a telling example of how culture—and medicine—transcend borders.
As a young boy growing up in Shihezi, a city in Xinjiang Uygur Autonomous Region in northwest China, he was the only Uygur student in his class in high school, coming from the ethnic minority that mainly resides in Xinjiang. Although there were many brilliant students who did well in other subjects, he outperformed everyone when it came to English, which probably built the foundation of his career overseas.
Later he enrolled in Xinjiang College of Traditional Chinese Medicine (TCM), which subsequently became the Xinjiang Medical University. It equipped him with solid TCM knowledge and skills. This time, he was no longer the only student from a minority group. Instead, he met students from various ethnic groups such as Mongol and Kazak. His class had been developed specifically for ethnic minorities who enjoyed a preferential policy when they were graded.
He met Adine, his future wife, in college and they got married the year they graduated and headed for Beijing, where he worked in a foreign-funded company. There he met foreign colleagues and decided to go abroad. The couple, together with their 2-year-old daughter, applied for skilled immigration to Canada.
While in Canada, they found life in a foreign country was no bed of roses. Despite his English skills, Tursunjan had to struggle with the language and the only job he could find was as a car washer, while Adine became a laundry worker.
After the day's work, Tursunjan had to sprint over 800 meters in five minutes to catch the bus to his language class. If he missed that bus, he would be late for class. When the class finished at 9 p.m., he would trudge back home wearily only to pore over his lessons for two more hours before going to sleep. Life was an endless cycle of work and class and hardship.
A few years later, they learned about local TCM clinics and went to work for one run by someone from Hong Kong. Cantonese is the predominant language in Hong Kong and Tursunjan picked up Cantonese as well. Two years later, the couple opened their own TCM clinic.
Business was slow during the first years as they faced fierce competition from other Chinese TCM practitioners. Tursunjan finally hit upon a solution. He relocated the clinic to where Canadians predominantly lived so that there were fewer competitors.
Also, he changed the way of introducing TCM. Instead of explaining it with the traditional Chinese yin/yang theory, which revolves around the balance in the elements thought to constitute the human body, he adopted Western anatomy principles to explain how acupuncture and massage work.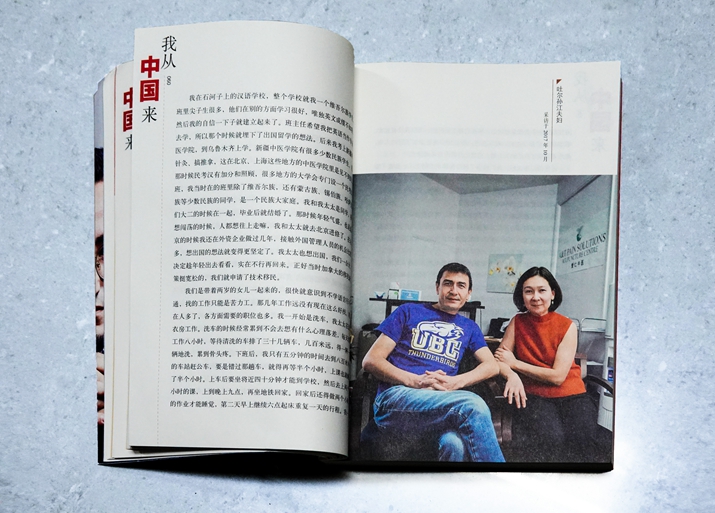 Tursunjan's story in I Am From China (COURTESY PHOTO)
His specialty became treating cervical spondylosis and lumbar spondylosis as Western medicines are not always very effective in treating these problems. Gradually, his reputation grew and with it, his business.
Tursunjan says he was born eager to excel. In China, as a Uygur student who had his own language, he wanted to master Mandarin, while in a foreign country, he wants to be proficient in the local language. His English fluency has maximized his advantage throughout his career.
While treating his Canadian patients, Tursunjan explains Chinese culture. At the same time, he also learns theirs.
According to him, nearly one third of the TCM doctors in Canada are Canadians. They studied TCM either in Canada or in China. In addition, there are private TCM institutes and TCM management departments.
His aspiration is to expand his clinic within two years and recruit students to convey the TCM culture to more Canadians.
Copyedited by Sudeshna Sarkar
Comments to ffli@bjreview.com