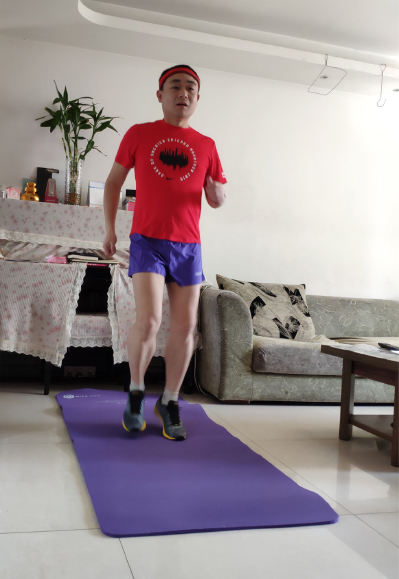 Hu Chuanchun, a media professional in Hangzhou in east China, runs at home on February 18 (COURTESY PHOTO)
One of the quirky yet inspiring images to come out of China during the novel coronavirus epidemic is that of Hu Chuanchun, a media person in Hangzhou in east China, who shared his indoor running drill on Weibo, the popular Chinese social media platform. The 45-year-old, self-confined to his apartment since the outbreak, said he clocked a personal record of 8.14 km in 47 minutes, all of it achieved on a yoga mat in his living room.
"I started running in 2015, but now I can no longer run outside. So I decided to run on my yoga mat every day," Hu told Beijing Review. "The maximum I have covered equals a half marathon (21 km). I run on the mat so that it doesn't disturb my neighbors downstairs. Besides, it provides a cushion for my feet as well."
Ironically, while Hu and some more ingenious Chinese runners have caught the eye of the world with videos of how they have turned their home into a running track, thousands more were shut out from the arc light after the Tokyo Marathon Foundation this month decided to scale down the Tokyo Marathon, scheduled to be held on March 1. Due to fears that the event, one of the six major marathons in the world, could lead to more virus infections in Japan and derail the 2020 Summer Olympics Tokyo will host from July 24 to August 9, the organizers have scrapped the mass participation race. The event had registered 38,000 runners, including around 1,800 from China. Instead, the organizers will now go ahead with a minuscule elite race with about 200 participants.
The Japanese Government, which was among the first foreign governments to send medical supplies to China after the epidemic escalated, has now announced an entry ban for non-Japanese who traveled to Hubei Province in central China, where the infections and death toll have been the highest, and Zhejiang Province in east China within 14 days before arriving in Japan. The ban also covers Chinese whose passports were issued in the two provinces. In addition, there are extensive flight reductions.
"To all the general entry runners who felt joy at being selected, we apologize, but these restrictions are unavoidable," Kyodo News Agency cited Tokyo Governor Yuriko Koike as saying.
In a bid to sweeten the bitter pill for runners who were going from China, the foundation has offered to waive their fees if they defer their participation to next year. However, since the Tokyo Marathon is also a pre-Olympic event with the winners qualifying for the Olympic marathon, the decision has created a lot of angst among the shut-out runners from all over the world who have spent a fortune on airplane tickets, accommodations and other logistics.
In Ukraine, it left Angelina Babayeva, an IT recruitment adviser, aghast. "We are absolutely shocked," she said on her Facebook account. "We are absolutely ready to go to Tokyo; everything is already paid [for]. How can we [be reimbursed] those huge amounts of money for air tickets and Japan Railway passes for our family?"
But some are stoical. Li Chunhui, a professional marathoner from Inner Mongolia Autonomous Region in north China and winner of several marathons in China, had planned to attend the event but canceled his trip after the developments. "I think we should protect ourselves when there is an epidemic. Marathons are held every year; we should not jeopardize our own lives and the country for a race. Giving up the event is the best option so far," Li told Beijing Review.
Japan-based sports journalist Brett Larner, who covers the running scene there, said in his blog Japan Running News that the Tokyo Marathon decision was made against the backdrop of other major public events being canceled, including Emperor Naruhito's 60th birthday celebrations planned for February 23. "Efforts to mitigate the spread of the virus now may impact whether Tokyo is in a position to host the Olympic Games in five months and should be interpreted at least partially in that context," Larner cautioned.
Unprecedented havoc
The epidemic has hit several sports events, including sports business conferences. The 2020 Hong Kong Marathon, scheduled for February 8 and 9, was one of the earliest casualties. In a statement on January 25, its organizers said they made the decision to support the government's epidemic prevention efforts. "Public health is our top priority," the announcement said.
Many cities in China hold their own marathons, creating a brand. The epidemic has now cast a shadow especially on those cities that had scheduled their events between February and April. The Chongqing International Marathon in March, the Shaanxi Marathon in April and other similar events face uncertainty. The Great Wall of China Marathon with its 19th edition was the latest to announce a change in plan, postponing it to 2021. Wuhan, the epicenter of the epidemic, was to hold the Wuhan Marathon on April 12. However, now it is going to take time for things to get back to normal.
A Kenyan contractor, who has been bringing African runners to take part in marathons in China, which offer attractive prize money, is counting his losses. "I had arranged some runners from Kenya to take part in the Hong Kong Marathon and we had to cancel all the arrangements, including air tickets," said the man in his 30s, declining to be named. "But you can't help it... From now to May, it is best to avoid public places."
In Africa, marathoners are praying for China, he said. While now eyeing marathons in China in May, the contractor said he will be exploring similar events in other countries—Mexico, the U.S. and India.
"Outside of wartime cancellations, there is no precedent for this level of disruption," Richard Baka, co-convener of the Olympic Research Network at Victoria University in Melbourne, Australia, told media and entertainment company OZY.
The spate of cancellations and postponements bear him out. The Asian Cross-Country Championships will no longer be held in Hong Kong on March 29. Instead new dates in November or December are being pondered. The golf industry's PGA Tour Series-China opted to shift its global qualifying tourney to Indonesia from Hainan Province in south China. The Asian Olympic wrestling qualifier, planned to be held in Xi'an in northwest China in March, is going to be postponed as well. Olympic boxing qualifying rounds have shifted to Jordan from Wuhan.
And the organizers of the Seoul Marathon, planned for March 22-23, have announced measures exclusively for China residents. They include not allowing anyone holding a passport issued in Hubei or any foreigner who visited Hubei in the past 14 days to board any flight to the Republic of Korea (ROK). All visas issued by the ROK Consulate General in Wuhan have been invalidated.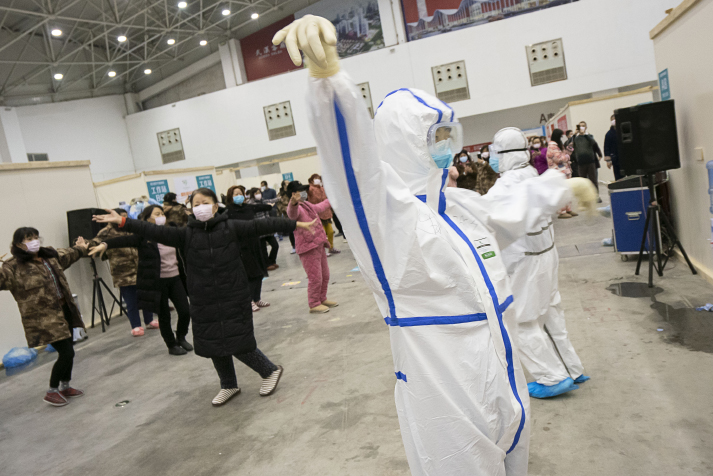 Patients infected with the novel coronavirus dance with doctors at a makeshift hospital in Wuhan on February 10 (XINHUA)
Counting the cost
Sports business events have also been affected. On February 13, SportAccord announced that its World Sport & Business Summit 2020 would not be held in Beijing in April, as announced earlier. Instead, they would be exploring other venues.
However, it is too early to be able to assess the extent of the loss for the sports sector. Chinese sports industry experts think April will be a critical month. "In the short term, the epidemic had quite a bit of impact on the sports industry. Stadium operations, sports manufacturing, sports tourism and physical education and training all have been affected," Wang Zhaohong, Vice President of the College of Physical Education and Sports of Beijing Normal University, said in a webinar organized by Sports.people.com. "Almost all sports events scheduled before April nationwide will be postponed, and a large number of sports business venues will be closed."
Wang also said some major sports product manufacturing enterprises are facing difficulties in resuming production, while many physical stores have been closed. The offline business in sports education and training has mostly stopped.
However, international analysts also predict a surge in consumption when the situation normalizes. And prestigious international sports events lined up in China months away would have a perk-up effect on the economy, trade and tourism. They include the multi-sport Asian Beach Games to kick off in Sanya in Hainan on November 26 and in 2022, the blockbuster Winter Olympics to be jointly hosted by Beijing and Zhangjiakou in neighboring Hebei Province.
Yang Yue, Director of the Esports Research Department of the China Institute of Sport Science, said at the webinar that though there is still uncertainty about the inflection point of the epidemic, the impact on the sports industry so far has been limited.
"The epidemic has hit competition and outdoor fitness events the most, but these two industries do not account for a large proportion of the total sports industry in China, and they will not affect the overall goal of 1.5 trillion yuan ($214 billion) national sports consumption," he added. "Due to the epidemic, some online sports fitness training programs have surged against the trend, showing a good development momentum."
Copyedited by Madhusudan Chaubey
Comments to zhaowei@bjreview.com