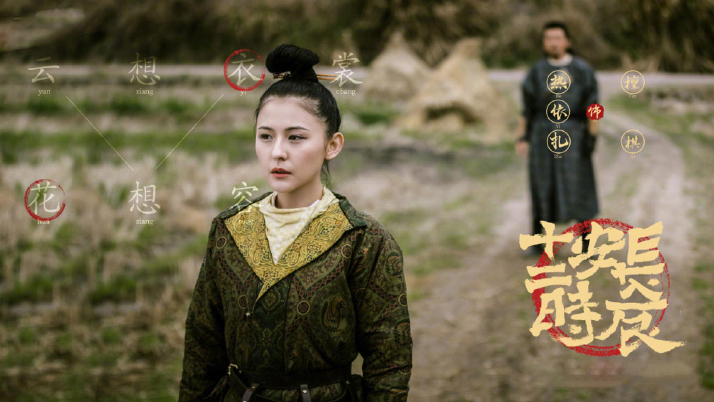 A poster of The Longest Day in Chang'an showing a woman wearing men's clothing of hufu, clothing style of ethnics residing in the northern and western regions during the Tang Dynasty (FILE)
A model wearing a red dress restored according to the style of the Eastern Zhou Dynasty (770-256 B.C.) walked onto the runway to the music of the xun, an egg-shaped aerophone and one of the oldest musical instruments in China. Her appearance kicked off a unique fashion show in early 2020 that showcased Chinese historical costumes from the Eastern Zhou Dynasty to the Qing Dynasty (1644-1911).
The melancholy sound of the xun took people back to a distant era, making the unfamiliar clothes, hairstyles and makeup less obtrusive. However, the electronic elements of the music were a distinct reminder that they were in present-day Shanghai nearly 3,000 years later.
In recent years, more and more young people have been attracted to traditional cultural and aesthetics and have participated in related activities.
Restoring the history
The show displayed nearly 40 outfits coupled with exquisite accessories, makeup and hairstyles from the different eras, provoking a dialogue between ancient and modern people. The feast for the eyes was the fruit of the labor of a professional team that began restoring period clothing in the city in 2007.
Liu Shuai, a founder of the Chinese Historical Costume Restoration Team, was a 21-year-old student majoring in drawing at the time. Due to his interest in ancient costumes, he gravitated toward costume design. The majority of team members have other careers, but their love of traditional Chinese clothing is what brings them together. To date, they have successfully reproduced over 400 ancient styles.
"Seeing ancient costumes, you will understand the atmosphere of the Han Dynasty (206 B.C.-A.D. 220) and the magnificence of the Tang Dynasty (618-907)," Liu told Shanghai Observer. "You will admire the aesthetics of ancient people and their pursuit of beauty."
Restoration of period clothing is different from making ordinary hanfu (pre-17th century traditional clothing of the Han Chinese), Wang Qiaoye, a member of the team, told Beijing Review. After studying jewelry design and makeup, she joined the team in 2014.
"Our work is to make plain words in history books and images in paintings come to life, vividly showing people the characteristics of garments in different dynasties," she said. Thus they always start by collecting information from history books, paintings, sculptures and pottery in museums.
"If an unearthed costume is well kept, we can restore its details precisely. But as far as frescoes and terracotta sculptures of the same period, it is still necessary to learn the way people dressed," Hu Xiao, the team's art director, told Beijing Review.
Moreover, clothes in ancient tombs are hard to preserve , resulting in their poor condition when discovered. Faced with insufficient information to restore a certain object, members have to add design elements, keeping in mind the principle of respecting original patterns, colors and styles, Wang said.
"We have to order custom-made cloth with pattern and texture requirements according to different costumes," Wang said, adding that when they receive a satisfactory result, the next step is to dye the cloth.
In the past, people mainly used plants to dye cloth, as well as other materials from animals and minerals, said Chu Yan, an associate professor at the Beijing Institute of Fashion Technology who began studying costume design in 1993. However, getting a color right means endless experimenting. Mistakes will lead to the waste of materials and increase the cost of reproducing. So by the time they move into the tailoring stage, team members will use samples made of ordinary fabrics for changes and adjustments. Only after achieving good results will the real materials be used.
The complete restoration of a costume often requires 10 to 20 team members working for half a year on reproducing accessories, shoes, makeup and hairstyles.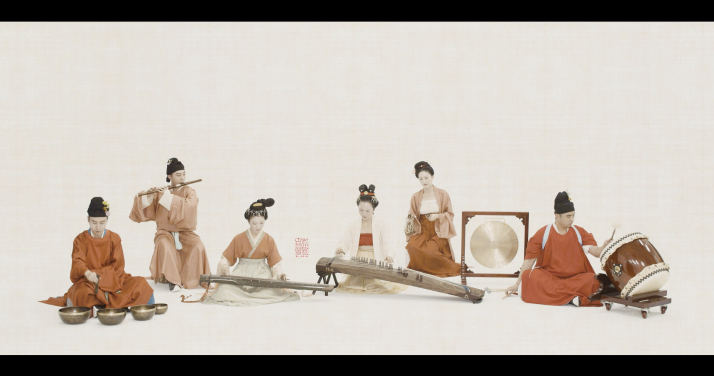 Song Dynasty costumes for performances (COURTESY PHOTO)
Connections to the past
In 2016, the producers of The Longest Day in Chang'an, a popular Chinese historical suspense drama released in 2019, decided to spend nearly 75 percent of their investment on restoring the culture and style of the Tang Dynasty. Since costumes were an integral part of this effort, they began cooperating with the team.
Hu led the research for nearly a year, which included studying the yufu system, the regulation of carts and clothing according to social hierarchy and etiquette, the fresco in the Dunhuang Mogao Grottoes in northwest China's Gansu Province, the discovered relics belong to Tang Dynasty tombs and other historical sources.
Along with a chance to design beautiful Tang Dynasty costumes, Hu accepted the invitation in order to pass on traditional handicrafts, many of which have disappeared along with the clothes. Through this work, he was able to visit inheritors of intangible cultural heritage, learn different skills and put them into practice.
Since audiences today have more interests in and knowledge of Chinese history and traditional culture, their attention to details in scenes, costumes, makeup and props has raised the requirements for quality productions.
This is why Wang thinks people who restore period clothing have a responsibility to show people the beauty and aesthetics of Chinese traditional culture, along with correcting misunderstandings and misconceptions shaped by television series.
"I am glad to see netizens comment with criticism and doubts, indicating their concern about culture in this regard, which is a good phenomenon," she said.
Decoding history
Another reason to study and restore clothing is their reflection of the development of society and people's mentality and aesthetics, Wang said.
For instance, according to Chinese historian Chen Yinque (1890-1969), Chinese culture reached a peak of perfection during the Song Dynasty (960-1279) after evolving over thousands of years.
A stable society is the premise for people to be able to pay more attention to their image, according to Chen. Living in one of the most flourishing eras in terms of economic development, people during the Song Dynasty had a lot of money to spend on a variety of clothes and jewelry, with men wearing flowers in their hair as routine decoration, which was rare in other periods of history.
Moreover, during the glorious age of the Tang Dynasty, trade activity along the ancient Silk Road brought many new elements, such as different types of patterns and costumes. It was popular for women to wear men's clothing, including hufu, which came from the people of ethnics residing in the northern and western regions. The gowns of women were low cut with high waistbands in bold and stunning styles.
"Sometimes, we can be surprised by the fact that ancient people were so fashionable, wearing clothes that are still popular today, like halter skirt sets and suspenders," Hu said.
Typical garments, such as a beizi, which is similar to a cloak, and songku, which are loose and flowery trousers of the Song Dynasty, are still fashionable today. "Tang women left us with an impression of confidence and independence, which are the spiritual power women are trying to have today," Chu said.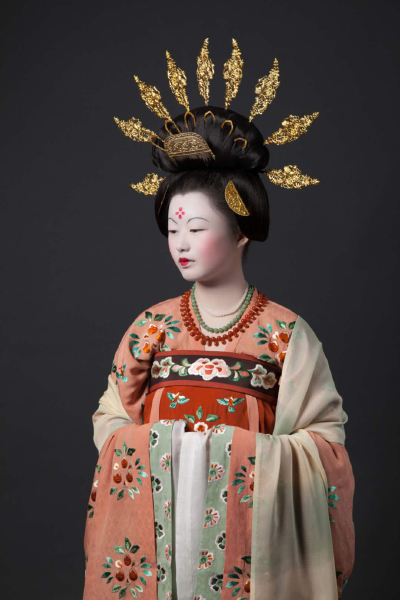 The costume of an aristocratic woman in the late Tang Dynasty, restored according to the Dunhuang Mogao Grottoes in Gansu Province, northwest China (COURTESY PHOTO)
In addition, people of that era held inclusive attitudes toward clothing elements from other countries, which demonstrated that they had a strong sense of self-identity and ensured that their splendid culture would not be damaged by absorbing external factors, she said.
Although people like Chu have put considerable effort into making period clothing, she does not think that people should wear these costumes in daily life. "We still want to create Chinese clothing that belongs to our time, that can follow the spirit and beauty of traditional culture," she said.
"The purpose of restoration is to show the aesthetics and spirit that the clothes represented in the old days," Chu said.
"Ancient China was one of the most influential countries in the progress of clothes. So I hope that we can reshape our traditional beauty and aesthetic spirit through the research and restoration of period clothing," she added.
(Print Edition Title: Ancient Chinese Vogue Returns)
Copyedited by Rebeca Toledo
Comments to liqing@bjreview.com