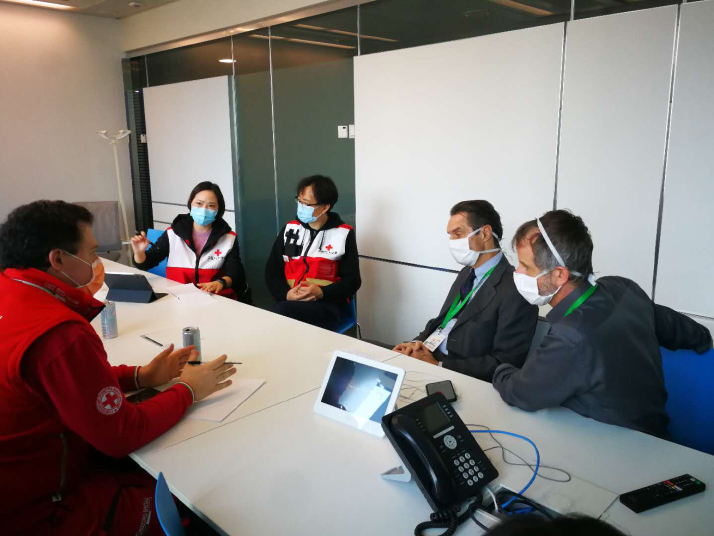 Ji Jin (second left) interprets for a Chinese medical worker communicating with his Italian counterparts in Italy in March (COURTESY PHOTO)
When Ji Jin flew into Italy in March, it was the height of the novel coronavirus disease (COVID-19) epidemic there and her work meant direct exposure to high risk. She was an interpreter for the Chinese medical team that had been sent to work with Italian doctors on COVID-19 prevention and control.
For Ji, there was something personal about the assignment. She is from Mianzhu, a city in Sichuan Province in southwest China, and in her diary, she wrote her other reason. In 2008, when a massive earthquake hit Sichuan, Italy built an emergency hospital in her hometown to provide assistance. "So this time, I am grateful that I have the opportunity to repay the kindness and contribute to the fight against the epidemic in Italy by using my translation and interpreting (T&I) skills to the best of my ability," she wrote.
This story was shared by Gao Anming, Chair of the Asia-Pacific Translation and Interpreting Forum, during the Asia-Pacific Translation and Interpreting Webinar on Combating COVID-19 on May 11, when language experts from 10 countries and regions as diverse as Britain, Australia and Iraq shared their stories and suggestions.
"Regardless of the risk of infection, many interpreters are working on the frontline, most notably in hospitals and airports, to facilitate communication," Gao, who is also vice president of the China International Publishing Group, said in his opening speech.
At this time of crisis when millions of people worldwide have been infected by the novel coronavirus, the Asia-Pacific T&I community is offering timely help, Gao said. "The T&I community has been acting as a link in anti-epidemic information exchanges," he said.
Unsung heroes
On January 25, Chinese New Year's Day, Xu Qiang, an associate professor at the Graduate School of Translation and Interpreting at the Beijing Foreign Studies University (BFSU), received a phone call from the China office of the World Health Organization (WHO). It was a request for help to get a collection of medical reports on COVID-19 cases quickly translated from Chinese into English.
Xu immediately organized a team of translators who pored over the documents for eight continuous hours to finish the translations by the next day.
"Their work was used as important data for WHO to evaluate the outbreak," Ren Wen, Dean of the Graduate School of Translation and Interpreting at the BFSU, explained.
Ren also pointed out that T&I teachers and students from Chinese universities have been assisting in international experts' exchanges and information sharing for epidemic prevention and control. They have been working together to dispel bias and xenophobia and promote cross-cultural communication.
"Language service professionals and volunteers are unsung heroes who also need to be acknowledged in the fight against COVID-19," she said.
Alison Rodriguez, Vice President of the International Federation of Translators, echoed her, saying, "This global pandemic has shown how much the translation sector can adapt to deliver much-needed services when called to action, and its resilience and sense of duty when that call arrives."
Cultural barriers
Due to cultural differences, people have been seen as holding different views on the emergency measures rolled out by the authorities to control the pandemic. When COVID-19 started to spread in the United States, there was a heated debate on whether people should wear masks. There were even reports of people of Asian descent being attacked when they ventured out wearing masks. However, the masks proved to be effective in preventing the virus from spreading.
"We don't just translate languages, but also translate cultures. We try to bridge the gap between people," Hong Kong Translation Society President Elsie Chan remarked.
Kevin Quirk, President of the International Federation of Translators who attended the webinar from Norway, echoed her. "We do need to counter the virus by coming together and pooling our resources," he said. "I believe it is incumbent upon us to make our voices heard. Our job as translators and interpreters is to bridge the language gap and to promote mutual understanding."
The translation industry can address common problems and share knowledge and the best practices to help the global community resolve common challenges that extend beyond national borders, Rodriguez added. Language professionals are working hard to keep the borders open, reconnect humanity and ensure that ideas, information and communication keep flowing.
"At this very essential time, interpreting remotely, through a digital medium, for example, can make our job more difficult. But it has never been more important because global problems require global approaches with professional translators, interpreters and terminologists ensuring that information passes through the language barriers as well as the borders," she said.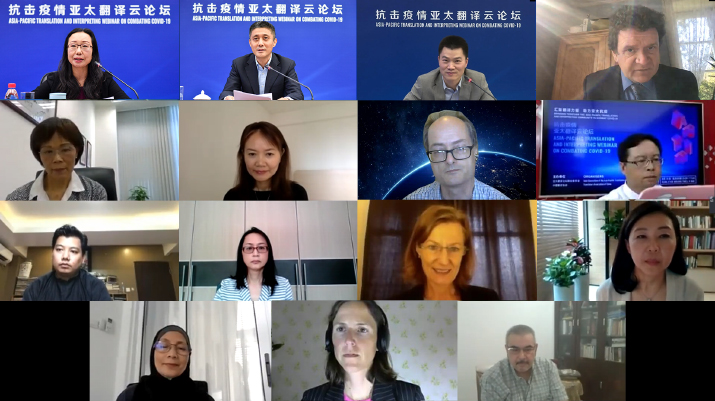 Translation experts take part in the Asia-Pacific Translation and Interpreting Webinar on Combating COVID-19 from different regions on May 11 (COURTESY PHOTO)
Overcoming fallouts
Several participants voiced their concerns about the difficulties of the T&I industry due to the pandemic such as a plummeting workload.
According to Slator, a leading provider of news and research on the translation industry, a significant number of conferences using interpreters and translation projects have been postponed or canceled. Language service providers in China and Italy have been the most affected.
However, government translators fared better than those in other sectors since, according to Chan, the health-related area was an exception that saw a huge increase in the demand for translation and interpretation.
"Paradoxically, while the outbreak has dealt a terrible blow to the language service industry as a whole, the parameter itself has also demonstrated the urgent need for emergency language services, as well as the importance of T&I in our joint efforts to cope with the crisis," Ren said.
This was where technology, especially advanced information communication technology, had a key role to play. According to a report by China Daily, a survey jointly conducted by Beijing Language and Culture University and Hebei Normal University for Nationalities found that over 90 percent of language service companies in China had resumed operation by working remotely through the Internet or by using cloud-based computer-aided translation platforms.
Rodriguez stressed the need to harness technology while remembering that compared with artificial intelligence (AI) or machine translation, human translators and interpreters have their unique advantages. "Now, more than ever, we need to pivot with the assistance of technology to enhance the skills of our people," she said. "The pandemic has given us a chance to pause and remember the importance of the people, the people, the people, first and foremost."
Quirk emphasized the need for sharing resources worldwide. "What we are not always good at is working together with other associations at a regional or even global level to focus on key areas where we face similar challenges," he said. "I think there is no better opportunity for us to stand together than the situation we are facing now."
The experts sensed that crises could become the new normal in the post-pandemic world. To cope with that, Ren's suggestion for universities specifically was to draw up a plan for emergency language services based on their experiences and the lessons that they have accumulated during this period.
"Since mammoth disasters may become the new normal for the whole world, AI programs should be included in the curriculum," she said, "as well as ethical guidelines for dealing with calamities and epidemics."
(Print Edition Title: Invisible Influencers)
Copyedited by Sudeshna Sarkar
Comments to ffli@bjreview.com