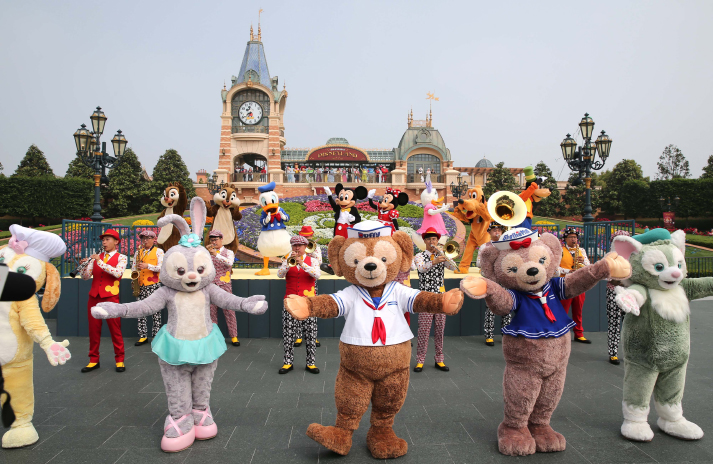 Disney characters greet tourists at Shanghai Disney Resort on May 11, the day it reopened after a 108-day closure due to the novel coronavirus pandemic (XINHUA)
When the Shanghai Disney Resort welcomed visitors again from May 11 after its closure on January 25, fans applauded the decision with cheers. "The princess who had to flee can return home now," one of them wrote on social media, expressing the feelings of many followers who likened the novel coronavirus disease (COVID-19) to the evil forces in Disney tales which prevail first but are ultimately defeated.
Unforgettable experience
"When I visited the park after it reopened, I felt so happy to hear the cast members in costumes greeting us, 'Welcome home!'" Alice Li, a 23-year-old Shanghai resident told Beijing Review. A diehard Disney fan, Li said it was her third trip to the theme park since it was inaugurated in 2016.
It was tough to get tickets. Those for May 11 were snapped up within minutes. The Shanghai Municipal Government said the number of visitors should be limited to under 30 percent of arrivals during normal times. Visitors are required to buy tickets in advance to ensure there is no crowding. Since the number of visitors at present is only around 20 percent of the resort's capacity, Disney CEO Bob Chapek said on May 12 that in future, the Shanghai Disney Resort will add 5,000 visitors every week depending on evaluation of the situation.
Li has seen the bright side for visitors amid the restrictions. She said the capped number means shorter waiting time for each ride, enhancing the overall experience.
On this visit, she was able to see Stitch Encounter, an interactive show featuring real-time animation and digital puppetry where guests have an unscripted conversation with Stitch, an animated character from Disney's Lilo & Stitch franchise. During her earlier visits, the show had been packed and she couldn't get a seat. "I had a video call with Stitch. He asked me some questions and wished me and my boyfriend, who was with me, 'sweet love,'" she said. As safety measures, Li carried a sanitizer with her and wore a mask all the time she was inside, one of the measures required at the park. However, on seeing the stringent prevention and control measures her fear evaporated and she was able to enjoy herself.
Besides regular measures such as checking visitors' temperature and putting up signs to tell them where to stand to maintain social distancing, there are more frequent disinfections. All machines are disinfected after every ride. Indoor performances and the fireworks show have been canceled to encourage social distancing.
Han Yuanjun, an associate researcher with the China Tourism Academy, told Beijing Review that the resort was reopened gradually. It first opened some sections in March, such as Disneytown and the Shanghai Disneyland Hotel. "We made the plan for the reopening of the park based on these operating experiences of Disneytown, from which our cast members also drew valuable experiences," Joe Schott, President and General Manager of Shanghai Disney Resort, told Wenhui Daily.
"A major factor in our long-term resilience is the strength of our brands and the strong emotional connection people have to them. As Shanghai Disney Resort reopens with significantly enhanced health and safety measures, our guests will find the park as magical and as memorable as ever," he said.
Overcoming disruption
By mid-March, the Disney theme parks in North America, Asia and Paris were closed. The reopening of the Shanghai resort was the first piece of good news for Disney after reported staff furloughs, a plunge in its share prices and delayed film releases.
The stocks jumped 1.73 percent as trading closed on the New York Stock Exchange on May 8, the day tickets went on sale again.
Before the outbreak, almost all the parks were performing exceptionally better than the previous year, Christine McCarthy, Disney's Chief Financial Officer, said during the fiscal second-quarter earnings call on May 5. But due to COVID-19, in the second quarter the operating income of the parks and products was significantly lower compared to the same period last year.
"We estimated the disruption to our parks' experiences and product businesses adversely impacted our second-quarter income by approximately $1 billion," McCarthy said. Closing the two parks in Shanghai and Hong Kong could cost the company $175 million, including $135 million in Shanghai.
Now the company has announced a phased reopening of Disney Springs, the shopping, dining and entertainment area of the Walt Disney World Resort in Orlando, Florida, the U.S., Chapek said. They are also in touch with the management teams of various Disney parks worldwide to share experiences to overcome the current difficulties.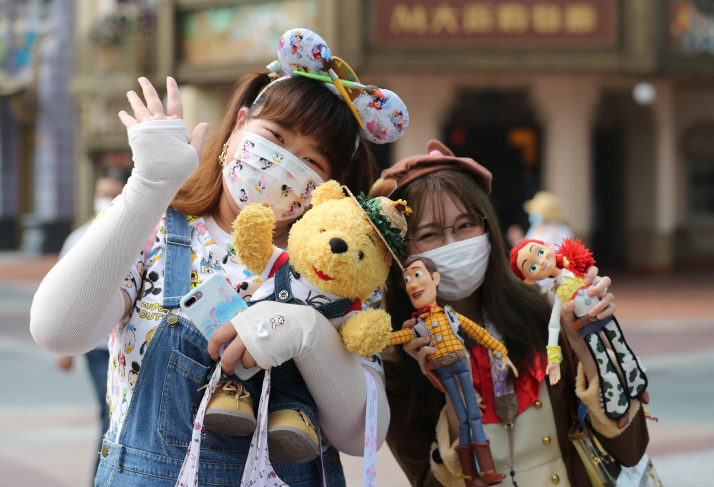 Tourists pose for a photo at Shanghai Disney Resort on May 11 (XINHUA)
Tourism booster
The closure during the epidemic however did not hamper the construction of the Shanghai resort's eighth themed-land Zootopia. Zootopia, the story of a utopia peopled only by animals, is a 2016 animated comedy that was the fourth top grosser that year. Although COVID-19 has punctured utopian fantasies, Schott is still confident about the Chinese market.
He said Disney emphasizes long-term development and investment returns in China while the disease is a short-time factor. So the Shanghai resort will continue to expand as planned.
It took advantage of the closure to renovate, add environment beautifications and test the rides and attractions for safety and quality.
"It is a good opportunity for the resort to improve their services and operation," Han said. Since the Chinese market is unique, the company could give further thought to how to provide quality services in a country with such a large population and visitor flow, he said.
According to the latest Ministry of Culture and Tourism (MCT) guideline, indoor venues such as theaters and Internet cafes in low-risk areas can reopen with prevention and control measures. "So the resort can gradually resume the indoor performances people are looking forward to," he said. "The next task for Shanghai Disney Resort is to make full use of their technology and resource advantages to upgrade their prevention and control measures."
Han regards the restart of the Shanghai resort as a high-profile step toward reviving tourism. "According to data from the MCT, China's tourism industry has recovered about 50 percent, and people prefer to take short trips near their cities," he said. But the reopening of Disney has attracted fans from the whole country, effectively driving other related businesses like catering, accommodation, merchandizing and the wider travel sector.
"Tickets selling out within a short time indicate people are willing to resume public activities. They have a strong willingness to improve their life by buying tourism services after the long suppression. Traveling has become part of people's consumption habits now," he said.
He thinks the reopening will also have a demonstrative effect on other theme parks. Some famous theme parks, including the Chimelong Ocean Kingdom in Zhuhai in south China, the Colorful Yunnan Paradise in Kunming, southwest China, and Happy Valley in Beijing, have partly reopened. And the Dragon Boat Festival in June is expected to be a peak period for them, helping them recover.
(Print Edition Title: Disney Does the Trick!)
Copyedited by Sudeshna Sarkar
Comments to liqing@bjreview.com