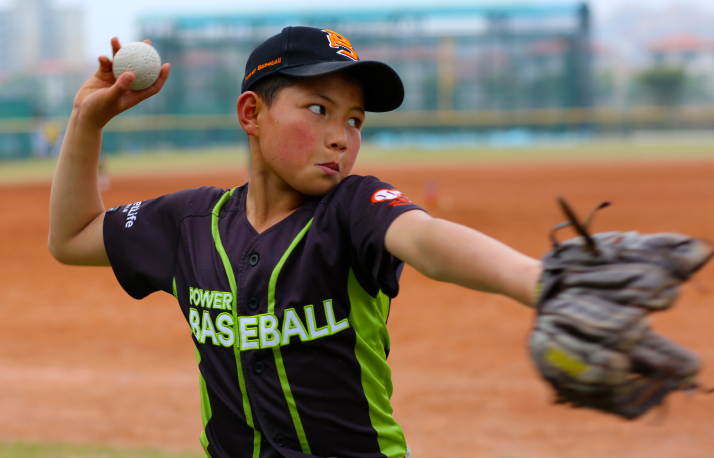 A still of Ma Hu pitching from the documentary Tough Out (COURTESY PHOTO)
When Ma Hu was chosen for a baseball training camp in Beijing, the 12-year-old didn't have the slightest idea how baseball was played or even what a baseball field looked like.
The son of a migrant worker in Ningxia Hui Autonomous Region, northwest China, he didn't have enough warmth of family with one parent away working in the city and another having left soon after he was born. At school he was a headache for the teachers, acting up in the class and provoking fights with classmates during break time.
"I was lost at the street crossing and got picked up by the camp people" is how Ma describes how he came to join the training camp run by the Power Baseball Angel project. It was initiated by Sun Lingfeng, former captain of the men's national baseball team, in 2015 to promote baseball and provide professional training to children from impoverished households and remote areas.
Ma, now 15, has become a promising professional baseball player. His story, including his early days when he fought with his teammates and ignored the coaches' instructions, is part of an award-winning documentary on the young basketball players at the camp. Director Xu Huijing's Tough Out, released in December 2020, focuses on the team of underprivileged and abandoned children who struggled to learn a new sport and build a new life for themselves while fighting low self-esteem and pursuing their dreams.
To make the documentary, Xu and his crew followed the young players for three years, watching their transformation. "I hope the film can bring more help and care for those children," Xu wrote on film review website Douban. "It is dedicated to people who work hard silently, seize every opportunity and refuse to admit defeat."
Tough Out won the Best Documentary award at the 2020 FIRST International Film Festival, a festival promoting emerging filmmakers and held in Xining, capital of Qinghai Province in northwest China.
Many social media platforms including Douban recommended it as one of the best films of 2020, popularizing the camp and children.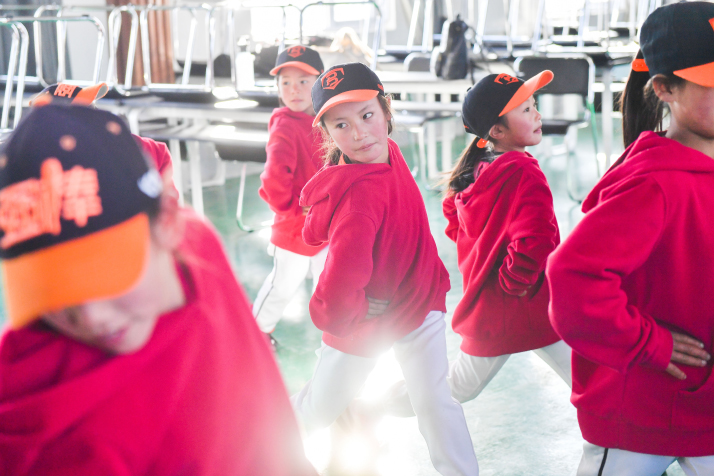 During the freezing winter in Beijing, training at the camp gets moved indoors on December 31, 2020 (WEI YAO)
Ready for the race
When Ma joined the camp, it had only 16 boys. They were told those who could get into the national top three would qualify for college admission. Other good players could join professional baseball teams. Still others could work at the base, teaching the newcomers.
"We want to create an opportunity for these children," Sun told Beijing Review. "When my country nurtured me as a player, it spent a lot of money on me. So after I retired in 2010, I wanted to contribute to the development of baseball in the country."
In the beginning, winning the trust of both the guardians and the children was one of the hardest things. But now, after regular feedbacks, he said the guardians are glad to see the children getting stronger because of their scientific diet and regular exercise. Today, there are over 60 children undergoing training. "They regard the camp as their family," Sun said.
In 2019, the team participated in no less than five national tournaments, winning four championships and coming second in the other, creating a sense of fulfillment. But last year, due to the novel coronavirus disease outbreak, sports tournaments were mostly canceled.
The camp and the children are keeping optimistic although they went through ups and downs.
New goal for girls
From 2019, the base started taking in girls from Liangshan Yi Autonomous Prefecture in Sichuan Province, southwest China, then an acutely impoverished area. The girls' team is named after the azalea as in their hometown, every spring the pink flower blooms all over the mountains, symbolizing hope and tenacity.
Ayu Nuzi, 14, is one of the trainees. Ayu's village, nestled in the Daliangshan Mountains, eradicated absolute poverty in November 2020. In her village, girls go to work in factories in big cities or wait to get married after graduating from junior high school. Ayu said she is lucky to get the chance to be a professional athlete.
Generally, the camp looks for children between 7 and 11, the stage at which they can take care of themselves and it's also possible to mold their personalities.
But Ayu, though older, caught Sun's eye when she volunteered to translate for him during his visit to select players in 2019 who spoke the Yi language. He asked her if she wanted to play baseball and she seized the opportunity.
"My family supported my decision to go to Beijing because they felt there was potential in the sport," she told Beijing Review. Her dream is to be a professional baseball player and make money so that her parents can experience the world outside the mountains.
Eventually, she would like to go back to her village to be a teacher and tell the local children how knowledge can change fate.
The girls' participation has filled a void in the camp. "The influence and value of female baseball teams around the world is profound but we lagged in developing our girls' and women's teams," Sun said.
Niche with promise
Sun regards the sport as a channel to expand the children's horizons, which will influence their future paths.
"Sports is also a language that children can use to communicate with friends, nature and even their inner worlds," Qi Kang, chief producer of the documentary from video platform iQiyi, told Beijing Review. "Sports does enrich their lives."
With nearly 300 years of history, baseball is a popular sport across the world. It was included in the postponed 2020 Tokyo Olympic Summer Games. However, according to iResearch, a Chinese consulting company, only about 8.5 million play the game in China.
From a long-term perspective, developing young players and forming a reserve pool is the most critical part for the progress of baseball in China, Qi Dong, Managing Director of Major League Baseball China, said at a screening of the documentary on January 9.
He also said baseball should be introduced in schools as it is a sport based on strategy and teamwork instead of confrontation, and can profoundly influence children's growth. "Parents can play baseball with their children or watch games with them. Such activities improve the parent-children relationship," he added.
His other suggestion is to integrate the sport with other trendy elements so that people realize baseball is both entertainment and fashion and young people become interested in it.
(Print Edition Title: Pitching for A Home Run)
Copyedited by Sudeshna Sarkar
Comments to liqing@bjreview.com