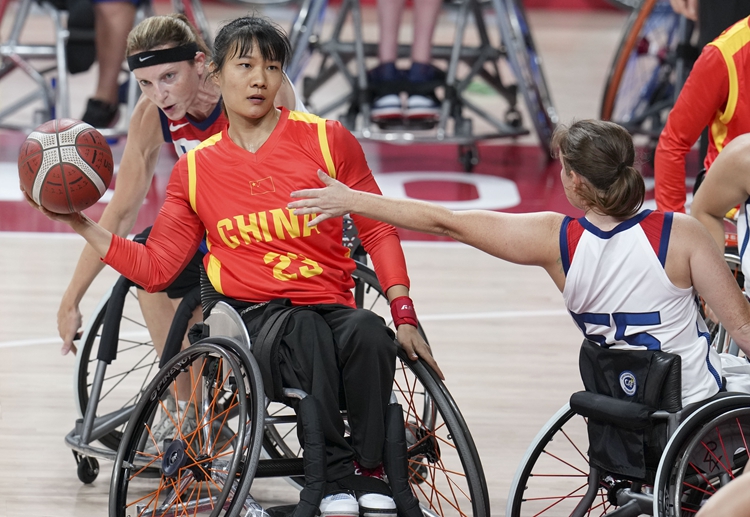 Chinese wheelchair basketball player Chen Meier plays in a group match against the U.S. at the Tokyo Paralympics on August 28. The Chinese team came out victorious (XINHUA)
After a one-year delay due to the COVID-19 pandemic, the Paralympic Games Tokyo 2020 finally opened at the Olympic Stadium in Tokyo on the night of August 24. In a performance titled Para Airport, 13-year-old Yui Wago took to the stage-turned-airport acting as a one-winged airplane. The "plane" would watch the other "planes" take off. She, too, longed to fly but lacked the courage and confidence to do so until she saw other "planes" like herself soaring confidently through the skies. Inspired, she finally realized she, too, had the ability to fly. The performance echoed the theme of the opening ceremony: We Have Wings.
The girl from Tokyo Prefecture has difficulties moving her legs and left hand due to a congenital disorder. Over 5,000 people with disabilities from all over Japan had applied to participate in the opening ceremony; the girl found herself among the 75 chosen.
The Tokyo Paralympics concluded on September 5, having attracted over 4,400 athletes from 163 countries.
The Paralympic Games in Tokyo are the 16th such summer games. The first Paralympic Summer Games took place in Rome, Italy, in 1960; and the first Paralympic winter edition occurred in Ornskoldsvik, Sweden, in 1976.
The Paralympic Games are much more than just a sports competition. There are 1.2 billion people with disabilities in the world, accounting for no less than 15 percent of the world's population. The games provide an opportunity for people with disabilities to show their resilience and optimism and also serve as a call for more awareness and understanding of the more disadvantaged group in our global society.
"The Paralympic Games are a platform for change. But one event every four years is not enough. It is up to each and every one of us to play our part, every day, to make for a more inclusive society in our countries, in our cities, in our communities," said Andrew Parsons, President of the International Paralympic Committee.
Chinese Paralympians
China sent a delegation of 251 athletes to compete in Tokyo. The Chinese Paralympians competed in 20 of the 22 sports, including the debut Paralympic sports of taekwondo and badminton. The number sets a new record for the number of sports China has competed in during any overseas games.
The Chinese athletes hail from various professions, from farmers to students, civil servants and business owners. Their average age is 27.5, with 16-year-old swimmer Jiang Yuyan being the youngest and 56-year-old table tennis player Zhao Ping the oldest.
Chinese Paralympians have always performed well in the games. China made its Paralympic debut in 1984 by sending 24 athletes who competed in athletics, swimming and table tennis. Since Athens 2004, China has topped the gold medal table at every Paralympic Games. At Rio 2016, China's gold medal count surpassed 100, landing at 107.
Underpinning the achievement lies the improvement in sports services for people with disabilities in China. According to statistics from the China Disabled Persons' Federation, the proportion of people with disabilities participating in cultural and sport activities increased from 9.6 percent during the 12th Five-Year Plan (2011-15) period to 10.6 percent in 2020. As Beijing is going to host the Olympic Winter Games in 2022, more and more people with disabilities are getting involved in winter sports. At present, 50 winter sports demonstration facilities for people with disabilities have been established across China.
On August 25, wheelchair fencer Li Hao beat the Ukraine's Artem Manko to claim China's first gold medal at the Tokyo Paralympics by taking the men's sabre individual category A crown. This was also the first gold for the 26-year-old in his Paralympic debut.
Li lost his right leg in a traffic accident when he was only 2. However, Li, who loved sports when he was a kid, didn't give up on life and ambition.
He started to practice swimming when he was 13 and later switched to fencing as his long torso and arms better suited this sport. He joined the Shanghai wheelchair fencing team in 2015.
Xue Juan, who suffered from polio at the tender age of 1, won the women's singles in table tennis at the Tokyo Paralympics, marking her second triumph in the competition. Xue started playing table tennis when she was 17, relatively late for a player. She won gold in the women's singles at Rio 2016.
Xue told Beijing Review that she has sacrificed a lot for her training over the past five years. Her father fell ill and passed away in May. She was very sad and regretful that she had no time to look after him during his final days. "However, winning gold might be the greatest consolation for my father and he would have wanted to see me take the podium had he still been alive," Xue said.
Seeing Paralympians with different degrees of disability, Xue was inspired by their optimism. She said she would learn from them and face difficulties in life in a positive manner. She said she would continue to play table tennis if her physical conditions permit because every time she competes for her country she feels very proud.
Regaining confidence
Like the "plane" at the opening ceremony, Tang Xuemei, a Chinese Paralympian, lost her "wing"—her left calf, when a devastating earthquake hit Wenchuan County in Sichuan Province in 2008. Tang was a junior middle school student in Qingchuan, a neighboring county in Sichuan, at the time and her school dormitory collapsed during the earthquake. She was surrounded by darkness, and her left leg seemed to be pinned down. Although she was saved after 28 hours, her lower left leg had to be amputated.
After losing one leg, she couldn't even go to the toilet by herself. She felt powerless and became quiet and introverted.
Once in Shanghai, she had the chance of watching a sitting volleyball match. She was touched by the players' devotion and sportsmanship, and she realized that even those living with impairments can live fulfilling lives and be self-reliant.
As she was tall and athletic, a player on her school's basketball and table tennis teams, she was given the chance to train for the Shanghai women's sitting volleyball team.
She trained hard and joined the national sitting volleyball team after only one year. Tang won gold at the 2010 World Championships and in 2012, won her first Paralympic gold at the London games at the age of 18. However, the Chinese team lost to the U.S. in the Rio games in 2016 and took home the silver. This time around, at the Tokyo Paralympics, Tang and her teammates' goal is to reclaim that coveted gold medal.
When she set out to play sitting volleyball, Tang was only expecting to compete. She never imagined that she would go on to win Paralympic gold.
"I didn't expect all these things to happen, and I didn't expect this to bring me so much in life," Tang said in an interview with the International Olympic Committee in May.
"Volleyball also changed me. Before, I was shy and not very talkative, but then slowly, because volleyball gave me a lot of confidence, I think that I also found my voice in this world," she concluded.
Copyedited by Elsbeth van Paridon
Comments to jijing@bjreview.com