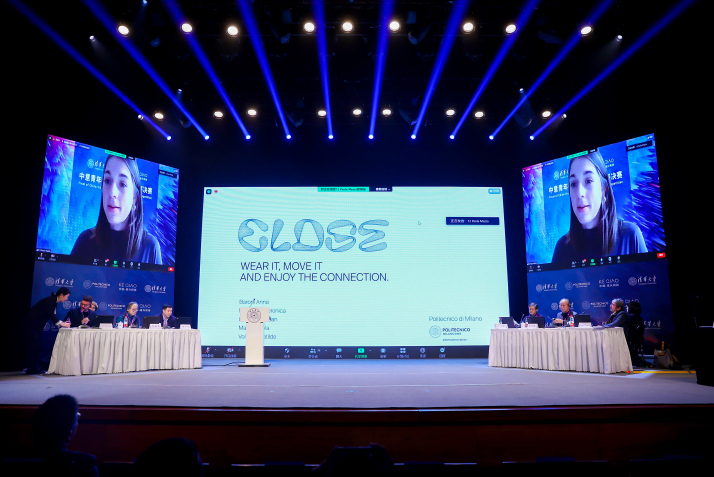 An Italian college student gives a presentation at the China-Italy Youth Future Fashion Design Competition via video link on October 20, 2021
(COURTESY PHOTO)
Bustling and energetic, gritty and crumbling… words can never truly describe downtown Naples' Quartieri Spagnoli, or the Spanish Quarters.
The district's street network was laid out in the 17th century, during the Spanish rule of the Kingdom of Naples, the third largest municipality in Italy today.
Its old communities proved a source of inspiration for 29-year-old Chinese curator and photographer Wang Hui and Michele Quercia, a professor in his thirties with the Academy of Fine Arts in Naples, Italy. Together they orchestrated a community design overhaul by introducing wave-shaped statues made from recycled materials at sites that used to serve as landfills, to avoid the quarters being torn down and transform them into locally flavored tourist attractions.
Their work is one of the winners of the China-Italy Youth Future Fashion Design Competition 2021. Initiated last year to drive Sino-Italian design exchanges, the contest is jointly sponsored by Tsinghua University, the Polytechnic University of Milan and the Keqiao District People's Government of Shaoxing, Zhejiang Province. Focusing on technology-driven design in 2021, this year's edition will home in on sustainable projects using recyclable materials. The competition has continued to garner attention as 2022 marks the China-Italy Year of Culture and Tourism.
Following his studies at the Academy of Fine Arts in Naples, Wang now lives in Italy, engaging in artistic creation and brand management. In 2021, he represented the city of Naples in the Urban Art Biennale held in Italy. He is now working on more designs with young art professionals at the Accademia della Moda, an Italian fashion design college.
"Italy's art and culture have inspired my team to further explore the development of more urban design programs to upgrade and renovate cities," Wang told Beijing Review.
Fusion in fashion
Fashion design has forged a common bond between the young people of China and Italy, given the latter is a powerhouse of the global fashion industry and a hotspot for emerging talent. Wang Jiahui, a 23-year-old student majoring in women's clothing design, received her master's degree from Istituto Marangoni, a world-renowned fashion school in Milan, Italy, in 2021. She decided to study there for one year and open her mind to the latest trends sweeping this fashion capital.
"The courses I took have helped me unleash my creativity and gain a better understanding of market demand. I hope that, in the future, I can create original designs that connect the vintage Italian style with traditional Chinese art," Wang Jiahui told Beijing Review.
China's rising fashion industry has also caught the eye of Italian creatives, especially the younger generations. Eleonora Giacomello, a 26-year-old Italian designer, has a proclivity for Asian culture. In her interview with Tsinghua University's China-Italy Design Innovation Hub, she explained her appreciation for the work of Guo Pei, a designer best-known for dressing Chinese celebrities and, in the U.S., for singer Rihanna's trailing yellow gown at the 2015 Met Gala in New York. Giacomello described Guo as having "great skills in creating stunningly scenic gowns."
"China's rich traditional and sartorial culture inspires designers worldwide. The highly developed and vast Chinese market involves many of the world's great designers. That is a huge contribution to the fashion industry," Giacomello added.
A hub featuring Italian design works is taking shape in east China. Keqiao District, located in Shaoxing which is known as the "Venice of the East," has a long history of textile production. The district boasts China's largest concentration of textile companies and has over the years turned into a global textile distribution center.
Keqiao's local government is now developing the area into a platform for cooperation between local cloth enterprises and Italian designers. In 2018, it established the Ago Store, a center helping Italian fashion brands grow their China businesses. Keqiao's many fashion events allow the Mediterranean designers to share their visions with their Chinese counterparts.
Born in the 1980s, Denise Sordilli, a designer with Italy-based leatherware company Stile Italiano, traveled to Keqiao in 2018. As she told Hangzhou-based Zheshang magazine, she had to overcome many difficulties in learning standard Chinese and continuously explored domestic consumer preferences.
Italian design is very popular with Chinese shoppers. Ago Store provides better access to the Chinese market, entailing great opportunities for Italian designers, Sordilli said.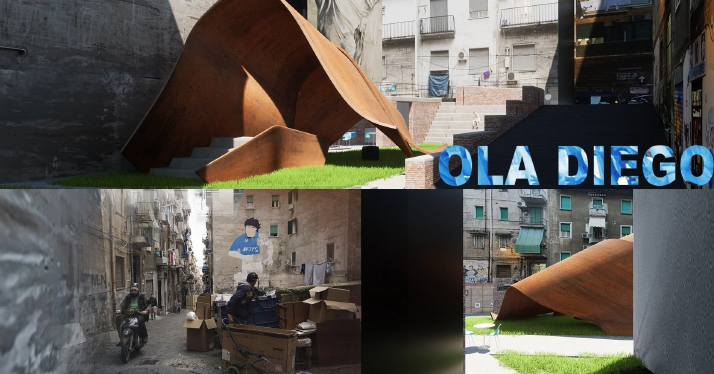 The artistic endeavors of Wang Hui and Michele Quercia
(COURTESY PHOTO)
Taste for ties
Italy, much like China, is a foodie heaven. Bridging East and West, their appealing cuisines have brought young people from both countries closer. Born in the 1990s and currently based in Italy, Nicola Jiang is a Chinese-Italian TikTok influencer with roughly 500,000 followers. He live-streams his cultural indulgence by sampling unique Chinese dishes such as fried bamboo worms in Xishuangbanna, Yunnan Province, and hotpot and spicy noodles in Chongqing.
In 2020, Jiang spent Spring Festival in Beijing and released a video of himself paying with his smartphone by scanning QR codes. It went viral overseas. "That made me realize documenting these small daily routines can present the real China to the world. So I started shooting videos of my experiences in China and posting them online," Jiang told Beijing Review.
According to Jiang, Chinese food is a flavorful cultural asset, seasoned with the distinctive features of different regions. Before filming, he checks the recipe and origin of the Chinese dish he wants to introduce. His videos appeal to a wide range of viewers, with many expressing their desire to travel to China in the comments.
"Whenever I visit my family in China, I can really feel the great changes that have occurred there. I can't wait to be able to travel there again and introduce more Chinese cuisines to overseas audiences, as well as present the Italian gastronomy to Chinese netizens," Jiang said.
As good taste knows no boundaries, Jiang hopes his introductions can improve the international understanding of China despite geographical distance and cultural differences. "Many Italians are still just getting to know Chinese culture. With social media platforms, Sino-Italian ties have more room for growth," he said.
(Print Edition Title: Art Knows No Boundaries)
Copyedited by Elsbeth van Paridon
Comments to lixiaoyang@cicgamericas.com