The Hustle Dinner, a play produced by one of China's most popular theater troupes the Mahua FunAge, recently enjoyed a lot of popularity in Chengdu, due to its interesting form: immersive theater in a restaurant.
In recent years, Chengdu-based theater companies and troupes, such as Star Theaters and HGC theater, which was repurposed from a factory, have been exploring new possibilities and pushing the boundaries of performing art. According to Xia Maotian, deputy general manager of Star Theaters, theater performance has been challenged by various art forms and platforms, such as film and TikTok, but its unique value is not fading away. Chengdu artists, who are keen to express themselves, are making exchanges and discussions with the public about current topics through their theatrical works. These exchanges are completely irreplaceable.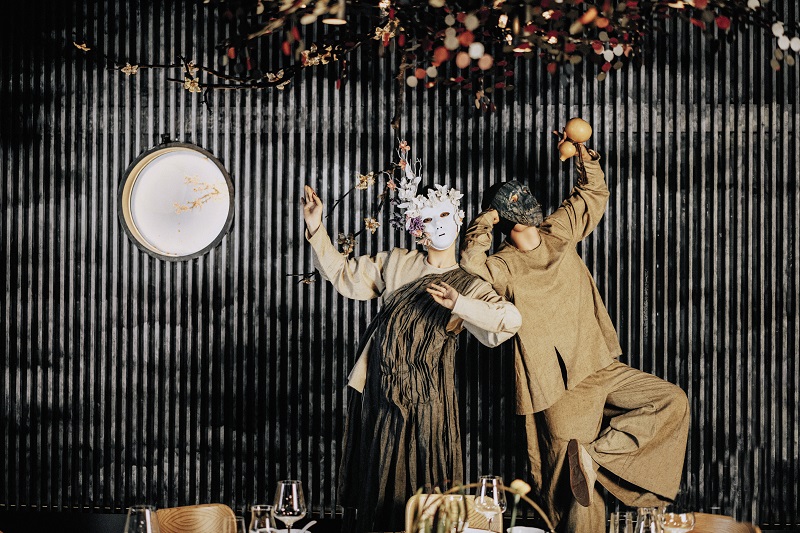 HGC Theater is staging a mime performance it created in Tuyan, an upscale restaurant. Photo courtesy of Tuyan
Becoming Trendy
In July 2021, The Hustle Dinner was staged in Chengdu. Tickets for all 24 performances sold out the moment reservations were available. "This seemingly lackluster market actually holds great demand," said Xiao Li, chief operating officer of the troupe's branch in Chengdu.
Back in 2019, Mahua FunAge attempted to stage shows in small restaurants in Beijing. It also launched similar projects in several other Chinese cities, such as Shenzhen and Hangzhou. Beyond its expectation, this type of performance in combination with dining experience was well received in Chengdu.
The experience audiences enjoy during this show is totally different from other performances. When entering the theater, spectators are greeted by performers walking back and forth preparing for the show.
At the sign-in district, spectators are offered a performance guide designed with elements from the Republic of China (1912-1949) period. Period costumes and lighting are made available for them to take pictures as they wish.
Snacks and drinks are offered at the tables, and meals are served during the show. "The experience is about making consumers happy and helping them relax from day-to-day pressures," said Xiao Li.
The Hustle Dinner, like other plays presented by Mahua FunAge, is a comic. It has no complex storyline, but only jokes, quips and interactions that make the spectators laugh. Professional photographers are present during each performance, and spectators can take photos with the cast. These live photos will be sent to the WeChat group created for spectators so that they can share on social media as soon as possible. Xiao Li said Chengdu is an ideal place for the new consumption scenario to succeed. "Residents here love parties, and there are many online influencers with huge fan base," noted Xiao.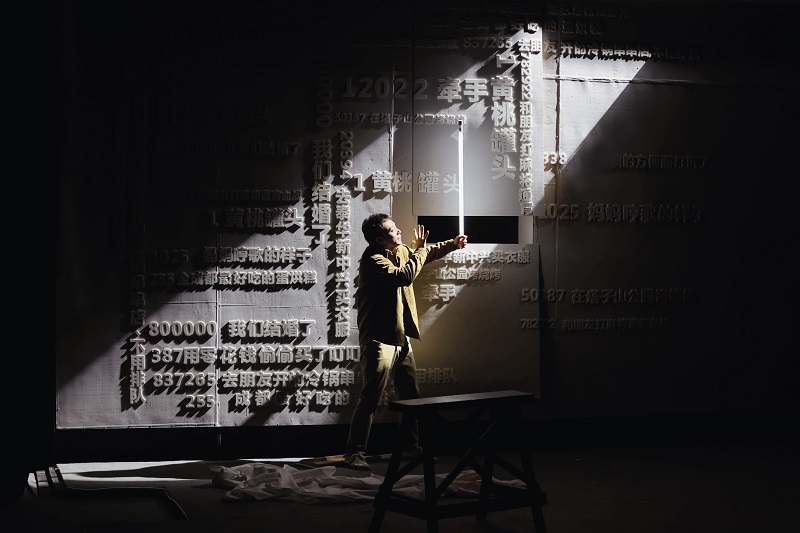 Every Brilliant Thing is an experiential drama. Photo courtesy of Sichuan People's Art Theater
Close to Spectators
Rimuli, a theatrical company in Chengdu, has launched a Reader's Theater project, at the great price of RMB 88 for a "participant ticket" and RMB 38 for a "spectator ticket." Huang Yiyang, director of Rimuli, wants to bring drama into people's daily lives. He believes that if the price is too high, his vision will not be possible. According to him, theater should be offered at an affordable price, just like the cinema.
Over the years, Huang has been changing his business philosophy. In 2016, he aspired to create a large theater that could accommodate 3,000 viewers, as he believed that such a venue could provide audiences with a better experience. Then he changed his mind in 2017, after watching a play with a smaller audience in Poland. He was deeply impressed by the concentration of the spectators. "They are like researchers concentrating on their work in the laboratory for hours on end," he recalled audience response to the play.
The following year Huang was struck with the idea that what Chengdu needed was a theater space with less than 100 seats. In November 2021, his theater opened. One of its innovative projects is an affordable Readers' Theater project, providing a unique reading experience for audiences.
For the experience, Huang adapts theatrical classics based on urban lives. While keeping the core parts, dialogues and lines of an adapted play are rendered in contemporary words and expressions. "Emotions are conveyable. Interpreting classics from a modern perspective, we are more likely to strike a chord in the audience," Huang said.
After the readers are seated around a table, lights are turned on, a triangle is struck, and a theatrical atmosphere pervades the hall. Participants are then taught techniques of how to read the lines with emotions. After the first reading, they switch roles and read the lines again. This process contributes to readers' deep understanding of the works.
According to Huang, in the theater industry, only by treating each audience as an individual, can a good user experience be produced. On online recommendation platforms, consumers who participated in the reading theater project have posted such positive comments as, "It was a great experience" and "It had a fascinating plot."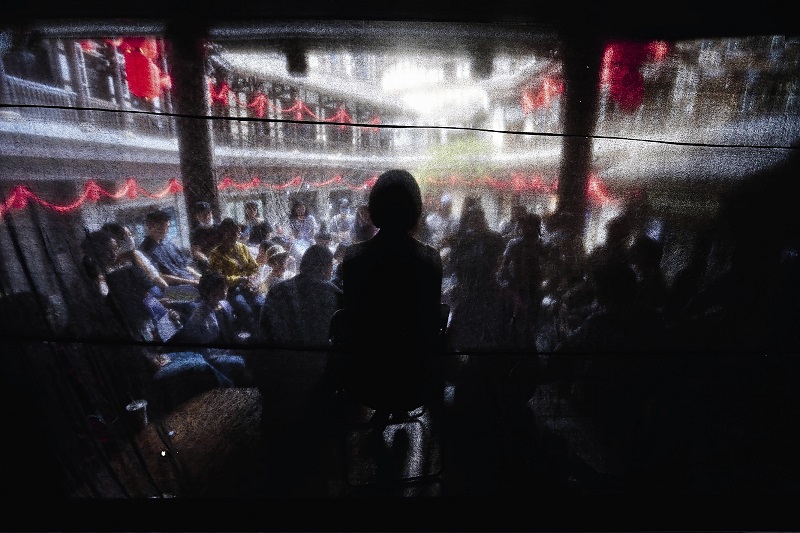 Readers' Theater provides readers with a "reading experience" to help bring drama into their daily lives. Photo courtesy of Rimuli
Never Stop Exploring
For their part, Star Theaters and HGC theater have been exploring environmental theater over the last several years. Environmental theater, a branch of the New Theater movement of the 1960s, aimed to raise audience awareness of the theater by eliminating the distinction between the space of the audience and that of the actors.
Star Theaters has been applying this concept since its founding at the end of 2019. When the sixth NUART Festival, a gathering of live music, drama, freestyle dance, street theater, and exhibitions among others, was held in Chengdu in 2020, the performance troupe experimented the new theater by letting the actors come down from the stage and join the audience, and inviting the spectators to go on the stage and become part of the performance. Since then, it has continued along this path of development, allowing more people to have close contact with dramatic art.
At almost the same time, HGC theater also started staging street performances. Such a decision was made out of a different reason. The location of HGC theater is remote, and performers presented their plays in busy streets in order to advertise and attract public attention.
At the end of 2021, Star Theaters staged Every Brilliant Thing, a play adapted from the work of the English playwright Duncan Macmillan. Telling of the protagonist's fight against depression, the experimental comic theater proved to be an enormous success and was praised by the media, drama critics, and the general public. It provides spectators with a unique experience, allowing them to be part of the play as soon as they enter the theater. In addition to enjoying the plot and feeling the emotional changes of the performers, the audience is also an "activator" of the play. They are fully involved and make each show unique.
HGC theater is staging a mime it created in an upscale restaurant. According to Liu Zhengdong, founder of HGC theater, the design of the restaurant was inspired by Song Dynasty poems, featuring simplicity and poetic beauty. "Our mime is created to heighten the environment and the dinning experience," Liu said.
"Cooperation with an established catering brand ensures our stable revenue," Liu added, noting it also enabled the theater to maintain high artistic level.
Compared with conventional theatrical performances, the size of an environmental theater is small in terms of investment and personnel. It makes theatrical creations more accessible to audiences, said Liu. Although the mime is harvesting polarized reviews, Liu is confident of its prospect given the stable earnings it brought.
The author is a reporter for Chengdu Culture.