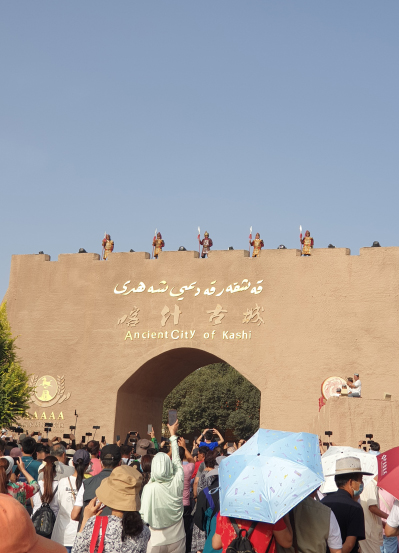 Visitors watch a performance at the gate to the Ancient City of Kashgar (Kashi), a popular tourist destination in Xinjiang Uygur Autonomous Region, on July 24 (ELSBETH VAN PARIDON)
A woman dressed to the nines in the vibrant traditional dress of China's Uygur ethnic group strikes a pose against the brightly hued backdrop of a buzzing evening bazaar in Kashgar City, Xinjiang Uygur Autonomous Region. Golden hour is here and the snap will make for a picture-perfect holiday greeting card. She quickly polishes the picture and posts it on Douyin, China's TikTok. She's daka-ing.
The term daka has become a fixture on Chinese social media in recent years. Literally translating as "punching a card," the expression refers to the trend of online influencers taking short trips to popular places and then posting pictures and anecdotes on social media to show their followers what they got up to. Their destination du moment? Xinjiang.
Kashgar is an oasis city in the Tarim Basin region of south Xinjiang and one of China's westernmost cities. Its location near the nation's borders with Afghanistan, Kyrgyzstan, Tajikistan and Pakistan has long made it the convergence point of diverging cultures. But the area isn't just home to lush green vegetation and remnants of ancient empires; the city's tourism, too, is blooming.
As China puts COVID-19 resurgences under control, "revenge travel" has emerged as popular netizen speech referring to the nation's pent-up desire for new travel experiences across dreamy decors—from the beautiful and laid-back city of Dali in Yunnan Province to the rugged features of south Xinjiang.
The concept of revenge tourism first emerged in 2020. The COVID-19 pandemic closed down the majority of business in the travel sector, borders worldwide were closed and repeated lockdowns and quarantine requirements meant that people had very few travel prospects. As a result, there was, and still is, a large pent-up demand for travel.
China saw a major rush of revenge tourism during the May Day holiday (May 1-5) in 2021, with over 230 million traveling domestically over the five-day holiday, representing a 119.7-percent year-on-year increase, according to Ministry of Culture and Tourism.
Chinese wanderlust was further fueled by the relaxation of COVID-19 rules this summer, releasing many previously locked-down travel aficionados in mega cities like Shanghai and Beijing back "into the wild." But alongside the need to make up for lost time, a marked shift in desired destinations now prevails.
Following the inauguration of the National Rural Revitalization Administration last February, the authority introduced a range of policies to more deeply develop village tourism. And Xinjiang, with its many remote townships, seems to be making the most of these new strategies. More than 190 million tourists traveled to the region in 2021, a year-on-year increase of 20.5 percent, according to a regional government work report.
The Beijing Winter Olympics earlier this year generated a boom in ice and snow tourism and the region possesses an abundance of winter sports facilities. During the weeklong Spring Festival holiday in February this year, Xinjiang received about 3.6 million tourists.
The tourism market in Xinjiang now continues to heat up with the arrival of the summer peak season. With virus prevention and control measures in place, the region offers eager travelers a variety of tourism packages including mountain hiking, desert road trips and folk culture experiences.
Xinjiang comprises 1.66 million square km or approximately one sixth of China's total land area. Traveling to the region and visiting its many tourist spots used to be a daunting undertaking, but, today, that has become a thing of the past. Xinjiang features 24 civil airports, with No.24, Tarim Airport in Aral, having commenced operation only in June.
From July 1 to 21, a total of 25.54 million tourists traveled to Xinjiang, up 15.7 percent year on year with a tourism revenue of 19.1 billion yuan ($2.83 billion), up 16.67 percent year on year, China Central Television reported last month.
This overall tourism boom has encouraged more people of different ethnic groups in the region to join the sector, their combined efforts catering to the daka needs of online influencers and relaxation of urbanites seeking to escape the stifling summer heat alike.
Revenge is sweet like a Hami melon.
(Print Edition Title: Greeting Cards Pack a Punch)
Copyedited by G.P. Wilson
Comments to elsbeth@cicgamericas.com