Hello and welcome to the 46th issues of Beijing Review.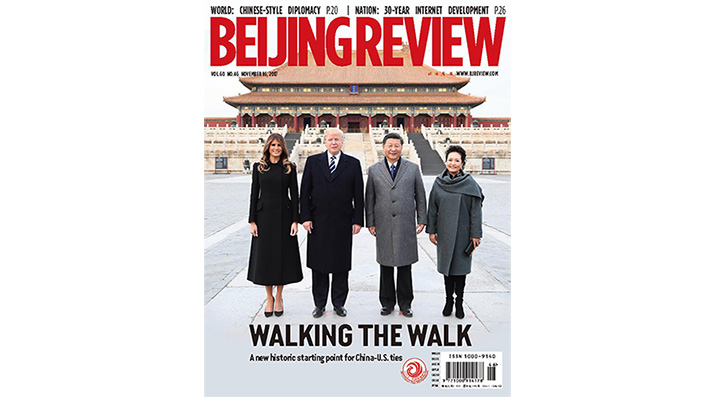 Photo by Cui Xiaodong
COVER STORY
Building Xi-Trump Rapport is about American President Donald Trump's first State visit to China. He received a spectacular welcome from Chinese President Xi Jinping. The continued interaction between the two presidents adds to their personal friendship and promotes continued bilateral mutual trust between the leaders of the two biggest economies in the world and it enables them to present a united front despite their differences.
WORLD
Charting a New Course focuses on major-country diplomacy with Chinese characteristics. China is forming its own way of acting on the international stage by the new generation leadership. It comes from traditional guidelines of independence, safeguarding world peace, sharing common development and open-minded exchanges with the world, making globalisation more inclusive and interconnecting countries.
NATION
One-Touch Lifestyle is a story looking at how the Internet has changed people's way of life during its rapid development over the past 30 years. Citizens have gone from a cash society to one that can pay almost anywhere with the touch of a finger on their mobile phones. It has energised the economy and made life easier for everyone.
Copyedited by Pamela Tobey
Comments to linan@bjreview.com