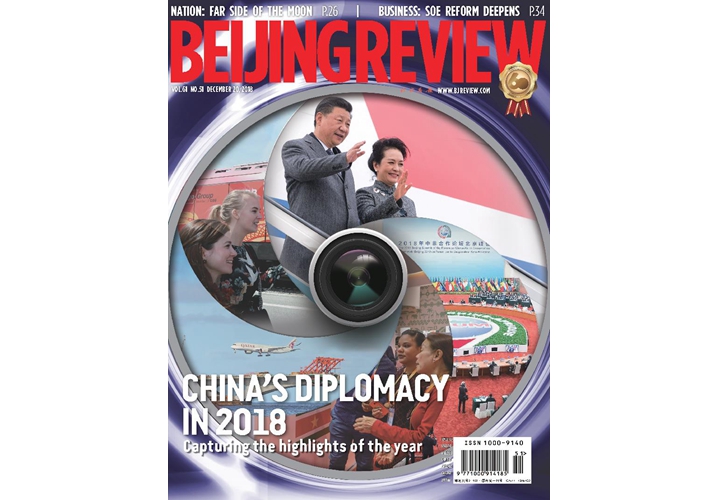 Cover Designed by Wang Yajuan
COVER STORY
Challenging Times, Creative Efforts looks at the highlights and themes of China's diplomacy in 2018. Assuming a more central role in the modern world, China is building a new type of diplomacy based on three core tenets of mutual respect, justice and mutually advantageous cooperation. Leadership diplomacy has brought more top level solutions and agreements as well as innovative ideas for global governance reform.
COVER STORY
2018's Top 10 World News Stories includes economic events such as the China-U.S. trade friction, Greece exiting its EU bailout and the Yellow Vest protests in France, disasters such as earthquakes and tsunamis in Indonesia, and rising tensions in Turkey and between Russia and Ukraine. Positive events included the FOCAC Summit in Beijing and an improving situation on the Korean peninsula.
BUSINESS
Dawn of Digital Revolution looks at a new round of digital revolution taking place around the globe with the advent of 5G communication technologies. China is an important participant in the research and development of 5G and the commercialization of the latest tech is almost within reach. It will expand capabilities of the Internet and create a more digitalized society with connectivity between people and things.
Copyedited by Rebeca Toledo
Comments to linan@bjreview.com