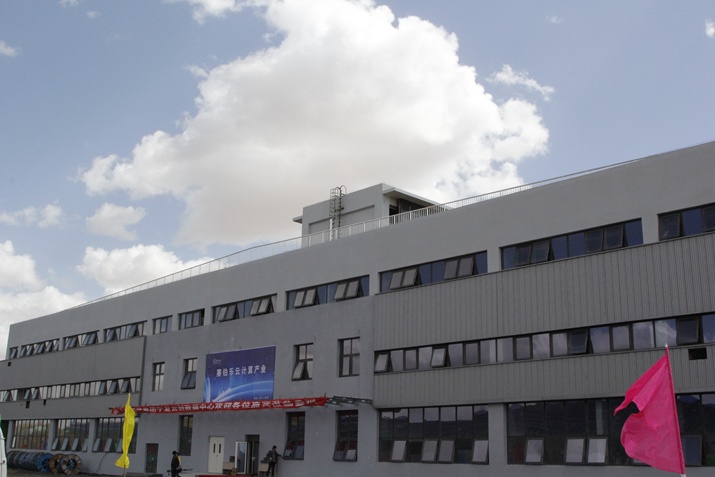 A cloud computing center in Zhongwei, Ningxia Hui Autonomous Region (MA LI)
In the desert of the American West lies the sixth largest city in the United States--Phoenix, Arizona. In the past 20 years, it has miraculously transformed from a quiet suburban city into a new Silicon Valley-like economic powerhouse. Home to 83 cloud data centers and the headquarters of dozens of other hi-tech companies.
Phoenix has soared primarily because it is riding on the wave of cloud computing and other cutting-edge Internet technology.
In the desert of west China is located a tourist city with a similar natural environment as Phoenix. That is Zhongwei in Ningxia Hui Autonomous Region. Like its American counterpart, the city aspires to flourish on cloud-computing technology.
"In Zhongwei, we have already built China's first wind-powered data center. The facility is cooled by natural wind rather than air conditioners, which is not only environmentally friendly, but also can increase data safety and lower operation costs," said Mayor Wan Xinheng on September 11 at a panel on new generation of cloud-computing technology held in Zhongwei. The panel was part of the China-Arab States Expo Online Silk Road Forum.
On the same day, the Zhongwei City Government announced that the large-scale data centers that the city tailor-constructed for Amazon Web Services and well-known Chinese Internet company Qihoo 360 Technology had been completed and tested.
Developing cloud technology
Zhongwei's cloud technology sprouted from a partnership between Beijing and Ningxia.
In November 2013, Beijing and Ningxia signed a strategic agreement to build a hi-tech industry park together. Under the agreement, Zhongwei was to develop into a base for cloud computing in west China.
"Beijing and Ningxia have given play to their respective comparative advantages in actualizing the project," Wan said.
He said that Beijing has advanced science and technology and a talent pool of outstanding professionals; while Ningxia has strength in energy, climate and land resources. Together, they are able to build a green and avant-garde cloud-computing base.
"One year ago, it was a rambling construction site here, and now it is a data center," said Naseem Fekri, an official from Bahrain, who was amazed at the development speed as she toured the new location.
In addition to the data centers of Amazon Web Services and Qihoo 360 that have been completed, Zhongwei is preparing to build information-sharing service centers for several large state-owned enterprises in China.
Wan revealed that the Ministry of Water Resources, the State Information Center and some other Central Government agencies have studied the possibility to locate their data centers in Zhongwei. Moreover, the three major telecommunications service providers in China--China Mobile, China Telecom and China Unicom, as well as Internet companies such as Tencent, Inspur and Philisense, are mulling similar schemes.
As the next step, the city plans to export cloud-computing services to Arab countries, Wan said.
"China and Arab countries have a long-standing history of exchange: as early as more than 2,000 years ago, the ancient Silk Road connected the two civilizations both culturally and economically," said Lu Wei, Minister of the Cyberspace Administration of China at the China-Arab States Expo Online Silk Road Forum.
Lu said that China looks forward to deepening cooperation on the digital economy with Arab countries and accelerating the building of a common market online. The Chinese side also expects comprehensive bilateral cooperation in cross-border e-commerce involving inspection, quarantine and payment in order to boost development in various areas such as commerce and trade, logistics and tourism.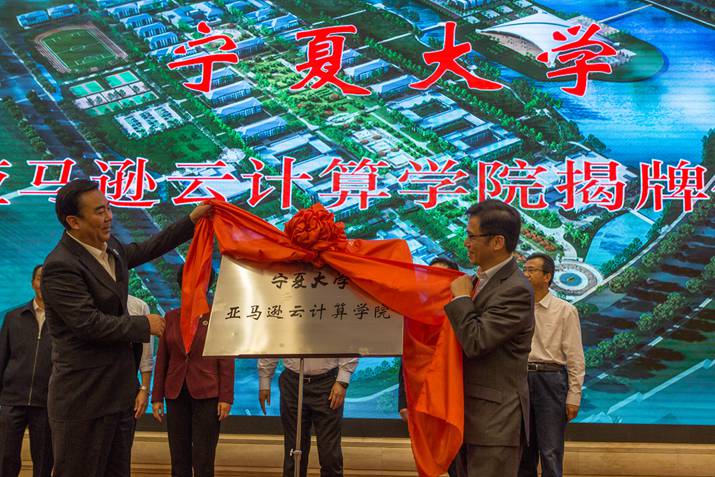 Ningxia University's School of Amazon Cloud Computing has its grand opening in Zhongwei, Ningxia Hui Autonomous Region, on September 11 (XINHUA)
Favorable conditions
Zhongwei is blessed with favorable conditions for the development of the cloud-computing industry, primarily policy incentives, Wan said.
China is promoting an Internet Plus strategy, which is designed to integrate the power of the Internet with traditional brick-and-mortar services and expertise. In 2014, the National Development and Reform Commission, the country's top economic planner, released a set of guidelines on industrial restructuring. Wan said that the document categorizes only Inner Mongolia Autonomous Region, Ningxia and Shaanxi Province into regions that are suitable for constructing and operating large and super-large data centers.
Indeed, Zhongwei has a favorable location. The city is located in China's geometrical center, so it is an optimal pivot point for an optical network covering the whole country. More than 90 percent of China's land area is within 2,000 km from Zhongwei.
Zhongwei's natural environment is also suitable. It is geologically stable, with almost zero possibility for an earthquake. The city is rich in energy resources, with renewable energy sources accounting for 66.5 percent of the total. Local water and gas prices are low, and moreover a cloud-computing base pays a discounted electricity price. Just as importantly, it has a large area of unutilized land.
Zhongwei also has amicable climate and good air quality. Because of the weather, data centers there can be cooled by natural wind, which can lower operation costs.
"Cloud computing and big data are revolutionary technology areas in the mobile Internet era, which are ushering in a change in global economic development and people's living style," said Zhang Zhu, a leading official in Zhongwei. He said that they, like electricity and petroleum in the industrial age, will power the Internet Plus economy.
Cloud computing will soon be a hundred-billion-dollar industry, predicted Gartner, Inc., a world's leading information technology research and advisory company, in a recent report. It said that with the rapid development of big data, cloud computing will be used in ordinary homes just as water and electricity.
Wan said that Zhongwei is working hard to attract talented people specializing in cloud computing, and speed up projects to provide cloud services across different sectors and services, including environmental protection, transportation, healthcare, tourism and media services to the general public.
Copyedited by Mara Lee Durrell
Comments to yaobin@bjreview.com