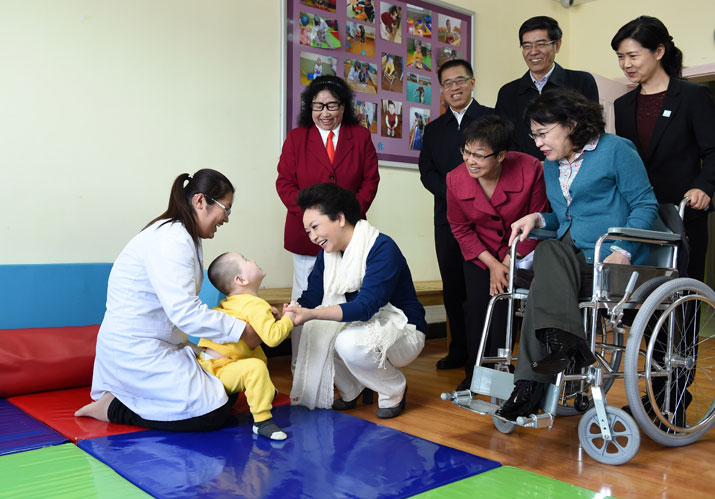 Zhang Haidi accompanies Peng Liyuan, wife of Chinese President Xi Jinping, on a visit to an orphanage in Beijing on May 15 (XINHUA)
Zhang Haidi, Chairperson of the China Disabled Persons' Federation (CDPF), assumed her new role as president of Rehabilitation International (RI) on October 27 at the RI World Congress in Edinburgh, Scotland. Zhang is the first Chinese woman to take up the post.
With a history of over 90 years, RI is a New York-based global organization with a mission to advance the rights and inclusion of persons with disabilities across the world. Lu Yong, CDPF Vice Chairperson, said Zhang's new role as president of RI shows international recognition of the results of China's protection of people with disabilities.
How has Zhang, a role model for young people in China during the 1980s, managed to realize her transformation to a global leader of empowerment of people with disabilities?
From humble beginnings
Zhang was born in east China's Shandong Province in 1955. At the age of 5, she suffered paraplegia due to a spinal cord disease. She therefore laid in bed for 10 years and had no friends. Zhang said those were the loneliest days in her life and that they taught her to be strong.
Although Zhang didn't attend school, she learned all the primary school and middle school subjects, including English, on her own. At the age of 10, her mother gave her a notebook so she could keep a diary. She recorded the knowledge she learned by herself as well as her aspirations. Zhang said she would not have become a writer later on had she not developed the habit of writing a diary in her teenage years.
She liked reading books, from which she learned how to overcome difficulties. Zhang also translated English novels into Chinese. In addition, she learned acupuncture and offered free treatment to patients.
In 1983, China Youth Daily published an article about Zhang's story, and other Chinese media outlets followed suit. Zhang subsequently
became a household name. She was held up as a role model for young people across China for her strong will. At that time, Zhang received bags of letters every day. Some people even visited her home just to take a look at her.
However, Zhang chose to escape the limelight. She went on with her studies and received a master's degree in philosophy from Jilin University in 1993. It required a clear mind and courage to explore a new personal development path in the face of overwhelming honors.
Zhang's hard work has paid off. Since 1983, she has published works amounting to over 2 million characters in length. One of her novels, Dream in a Wheelchair, was published in Japan and South Korea and has been adapted into a film. Another of her novels, The Topmost, was recently published in English. Zhang was elected vice president of the Shandong Provincial Writers Association in 2002.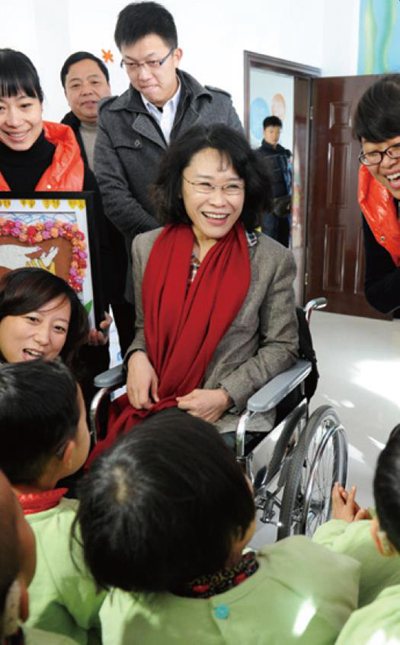 Zhang Haidi visits children undergoing rehabilitation training at a comprehensive service center for people with disabilities in Xinmi, central China's Henan Province, on December 23, 2012 (CFP)
Disability advocate
In November 2008, Zhang became chairperson of the CDPF and embarked on a new journey. Her predecessor, Deng Pufang, is the winner of the 2003 UN Human Rights Prize, the first person with disabilities worldwide and the first Chinese person to have won the honor.
Like Deng, who is currently honorary chair of the CDPF, Zhang is committed to advancing the interests of those with disabilities. She has always attached great importance to the rehabilitation of people with disabilities and regards it as the key to improving their quality of life.
Zhang said most people with disabilities in China are in urgent need of rehabilitation, but service provisions presently fall far short of demand. Of the over 26 million citizens registered as having disabilities, less than 30 percent have access to rehabilitation services. The primary problem is the lack of professional rehabilitation workers. Such multi-domain
specialists need to be cultivated by specialized universities. Establishing a national university for training rehabilitation workers was incorporated into the 13th Five-Year Plan
(2016-20). Zhang believes such an institution will help alleviate the difficulties endured by people with disabilities.
Zhang is most concerned with the rehabilitation of children with disabilities. The most important period for rehabilitation is during childhood. Children with disabilities who have received effective rehabilitation therapy can gain or re-gain the abilities to learn, take part in social activities and live independently.
The 13th Five-Year Plan has mapped out a goal of putting in place a rehabilitation assistance system for children with disabilities and realizing free surgical procedures, assistive devices up to 6 who have visual or hearing impairments, speech disorders, other physical disabilities and mental deficiencies or autism. The realization of such a goal requires not only relentless effort from all levels of government, federations representing the interests of people with disabilities, and rehabilitation centers, but also the participation and support of the whole of society.
Zhang has suggested multiple times that people with disabilities should be granted equal opportunities to take part in the national university entrance examination.
The Ministry of Education and the CDPF jointly issued in April 2015 regulations aimed at protecting the rights and interests of people with disabilities sitting the exam. The measures include providing test papers in large font sizes and in Braille as well as sign language interpreters. Such steps make a vast difference to students with disabilities taking the university entrance exam, and higher educational institutions admitted 8,500 such students in 2015.
Zhang said education is essential if people with disabilities are to realize equal participation and integrated development goals. During the 13th Five-Year Plan period, China will continue to improve the educational system for people with disabilities and develop special education in order to enable such people to have access to quality education. In particular, China will promote inclusive education to allow more children with disabilities to study in regular schools and grow up together with other children.
Zhang knows full well the importance of accessible facilities for people with disabilities. She said the construction of barrier-free infrastructure exemplifies humanitarian concern and benefits the whole of society. Such infrastructure is important to guarantee that people with disabilities, senior citizens and invalids can take part in social activities. Pushing forward the construction of such infrastructure is therefore important, and the Central Government issued a guideline for promoting barrier-free access in 2012.
RI created the International Symbol of Access, featuring a stylized image of a person in a wheelchair, in 1969. It is said to be one of the most recognized signs in the world today.
China is seeking to complete the process of building a moderately prosperous society in all respects by 2020. Zhang is concerned with whether people with disabilities can get out of poverty and become moderately prosperous in sync with the general population.
Lifting people with disabilities out of poverty is a tough task. Currently, over 4 million such people live in extreme poverty in China. People with disabilities should not be left out on the path toward prosperity.
Zhang is pleased to see that the 13th Five-Year Plan has special sections devoted to people with disabilities. She said various measures should be introduced to solve the problems faced by people with disabilities in China, who number 85 million in total, and accelerate their progress toward prosperity.
Zhang suggests leveraging big data to lift people with disabilities out of poverty. The CDPF will establish a large database to provide reference data for the nation's targeted poverty alleviation efforts. In the meantime, the organization will prompt the government and call on society at large to help people with disabilities. Zhang believes that with these efforts, the living standards of people with disabilities will significantly improve in five years.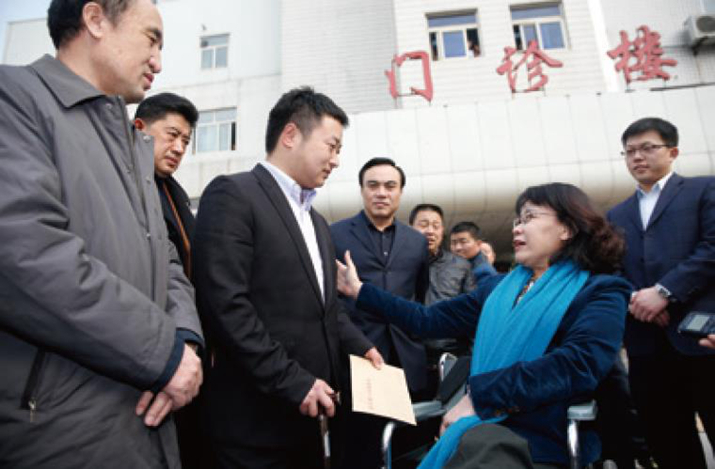 Zhang Haidi visits the Shaanxi Provincial Rehabilitation Center for People With Disabilities in the province's capital, Xi'an, on February 9, 2015 (CFP)
Global outreach
During Beijing's bid for the 2022 Winter Olympic Games, Zhang said in a speech on July 31, 2015 that although she had been wheelchair-bound since being paralyzed 55 years previously, her heart had always forged ahead.
"Paralympians are real heroes, and their spirit empowers the whole world. The 2008 Beijing Paralympics left a valuable legacy for people with disabilities. I sincerely hope the 2022 Winter Paralympic Games are held in Beijing," said Zhang.
After Beijing won the bid, Zhang was in tears. "I'm happy for China to win the Winter Olympics bid. A lot of brothers and sisters with disabilities will come to China to train for the games, and we will have more accessible facilities. The whole nation will make a great endeavor to make the Winter Olympics and Paralympics a success and help people with disabilities live better lives," she said.
Zhang headed China's delegation to the 2016 Paralympics in Rio de Janeiro, Brazil. During the games, Team China won 107 gold, 81 silver and 51 bronze medals, broke 51 world records, and topped both the overall medal tally and the gold medal tally.
Zhang said the medals resulted from Chinese athletes' efforts and served to empower all people with disabilities in China.
Since becoming CDPF chairperson, Zhang has actively pushed for the organization's cooperation and exchanges with international organizations. The Chinese Government and the CDPF have advocated the inclusion of development of people with disabilities in the UN's 2030 Agenda for Sustainable Development. In order to acknowledge China's contribution to that cause, the UN invited the CDPF to co-design and issue a souvenir stamp with the theme of people with disabilities as part of celebrations for the international organization's 70th anniversary.
The topic "disabled people and economic development," proposed by China, has become a formal subject at the Asia-Pacific Economic Cooperation (APEC) forum, and a CDPF representative was elected the first chairperson of the APEC Group of Friends on Disability Issues.
German Chancellor Angela Merkel said inclusiveness is the key to the development of people with disabilities during the Global Conference on Assistive Devices & Technology, which was held in conjunction with a high-level meeting on disability cooperation among Asia-Europe Meeting (ASEM) members, which took place in Beijing on October 29, 2015.
Merkel added that cooperation on development of people with disabilities under the ASEM framework had opened up new areas of cooperation for China and Germany, which have bright prospects. Germany is willing to strengthen cooperation and mutual learning with China on development of people with disabilities, explore new cooperation models, and help with the development of people with disabilities in China in order to enable the nation to become a moderately prosperous society in all respects.
UN Secretary General Ban Ki-moon highly commended China's efforts toward protecting the rights of people with disabilities and the nation's achievements in this regard to date during a conference held by the Chinese Government to mark the 10th anniversary of the passing of the UN Convention on the Rights of Persons With Disabilities in July. RI oversaw the adoption of the convention in 2006.
The future of RI with Zhang as president holds promise. Since she was elected in 2014, Zhang has attended multiple RI meetings and reviewed the performance of the organization with members of the Executive Committee. Together, they have launched new initiatives. For instance, an African fund has been established to help impoverished people with disabilities on the continent, especially women and children.
In addition, as leader of the RI Strategic Plan (2017-21) drafting committee, Zhang played an essential role in the formulation of the plan, which was adopted at the Edinburgh conference.
The plan aims to reinforce RI's leading role in promoting the rights and inclusion of people with disabilities. Based on the organization's vision and mission that all people with disabilities should live in an inclusive world and enjoy active participation and full human rights, it proposes five focuses—rehabilitation, human rights, poverty alleviation and inclusive development, a stronger RI network, and the global impact of RI—to provide support to people with disabilities around the world.
"With the joint efforts of individuals as well as international organizations, the goals can be fully achieved," said Li Xiaomei, Deputy Director of the International Affairs Department of the CDPF. "As a national member organization of RI, we believe the work of the CDPF can have positive effects on RI's future development."
The interaction between RI and the CDPF can strengthen mutual understanding and promote disability rights and interests in China and beyond, Li added.
"We will try to enable RI to continue contributing positively to the empowerment of people with disabilities worldwide," Zhang said.
Copyedited by Chris Surtees
Comments to jijing@bjreview.com