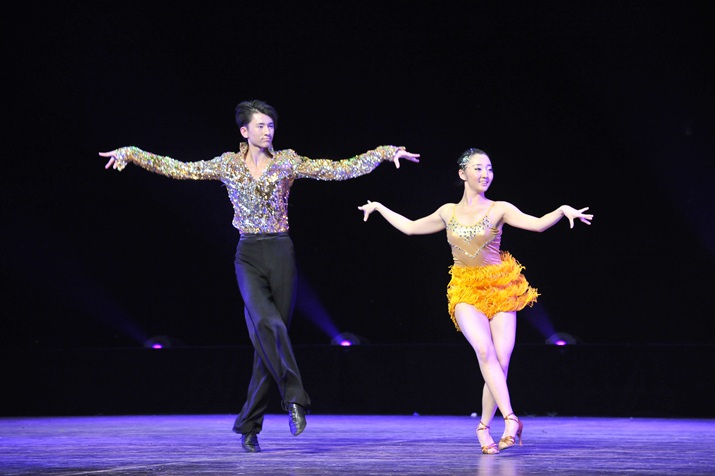 Liang Yuangang and Zhu Yue perform the dance Dancing & Listening during a charity event at Peking University on September 15 (COURTESY OF CDPPAT)
Growing up with a hearing impairment, 20-year-old Liang Yuangang said that he had little hope for a happy and bright future. Today, he is a successful ballroom dancer.
The social work major at China Youth University of Political Studies in Beijing remembers being bullied in elementary school in his hometown Anshan in northeast China's Liaoning Province.
"Some of classmates once threw a small stool at my back for no other reason than the fact that I have hearing problems," he said.
Liang's mom sent him to a ballroom dancing training school--a safe space away from the bullies and unwanted attention at school--where he thrived. The teacher put him in the first line of students so he could better mimic the teacher's movements.
"Their kindness made me interested in ballroom dancing and re-activated my life," Liang recalled.
In 2007 at just 12 years old, Liang joined the Chinese Disabled People's Performing Arts Troupe (CDPPAT), which contributed to his success as a Latin dancer.
The Thousand-Hand Bodhisattva dance performance during the 2005 Spring Festival Gala--China's most-watched television program for celebration of the lunar New Year--launched the troupe to larger fame. Parents have been more willing to send their kids to the troupe since the show aired, believing that art and expression can help with the children's development and future.
CDPPAT has 37 staff members and 110 performers who have an average age of 20. The majority of the staff at management level also have disabilities. They design and create programs, train the performers, produce promotional and audiovisual products and are also in charge of publicity and marketing. The troupe is comprised of two teams of performers who can perform at the same time in different regions. It also has a trainee team to nurture young talent.
Liang and his dancing partner, 21-year-old Zhu Yue, who is also hearing-impaired, are the only ballroom dancing pair in the troupe. Their performance Dancing & Listening was exclusively choreographed for them, a first in the troupe. The dance blends elements of various ballroom styles, including Rumba, Samba, Chacha and Cowboy and is the troupe's signature performance.
It may look easy to the audience members, but it took Liang and Zhu six months to get the routine down.
"Before our first performance, the supervisors watched the dance many times. They finally asked me to take out my hearing aid, which could affect the beauty of the dance," Liang said. This request makes the dance even more demanding. "Without the hearing aid, I cannot feel the beat, and it's easier to mess up the dance."
But by the premiere, he was ready to try it without using his hearing aid. The first show's success gave him the confidence he needed to continue.
Liang plans to continue his studies in Beijing and wants to improve his dance skills to realize his dream to dance at the Blackpool Dance Festival in Britain, the world's first and most well-known annual ballroom dance competition. Ultimately, he said that he wants to be a professional ballroom dancer.
Copyedited by Jordyn Dahl
Comments to yanwei@bjreview.com