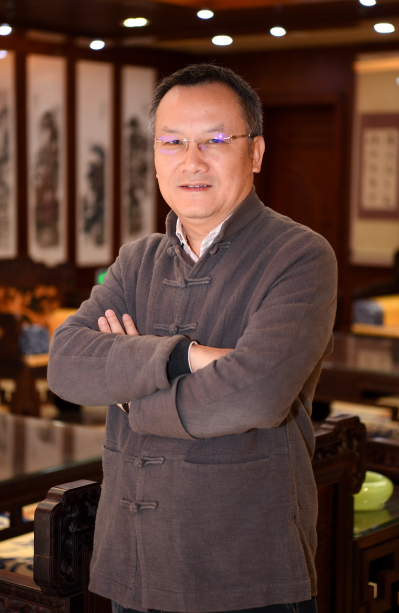 Liu Wenjun (WANG KAI)
A cultural dream realized
In 1988, the Hainan Province was established, awakening Liu Wenjun's dream of starting his own business. From that moment on, his personal fate was tied to the future of Hainan and to the country's reform and opening-up process.
Liu, who was 22 years old, traveled from the mountainous region of Guizhou Province to Hainan Island in June 1988. The first few years were quite difficult for Liu while he sold DVDs on the street and was homeless. Eight years later, Hainan was in a period of economic recovery after the Chinese Government's macroeconomic regulation, and it was at this time that Liu found his opportunity to start the ZOSE Advertising Company.
With the expansion of business, his company gradually shifted the focus to the cultural industry. With the full support of the Communist Party of China (CPC) Hainan Provincial Committee and the provincial government, Liu made plans to restage the Red Detachment of Women in Hainan. This Chinese ballet, which tells the story of a peasant girl from Hainan, returned to its roots in 2002, after 38 years.
In November 2003, the Hainan ZOSE Culture Communication Co. Ltd. was founded, and with the support of the government, it has introduced more than 300 quality performances to Hainan. In addition, a large number of cultural enterprises were developed to promote Hainan's growing performing arts market. At that time, the average annual growth of the national domestic box office was more than 30 percent, but in Hainan, cinemas were growing at a much slower rate. In 2011, Liu decided to invest in this field as well and three years later, ZOSE Cinemas' box office in Haikou, the capital city of the province, and Sanya, a popular tourist destination in the south of Hainan Island, appeared in the top 50 domestic box offices.
In addition, when Hainan's 12th Five-Year Plan was put forward, ZOSE successfully outputted its brand to the rest of the mainland in 2011, which was a first for island enterprises.
Approved by the State Council in 2012, the number of pilot zones for unlisted companies to transfer shares was increased. On December 31, 2013, the share transfer system began to accept enterprise applications nationwide, and ZOSE Culture Communication Co. Ltd. was fortunate enough to get on board this "first bus." In January 2014, the company became the first Hainan enterprise to be listed on the New Third Board.
"To be honest, without the policy support, there would have been no possibility for me to achieve my goals," Liu said.
Today, the Hainan ZOSE Group ranks 74th on the top 100 enterprises in Hainan, with an annual turnover of nearly 1 billion yuan ($159 million). However, Liu thinks his 30 years of dreaming are just beginning to grow and an even brighter future is on its way.
Wang Yilin (COURTESY PHOTO)
Laid-off bank president finds destiny
"For a person who grew up on a farm in northeast China, Hainan Island—the southernmost province with a warm sea breeze and the smell of coconut—is a natural attraction," said Wang Yilin, President of Hainan Financial Development Promotion Association.
Wang deems his connection with Hainan as his destiny. After arriving in Hainan for a chance opportunity, Wang has now dedicated 30 years to its financial sector.
Invited by an old friend to start a trust and investment company in Hainan, he landed for the first time in 1988 as a mere spectator during the island's transformation into a special economic zone, one of five in China. It didn't take long for him to become an active participant.
He later became the deputy director of the Foreign Exchange Office of the Hainan branch of the People's Bank of China (PBOC). In 1992, Wang was engaged in developing a foreign exchange trading center, with an online platform for open transactions, creating a precedent for the Chinese foreign exchange market.
With preferential policies granted by the government, enterprises poured into the island to take advantage of the lower income tax. "Banks in Hainan outnumbered rice shops," Wang recalled.
Good times didn't last long however, as financial risks arose due to a poor financial supervisory system and lack of a management standard of urban credit cooperatives. Wang was given the task as vice president of the Hainan Development Bank in 1997 to eliminate the risk of trust companies. However, his attempts were unsuccessful and the bank was eventually closed, which was a first since China's opening up era.
Wang was thus given the name, "the laid-off bank president."
After this failure, he turned to education and earned a PhD in economics, specializing in the research of financial risks that commercial banks face during a period of transformation. In 2000, he was invited back to the Hainan branch of the PBOC as vice president. As the financial environment got better in 2008, the branch grew in success under his leadership, maintaining the top rank among branches of China's four biggest commercial banks.
"The development of Hainan's financial industry is full of twists and turns, it's an inspiration to us that financial reform could not cut ties with the real economy," Wang said, "Life is a live show with no rehearsals. I want to thank Hainan for both challenges and growth."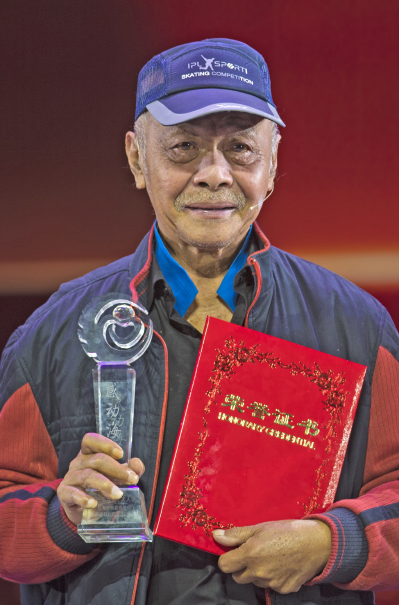 Zheng Wentai (LIU SUNMOU)
Protector of tropical plants
Zheng Wentai, a returned overseas Chinese from Indonesia, spent 26 years building up a gene library for tropical plants in Xinglong, Hainan. The Xinglong Tropical Garden, a massive species gene library, was certificated by the Chinese Government as one of the four demonstration bases for ecological and environmental protection. It was also recommended to the United Nations for the Global 500 Roll of Honor for Environmental Achievement Award.
Zheng's ancestral home was in Fujian Province on the southeast coast of China. In 1964, at the age of 19, Zheng went to Xinglong as a student from Huaqiao University majoring in tropical botany. He regarded the experience as part of his accumulation of knowledge and nothing more. But it was actually the prelude to his indissoluble bond with Hainan.
After completing his studies in civil engineering and architecture at the University of Hong Kong, Zheng set off on a business career in cities such as Guangzhou and Hong Kong, and soon made a name for himself as a successful entrepreneur. In the midst of the establishment of the Hainan Special Economic Zone, he went back to the island and participated in the design and construction of the Hainan Overseas Chinese Hotel.
Zheng would have continued his career if it hadn't been for a serious illness in 1991. Lying in bed, he reflected on his life and decided to do something for his motherland and for future generations. The vision of establishing a species gene library for tropical plants sprang to his mind.
He conducted field trips to many areas before he finally realized that the optimal location was Xinglong in Wanning City in Hainan, which had favorable natural conditions but a poor infrastructure. It was an interesting coincidence that Xinglong, where Zheng worked as an urban student back in the 1960s, became his new starting point.
In 1992, he sold all his assets and flung himself into the construction of the Xinglong Tropical Garden. The Xinglong Overseas Chinese Farm provided him with a stretch of land covering 387 hectares where he was able to grow various tropical plants in what was otherwise a barren area.
The tropical garden has now entered the second phase of restoration with the covering area expanded to about 800 hectares. About 4,000 to 5,000 species grow vigorously here, saving many endangered species and helping them propagate and form plant communities. The garden has become the most distinctive garden of tropical forest landscape in China, integrating natural scenery, cultural heritage, garden art and ecological and environmental protection all in one.
The project has protected China's rainforests and saved a species gene library for future generations. According to Zheng, the provincial government and citizens of Hainan have long understood the great value of ecological and environmental protection, which laid the groundwork for his efforts. The support he received from the government and other sectors facilitated the achievement of his dream. He is never alone in the path of protecting tropical plants.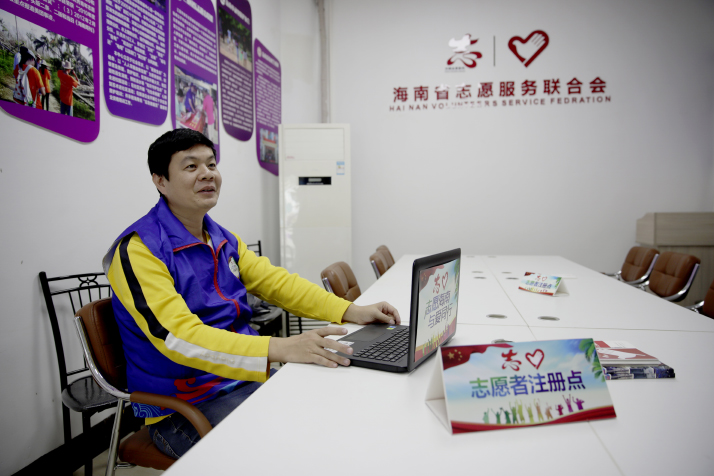 Zheng Xingjie (LIU YANG)
Volunteering for 19 years
During the Spring Festival this year, several thousand tourists were stranded in Haikou due to heavy fog disrupting transportation across the Qiongzhou Strait. In a bid to facilitate the tourists' journey, Zheng Xingjie, Deputy Secretary General of the Hainan Volunteer Service Federation, gave up his leisure time, together with many other volunteers, extending a helping hand to these tourists.
Zheng, also the leader of a charitable society, has carried out volunteer services for 19 consecutive years. Widely known as "Brother Long," he has won the locals' trust and support as a model volunteer in Hainan. In 2010, Zheng started a charitable society in Haikou aiming to help vulnerable groups and support disaster relief activities. Over the past 19 years, Zheng has witnessed the flourishing of volunteer services in Hainan. His experiences have made him more aware that volunteer services call for not only warm hearts but an institutional management standard and appropriate manner.
Born in Haikou, Zheng began participating in volunteer activities as a primary school student. After graduating from university, Zheng initiated several volunteer activities through online forums and gradually started to organize volunteer activities offline.
Zheng later decided to plunge into volunteer services full-time. In 2006, he made a plan to build 50 libraries free to visitors in Hainan by collecting donated books. To achieve this goal, he put all his earnings into the project, collecting more than 100,000 books for 52 libraries. Now there are more than 400 libraries in Hainan.
Zheng also contributed to disaster relief. On May 12, 2008, when Wenchuan was hit by a devastating earthquake, he called on the civilians of Hainan to donate to the quake-stricken victims. Zheng and his partners received donations from many people including janitors and migrant workers.
One year later, the Hainan provincial government released Regulations for Volunteer Services in Hainan, setting standards and laying a legislative foundation for volunteer services. Civilian volunteers also participated in disaster relief efforts when the island was struck by typhoons in 2014, a year that showed marked progress in Hainan's volunteer services.
In Zheng's eyes, volunteers in Hainan have made joint efforts to make their home better. He himself has chosen volunteer services as a lifelong cause, adding, "I participate in volunteer services out of love and a sense of responsibility. The spiritual wealth I have reaped is invaluable."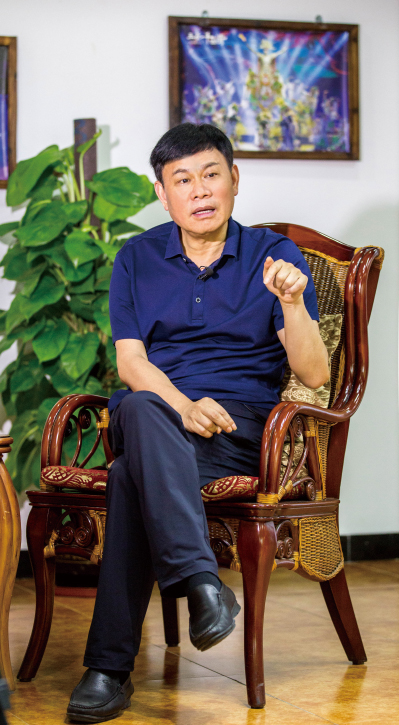 Huang Qiaoling (WU WEI)
Dreams keep coming true
"The first thing I saw in Hainan was the indomitable will, persistence and brave spirit of its people," said Huang Qiaoling, Chairman of the Board of the Songcheng Group. His success in creating a tourism entertainment kingdom in Hainan during the past 30 years has benefitted from China's reform and opening up.
When Huang came to Hainan for the first time in 1987, he had only 2,000 yuan ($319) in his pocket to start his business. What attracted him the most was the vigor and confidence of experts and university students and the accelerated economic growth taking place in Hainan.
"I'm an ambitious, innovative and adventurous person," said Huang.
Sanya was in great need of development due to its weak economic foundation. In 1988, the local government proposed to set tourism as a leading industry. Huang became one of the first investors in tourism on the island.
With the combination of natural resources and local cultural features, his Tianya-Haijiao resort earned over 10,000 yuan ($1,594) during Spring Festivals at that time. Though he decided to go back to his hometown of Zhejiang during the 1990s, he never stopped realizing his dream of developing tourism in Hainan.
"There is no going back when you come to Hainan. The spirit of courage and innovation is a most profound experience," said Huang.
Advantageous natural resources have laid a solid foundation for the tourism industry. With a market vitality due to reform and opening up, tourism in Hainan opened a new chapter. Preferential policies for duty-free, air traffic rights and visa exemptions were implemented. Coastal tourism changed into integrated mountain, sea and air travel. Hainan witnessed the rapid growth of its tourism industry.
In the meantime, Huang used his experience in Hainan and created Songcheng Eternal Love Scenic Area with a model of "theme park and cultural performance." It now occupies a leading position in the tourism and cultural market in China. He has also been honored as "the pioneer director of tourism entertainment performance in China" for the great popularity of Eternal Love, a famous panoramic song and dance show in China he directed.
In 2013, he brought the Eternal Love chain to Sanya and established the first theme park for tourism characterized by unique cultural and historical stories from the Miao and Li ethnic groups.
Huang is envisioning another dream: a new live hands-on performance theme park bringing the sea and the Belt and Road Initiative together.
The stories were originally published in Chinese on Hinews.cn
Copyedited by Rebeca Toledo
Comments to zanjifang@bjreview.com