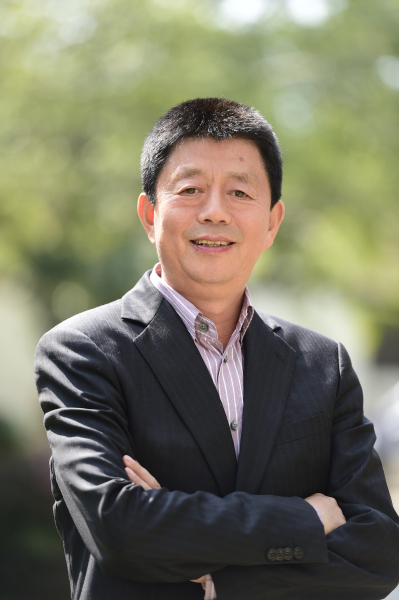 Wang Yilin (COURTESY PHOTO)
"For a person who grew up on a farm in northeast China, Hainan Island—the southernmost province with a warm sea breeze and the smell of coconut—is a natural attraction," said Wang Yilin, President of Hainan Financial Development Promotion Association.
Wang deems his connection with Hainan as his destiny. After arriving in Hainan for a chance opportunity, Wang has now dedicated 30 years to its financial sector.
Invited by an old friend to start a trust and investment company in Hainan, he landed for the first time in 1988 as a mere spectator during the island's transformation into a special economic zone, one of five in China. It didn't take long for him to become an active participant.
He later became the deputy director of the Foreign Exchange Office of the Hainan branch of the People's Bank of China (PBOC). In 1992, Wang was engaged in developing a foreign exchange trading center, with an online platform for open transactions, creating a precedent for the Chinese foreign exchange market.
With preferential policies granted by the government, enterprises poured into the island to take advantage of the lower income tax. "Banks in Hainan outnumbered rice shops," Wang recalled.
Good times didn't last long however, as financial risks arose due to a poor financial supervisory system and lack of a management standard of urban credit cooperatives. Wang was given the task as vice president of the Hainan Development Bank in 1997 to eliminate the risk of trust companies. However, his attempts were unsuccessful and the bank was eventually closed, which was a first since China's opening up era.
Wang was thus given the name, "the laid-off bank president."
After this failure, he turned to education and earned a PhD in economics, specializing in the research of financial risks that commercial banks face during a period of transformation. In 2000, he was invited back to the Hainan branch of the PBOC as vice president. As the financial environment got better in 2008, the branch grew in success under his leadership, maintaining the top rank among branches of China's four biggest commercial banks.
"The development of Hainan's financial industry is full of twists and turns, it's an inspiration to us that financial reform could not cut ties with the real economy," Wang said, "Life is a live show with no rehearsals. I want to thank Hainan for both challenges and growth."
The story was originally published in Chinese on Hinews.cn
Copyedited by Rebeca Toledo
Comments to zanjifang@bjreview.com