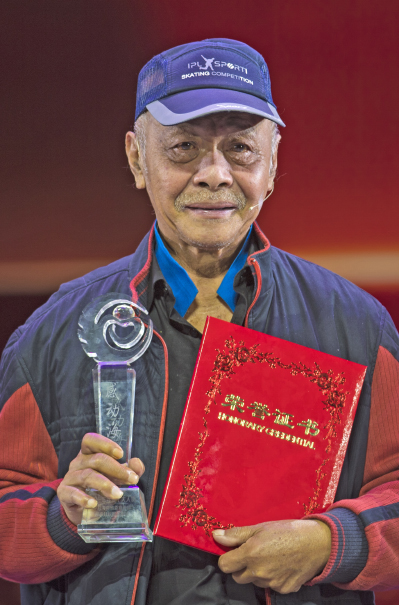 Zheng Wentai (LIU SUNMOU)
Zheng Wentai, a returned overseas Chinese from Indonesia, spent 26 years building up a gene library for tropical plants in Xinglong, Hainan. The Xinglong Tropical Garden, a massive species gene library, was certificated by the Chinese Government as one of the four demonstration bases for ecological and environmental protection. It was also recommended to the United Nations for the Global 500 Roll of Honor for Environmental Achievement Award.
Zheng's ancestral home was in Fujian Province on the southeast coast of China. In 1964, at the age of 19, Zheng went to Xinglong as a student from Huaqiao University majoring in tropical botany. He regarded the experience as part of his accumulation of knowledge and nothing more. But it was actually the prelude to his indissoluble bond with Hainan.
After completing his studies in civil engineering and architecture at the University of Hong Kong, Zheng set off on a business career in cities such as Guangzhou and Hong Kong, and soon made a name for himself as a successful entrepreneur. In the midst of the establishment of the Hainan Special Economic Zone, he went back to the island and participated in the design and construction of the Hainan Overseas Chinese Hotel.
Zheng would have continued his career if it hadn't been for a serious illness in 1991. Lying in bed, he reflected on his life and decided to do something for his motherland and for future generations. The vision of establishing a species gene library for tropical plants sprang to his mind.
He conducted field trips to many areas before he finally realized that the optimal location was Xinglong in Wanning City in Hainan, which had favorable natural conditions but a poor infrastructure. It was an interesting coincidence that Xinglong, where Zheng worked as an urban student back in the 1960s, became his new starting point.
In 1992, he sold all his assets and flung himself into the construction of the Xinglong Tropical Garden. The Xinglong Overseas Chinese Farm provided him with a stretch of land covering 387 hectares where he was able to grow various tropical plants in what was otherwise a barren area.
The tropical garden has now entered the second phase of restoration with the covering area expanded to about 800 hectares. About 4,000 to 5,000 species grow vigorously here, saving many endangered species and helping them propagate and form plant communities. The garden has become the most distinctive garden of tropical forest landscape in China, integrating natural scenery, cultural heritage, garden art and ecological and environmental protection all in one.
The project has protected China's rainforests and saved a species gene library for future generations. According to Zheng, the provincial government and citizens of Hainan have long understood the great value of ecological and environmental protection, which laid the groundwork for his efforts. The support he received from the government and other sectors facilitated the achievement of his dream. He is never alone in the path of protecting tropical plants.
The story was originally published in Chinese on Hinews.cn
Copyedited by Rebeca Toledo
Comments to zanjifang@bjreview.com