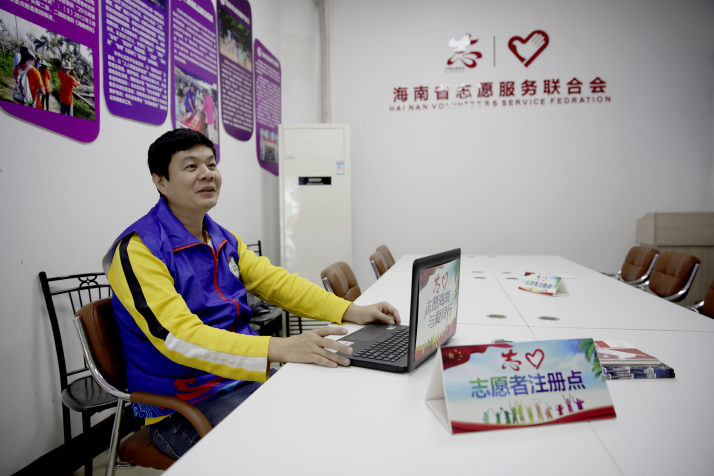 Zheng Xingjie (LIU YANG)
During the Spring Festival this year, several thousand tourists were stranded in Haikou due to heavy fog disrupting transportation across the Qiongzhou Strait. In a bid to facilitate the tourists' journey, Zheng Xingjie, Deputy Secretary General of the Hainan Volunteer Service Federation, gave up his leisure time, together with many other volunteers, extending a helping hand to these tourists.
Zheng, also the leader of a charitable society, has carried out volunteer services for 19 consecutive years. Widely known as "Brother Long," he has won the locals' trust and support as a model volunteer in Hainan. In 2010, Zheng started a charitable society in Haikou aiming to help vulnerable groups and support disaster relief activities. Over the past 19 years, Zheng has witnessed the flourishing of volunteer services in Hainan. His experiences have made him more aware that volunteer services call for not only warm hearts but an institutional management standard and appropriate manner.
Born in Haikou, Zheng began participating in volunteer activities as a primary school student. After graduating from university, Zheng initiated several volunteer activities through online forums and gradually started to organize volunteer activities offline.
Zheng later decided to plunge into volunteer services full-time. In 2006, he made a plan to build 50 libraries free to visitors in Hainan by collecting donated books. To achieve this goal, he put all his earnings into the project, collecting more than 100,000 books for 52 libraries. Now there are more than 400 libraries in Hainan.
Zheng also contributed to disaster relief. On May 12, 2008, when Wenchuan was hit by a devastating earthquake, he called on the civilians of Hainan to donate to the quake-stricken victims. Zheng and his partners received donations from many people including janitors and migrant workers.
One year later, the Hainan provincial government released Regulations for Volunteer Services in Hainan, setting standards and laying a legislative foundation for volunteer services. Civilian volunteers also participated in disaster relief efforts when the island was struck by typhoons in 2014, a year that showed marked progress in Hainan's volunteer services.
In Zheng's eyes, volunteers in Hainan have made joint efforts to make their home better. He himself has chosen volunteer services as a lifelong cause, adding, "I participate in volunteer services out of love and a sense of responsibility. The spiritual wealth I have reaped is invaluable."
The story was originally published in Chinese on Hinews.cn
Copyedited by Rebeca Toledo
Comments to zanjifang@bjreview.com