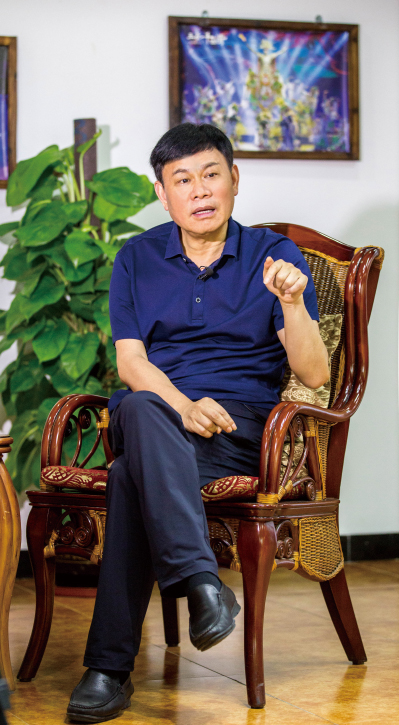 Huang Qiaoling (WU WEI)
"The first thing I saw in Hainan was the indomitable will, persistence and brave spirit of its people," said Huang Qiaoling, Chairman of the Board of the Songcheng Group. His success in creating a tourism entertainment kingdom in Hainan during the past 30 years has benefitted from China's reform and opening up.
When Huang came to Hainan for the first time in 1987, he had only 2,000 yuan ($319) in his pocket to start his business. What attracted him the most was the vigor and confidence of experts and university students and the accelerated economic growth taking place in Hainan.
"I'm an ambitious, innovative and adventurous person," said Huang.
Sanya was in great need of development due to its weak economic foundation. In 1988, the local government proposed to set tourism as a leading industry. Huang became one of the first investors in tourism on the island.
With the combination of natural resources and local cultural features, his Tianya-Haijiao resort earned over 10,000 yuan ($1,594) during Spring Festivals at that time. Though he decided to go back to his hometown of Zhejiang during the 1990s, he never stopped realizing his dream of developing tourism in Hainan.
"There is no going back when you come to Hainan. The spirit of courage and innovation is a most profound experience," said Huang.
Advantageous natural resources have laid a solid foundation for the tourism industry. With a market vitality due to reform and opening up, tourism in Hainan opened a new chapter. Preferential policies for duty-free, air traffic rights and visa exemptions were implemented. Coastal tourism changed into integrated mountain, sea and air travel. Hainan witnessed the rapid growth of its tourism industry.
In the meantime, Huang used his experience in Hainan and created Songcheng Eternal Love Scenic Area with a model of "theme park and cultural performance." It now occupies a leading position in the tourism and cultural market in China. He has also been honored as "the pioneer director of tourism entertainment performance in China" for the great popularity of Eternal Love, a famous panoramic song and dance show in China he directed.
In 2013, he brought the Eternal Love chain to Sanya and established the first theme park for tourism characterized by unique cultural and historical stories from the Miao and Li ethnic groups.
Huang is envisioning another dream: a new live hands-on performance theme park bringing the sea and the Belt and Road Initiative together.
The story was originally published in Chinese on Hinews.cn
Copyedited by Rebeca Toledo
Comments to zanjifang@bjreview.com