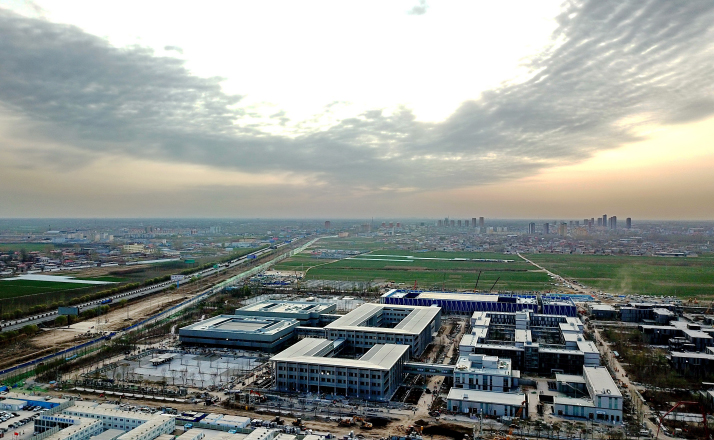 An aerial view of the construction site of the citizen service center in Xiongan New Area on March 29 (XINHUA)
A new area built from scratch—unlike the packed skylines of other metropolises in that a height restriction limits the stature of its buildings. Seventy percent of this embryonic settlement will be covered by vegetation and water, and people, no matter where in the city, will be within just a few minutes walk of the nearest park.
Leading universities, hospitals, corporate headquarters, financial entities and public institutions currently located in Beijing will all set up branches here in the coming years. China's Internet giants Alibaba and Baidu have both announced plans to open offices, making it another center for the research of cutting-edge technologies in the country.
Xiongan New Area, 100 km southwest of Beijing, is currently under construction, with cranes and excavators rumbling everywhere on the site. It is expected to soon grow into "a model city in the history of human development," as described by a master plan unveiled on April 21 by China.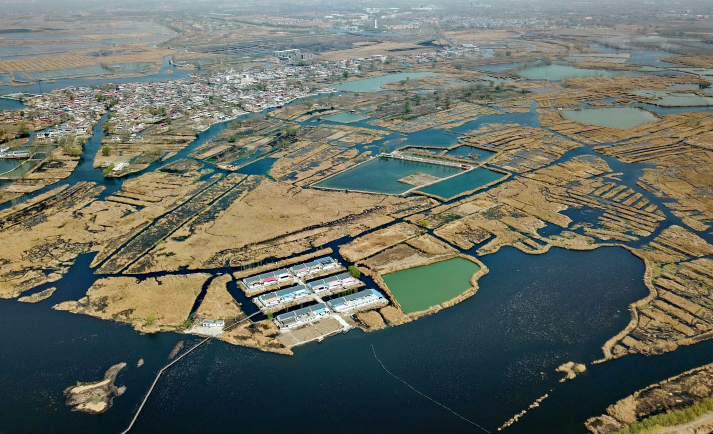 The Baiyangdian Lake in north China's Hebei Province (XINHUA)
Construction and planning
The site spans three counties in north China's Hebei Province—Xiongxian, Anxin and Rongcheng.
The 10-chapter plan maps the area's future up to 2035, as well as looking further ahead into the middle of the 21st century.
By 2035, Xiongan will develop into a fundamentally modern city that is green, intelligent and livable, with relatively strong competitiveness and harmonious interaction between humans and the environment. By the middle of the century, it will become a significant part of the Beijing-Tianjin-Hebei city cluster, effectively performing Beijing's non-capital functions and providing a Chinese solution to "big city malaise," the plan states.
In a departure from traditional modes of urban development which see the expansion of a city from its center, Xiongan New Area will deploy five separate urban groups to avoid the over-concentration of resources and population in one central area.
"The problem in many cities is that different districts major in distinctive functions, which can easily lead to a separation of residential and working areas. This eventually results in long commutes for residents," said Li Xiaojiang, former President of the China Academy of Urban Planning and Design, "We are looking to avoid this in Xiongan."
"Xiongan will not be a city of steel and cement, as the disadvantages of skyscrapers are becoming more obvious," Li said. The plan is well-grounded, with the population set to be no more than 5 million and population density to peak at 10,000 people per square km.
"With the Baiyangdian Lake as its ecological center, it is impossible for Xiongan to develop into a mega city of more than 10 million people," said Li. "A huge population would be a heavy burden for this place. Instead, each urban group will be like a small town of 200,000 to 300,000 people."
The planning of Xiongan is an unprecedented challenge, as the development seeks to combine Chinese styles with cutting-edge technology to create a unique, green and smart living space, as well as remaining flexible for future development.
The five centers are all located around Xiongan's starting area, which will be built first on the land between Anxin and Rongcheng counties. Universities, hospitals and other institutions from Beijing will locate here, adding to preexisting local historical sites and parks.
However, the new will not come at the expense of the old. Historical sites will be protected, with archaeological parks, museums for ancient ruins and exhibition halls to be set up as well. The region's original residents will stay and their villages will be integrated into the construction of the new city.
The area under construction for Xiongan is set at approximately 530 square km, according to the plan. Around 10 percent of the new area's land will be put under permanent protection as farmland, and Xiongan will strictly control land use and cap its land development intensity at 30 percent.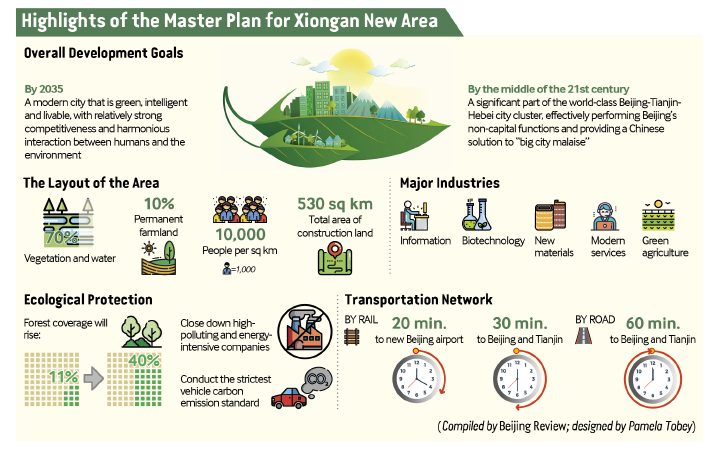 Green, smart and livable
Ecological protection is the top priority in Xiongan. High-polluting, energy-intensive companies will be closed down and moved out of the area. In 2017, a total of 9,853 such companies were shut down in the area and another 2,245 were rehabilitated, according to a report from Xinhua News Agency.
Forest coverage will rise from 11 percent to 40 percent and the Baiyangdian Lake, after undergoing ecological restoration work, will eventually be developed into a national park.
Advanced environmentally-friendly and energy-saving materials and techniques will be widely used in the construction of Xiongan, and green transportation will account for 90 percent of the starting area's total.
"It will be a new model metropolis, unlike current cities made from concrete and glass," Wu Hequan, an expert on Beijing-Tianjin-Hebei integration and member of the Chinese Academy of Engineering, told Xinhua News Agency. "It is green, innovative and environmentally friendly."
Even though Xiongan is still under construction, guarantees have already been made that housing price will not be a concern in the future. Property development will be under strict control and a long-term mechanism will be established to prevent speculation in the real estate market.
Quality public facilities and services will also be available to Xiongan's residents. A modern city security system will be established with complete disaster prevention and alleviation facilities to ensure that the new area can quickly respond in the event of emergencies.
Smart is also a word becoming synonymous with Xiongan. The master plan states that the new area will be at the forefront of cutting-edge technology and lists major industries that are to thrive in the area including information, biotechnology, new materials, modern services and green agriculture.
The construction of intelligent infrastructure will be stepped up and a smart city administration and a management system for data assets will be set up as well. All buildings, roads, bridges, parking lots, trash cans and manhole covers in Xiongan will be integrated into a smart network. Each one is to have its own identifying number, easily discoverable in the event of malfunction.
Even the seedlings of trees planted in the new area rely on smart technology. Each sapling carries an aluminum label with a QR code that records its species, location and the name of its nursery, along with other information.
Xiongan will strive to build world-class technology and innovation platforms, with research institutes to be established to foster talent. Key national laboratories and engineering research centers will also be set up in Xiongan, while preferential policies and mechanisms will be formulated to support the growth of technology companies.
By the end of 2017, 19 hi-tech companies, including Alibaba and Baidu, had signed cooperation agreements with Xiongan. According to an announcement by the company, Baidu will apply its own AI technology in the planning and building of the area.
"Innovation and industry are the driving forces behind Xiongan's sustainable development," said Li, who is an advisor on the coordinated development of the Beijing-Tianjin-Hebei region. "If Shenzhen is a definitive example of speed, then Xiongan represents quality."
A fast and highly-efficient transportation network is also under construction. Once completed, it will take only 20 minutes by high-speed rail to travel from Xiongan to a new airport being planned in Beijing's Daxing District, 30 minutes to Beijing and Tianjin, and an hour to Shijiazhuang, the capital of Hebei Province.
Meanwhile, a Pilot Free Trade Zone in Hebei with Xiongan at its center is also in the works, where restrictions on foreign investment will be dramatically reduced or eased. Intergovernmental cooperation programs between China and foreign countries as well as a comprehensive bonded zone will also be developed.
"One of Xiongan's missions is to provide a model of high-quality urban development for other cities in China, and we are exploring a replicable experience. High-end and hi-tech will be the most significant features of the new area," Wang Dongfeng, Party Secretary of the Communist Party of China Hebei Provincial Committee, told Xinhua News Agency.
"The importance of Xiongan goes beyond transferring non-capital functions out of Beijing," said Zhang Gui, Executive Director of the Beijing-Tianjin-Hebei Research Center under the Hebei University of Technology. "The recently released plan shows China's solution to a worldwide problem, which is how to optimize city development in densely populated areas."
Copyedited by Laurence Coulton
Comments to yuanyuan@bjreview.com